By Robert Balajadia
The rainy weather couldn't slow down Jalana Garcia and the GW lady Geckos soccer squad Thursday evening as the ladies in purple rallied in the closing six minutes to stifle the Sanchez Sharks in a 3-1 victory.
Garcia, who was also a youth football star for the Giants, registered a hat-trick, netting the game winning and game clinching goals after Sharks Abbey Irirarte knotted the game at 1-1.
"We just talked it over at the half and said that we needed to come out harder. My goals came as a result of my team, they were all assisted, so my whole team is who really scored, not just me," said the freshman Garcia.
The Geckos improve to (3-0) with the win while Sanchez suffers their first loss of the young season at (2-1).
Iriarte, last seasons MVP, was creating pressure in the middle of the Gecko defense when a penalty was called to give Iriarte a penalty kick at the 74th minute. Golden opportunities like a PK are harder to miss for Iriarte than make, and she cashed in by putting it past GW goalie Samantha Quinata for a 1-1 tie.
Not even a minute later, the Gecko defense cleared a ball to Colleen "Coco" Quinata, who then gave a tip pass to Garcia who got around the defense for a clear shot. Garcia didn't put much behind the shot, slipping it past Sharks goalie Lowella DiRamos for a 2-1 lead at the 74th minute.
The Sharks tried to rally back with their best look coming off a free kick from the right side by Caylani Estoy. The shot had distance and power, but the Geckos had a stout keeper in Quinata to deny the shot.
Instead, Quinata booted a kick well past midfield to Coco Quinata, who was racing one defender. While Coco and the defending Shark were fighting for possession, Garcia came darting in with blazing speed up the middle where Quinata made a heads-up pass. Garcia used two taps to dance her way free for a game-sealing goal in the 80th minute.
Garcia came close to scoring on three instances in the first half with one of her shots even hitting the crossbar. Garcia owned the second half by breaking the scoreless game open with a goal at the 41st minute. Gecko Kaysha Leon Guerrero crossed a kick to Garcia right after the opening tip and Garcia made good on the pass for a 1-0 lead.
"I was nervous before this game. I'm actually nervous before every game," admitted Garcia. "This is probably the most skilful set of players I've played against."
Super Sam To The Rescue
Iriarte is one of the leagues most goal-hungry players, but Quinata rose to the occasion on multiple fronts by getting a hand on everything the Sharks threw at her.
Trailing 1-0, Iriarte went into attack mode. After dribbling through a defender, Iriarte used a through-ball to get teammate Janelle Guiao a one-on-one with Quinata. Guiao put the ball left, but Quinata dove and punched the ball away from ever having a chance.
Iriarte then got a good look herself on a break away as she tried to fire her shot over Quinata, but the length and leaping ability of Sam allowed her to get both hands on the block to deny the goal.
"We really practiced with our forwards with one-on-one situations for this game," said Sam on facing the dangerous Sharks' forwards. "My team is the one that helps me though when I'm dealing with pressure."
PHOTO GALLERY:

QUICK HITS
3rd place: Big ups to the Para Todu Rugby Club for finishing 3rd out of 16 teams in the Manila 10's Rugby Tournament today. Biba Guam Rugby!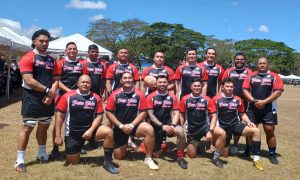 ——————————————
Guam MTB National Championship: Edward Oingerang and Jennifer Camacho are your 2023 MTB national champions. Oingerang finished the course in 1:13:24 while Camacho won her second straight title in 54:08.