By Robert Balajadia
Cleveland Cavaliers assistant coach Phil Handy of the NBA really wants to come to Guam.
Handy does have ties to the island after his older brother lived on Guam for 10 years after meeting his eventual wife on the island during a six-month stay with their father on a construction contract in the early 90's, but that's not the biggest reason.
Leah Metra has become Guam's leading lady with ties to the NBA. She managed to bring in former NBA player/head coach Sam Vincent for a clinic early last year and she's about to top herself by bringing in Handy and the high flying company of Miami Heat newly signed free agent Gerald Green and Eastern Conference champion J.R. Smith of the Cleveland Cavaliers to host basketball clinics for the youth along with a coaching clinic for those aspiring.
The reason behind putting this all together for Metra hits right at home with her NBA addict son Jonathan, who is a Pacers fan and very talented artist.
"I became more involved in the NBA because of the passion my son has for the NBA. This is why I do this, it's his passion, and why not do something for these kids who have these dreams? He's the one who really inspired me and motivates me," stated Metra.
Handy had pushed vigorously to reel in an NBA talent to travel with him and his persistent effort was most unexpected by Metra given Handy's high profile. The two exchange emails and text messages often about the future visit.
Handy even got word of Guam's gold medal in the Pacific Games and he said he'd love to meet the team and congratulate them himself on the big accomplishment.
Building the Relationship
It all started with an email.
Metra decided to try and reach out to Handy just at the start of the 2014-2015 NBA season after wishful thinking. Handy was one of many coaches that Metra had planned to reach out to, thinking nothing more than putting the thought of Guam in the minds of these professionals.
Little did she know that Handy would respond in less than 24 hours with a sentence headline that would eventually be the start of a great friendship.
"I would love to come to Guam," stated what Metra read upon gazing through the unexpected email.
Then Handy began to explain his back story and how he had ties to the island. Metra couldn't believe out of all the coaches she reached out to that he would not only be interested, but in turn have family ties being that his sister-in-law is Chamorro.
"It had to have been some sort of destiny that this happened," added Metra.
The two then graduated from email conversations to eventual over the phone conversations during mid-season basketball events, like Handy taking Metra's phone call while on the team bus possibly sitting next to the likes of LeBron James or Kyrie Irving.
As Metra's and Handy's relationship grew she sought out for the means to bring Handy and an NBA player along with him. Early talks were having an interested Kyrie Irving come along with Handy, but NBA fans saw what happened to him during Game 1 of the NBA finals, closing the door on that possibility.
Instead, Handy was linked to bringing one of three other Cavs players in Iman Shumpert, Shawn 'The Matrix' Marion, and Smith. As summer came closer Handy decided to reach out to Green, who he felt would be a wonderful edition to the likes of Guam with his high-flying style of play.
Smith was a little harder to get to commit since it was a contract year for him and he wasn't ready to tackle a contract situation and to commit to a very long plane ride. So, Metra and Handy had just planned to feature the former Slam Dunk Champion Green, who is famously known for is 'cupcake dunk' that won him the title.
Then, just at the beginning of July, Metra got a phone call from Handy letting her know that Smith had committed and will be joining him. Metra was undoubtedly excited about the news, but the hardest part of putting together the big clinic was funding especially since no one had believed her in the early goings.
The two NBA players are looking forward to spending some quality time on Guam along with getting in rounds of golf and taking a scenic route of the beautiful island.
Making Believers
When Metra first got the call she started to reach out to different organizations to help jump on as sponsors to help accommodate Handy and the NBA players he would be bringing in. Safe to say, not many people believed her and wanted some sort of proof that he was actually coming.
"I told Phil that a lot of people still don't believe me. He then asked like 'do you want me to go on the radio', but I said heck yeah! So we met up with Ray Gibson on K57 and we spoke to Phil on his show for 30 minutes and the look of our organizers were in disbelief and shocked knowing that this is actually happening," said Metra.
*The interview is available online 
Luckily, Metra and the Guam Women's Masters Basketball Association along with the MTM Falcons Club, were able to tie in a strong relationship. The Women's Masters Basketball Association does an annual community outreach project and Handy's visit is this years project.
Metra and the organizers are aiming to make this event so successful that they can plan for future projects which entitles more visits from other high profile NBA players and coaches.
Any left over money through this organization will go towards funding for the GWMBA, the NCD to improve sporting conditions on Guam, and also to support GDOE programs since some portions of the clinics will be held at the Okkodo High School, kudos to DOE Superintendent Jon Fernandez.
*Check out Handy's personal message to Guam courtesy of Leah Metra
Clinic Info
Here's the latest info on everything you need to know about Handy's visit starting on July 30 through August 3. Kids will be training side-by-side with actual NBA players so you're not going to want to miss this huge opportunity.

QUICK HITS
The Guam Smokin' Hot women's softball team captured first place in the Asia Cup Softball Championships 2023 in Bangkok, Thailand.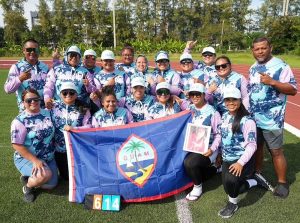 ——————————————————-
Roque Martinez gets the unanimous decision win Saturday night in his debut fight in South Korea's Black Combat promotions.
The 37-year-old controlled the tempo all three rounds and bloodied his opponent with some 3rd round ground and pound.