By Michael Cruz
Guam continues to be a proven football producing island with many players around the world sharing a connection to Guam. All of the those players continue to make strides in the pros, collegiate level, and high school level.
Here's a comprised list of football players who have ties to Guam.
Professional Players
Jared Wood
Wood just got picked up by the Austin Armadillos of the Indoor Professional League. He kicked for the Pepsi Warriors while stationed in the Navy on Guam.
http://www.gspnlive.com/2015/former-mfl-kicker-wood-playing-for-pros/
College Players
Zach Banner
Banner enters his redshirt junior year as the starting right offensive tackle for the USC Trojans. He finished his degree in three years and is a graduate student this fall. The Trojans have a legitimate shot of winning the PAC12 this season. Fans on Guam will have a chance to see Banner play every week on National TV.  Banner with his size, strength, and talent can become the first Chamorro to play in the NFL, imagine that!
http://www.gspnlive.com/2015/banner-will-return-to-usc-in-2015/
Josh Blaz
Blaz is an offensive tackle and will play his freshman year with the Denison Big Red. Born on Guam, Blaz is the son of Tom and Shelane Blaz.
http://www.gspnlive.com/2014/football-in-the-trenches-with-blaz/
Ali and Va'a Niumatalolo
Both are sons of summer residents Ken and Barbara Niumatalolo. Va'a is a sophomore linebacker at BYU and recovered a force fumble versus Memphis in the Miami Beach Bowl. Ali is a senior at linebacker as well at Broadneck High School. He has seven offers with Boise State being the best of them. Coach Ken will return for his 18th year of coaching at Navy.
http://www.gspnlive.com/2013/navy-coach-in-love-with-guam/
Savali Talalemotu
Savali returns as starting defensive end for Portland State. He will dedicate his season to Saipan. His first game will be September 5th versus Washington State and will be shown on the PAC12 Network.
http://www.gspnlive.com/2015/viking-with-roots-in-saipan/
Guam High Pipeline
Three former Panthers are on partial or full scholarships for football. Matthew Eaton (Temple), Nijee Smith (Jackson State), Lewis Harris (Pima JC). Eaton played three years in Guam and finished in Mississippi. He will redshirt this season due to a very deep group of receivers. Has a chance to be a starter in the future.
Defensive end Smith graduated from Guam High and worked his way through the California JC system. Smith signed his letter of intent to play with JSU this past February.
Harris proved that you can get recruited off the rock by taking advantage when opportunity knocks. LJ Aguon, Theatris Eaton, Teagan Brown, Chance Horvath will play junior college this season in California.
Tyler Okiyama
Okiyama is attending Santa Rosa Junior College. He will take this fall off and greyshirt this season. He plans to train and get ready for Spring Ball next year. He has fully recovered from his leg injury that occurred in his last high school game. Tyler can play QB or slot receiver.
https://www.youtube.com/watch?v=dv3lp4FGCB4
High School
Jared Tajalle
Tajalle returns for his senior year with the Allen Eagles and plays slot receiver. The Eagles Varsity team is on a 43-game winning streak and has won three straight titles. He also holds down a 3.4 GPA in the classroom. Jared plans to attend college or join the military after graduation.
https://www.youtube.com/watch?v=6OAOaPwvxeg
Isaiah McGill
McGill has relocated to Houston and will play for Aldine Nimitz this season. As a sophomore he was an all-island receiver with the GW Geckos. He was in a commercial locally.
https://www.youtube.com/watch?v=eQaXqMCLHxA
Quintin Iriarte
'Q' has relocated to Hawaii and will at Radford for his senior year. He was an all island quarterback for JFK and was focused on moving up the rankings. Since arriving in Hawaii, 'Q' has played a baseball season, worked with Vince Passas (Marcus Mariota's HS QB mentor), and attended the PIAA Football Camp. He threw for four touchdowns in a controlled scrimmage versus Aiea. Radford starts their season on August 15.
https://www.youtube.com/watch?v=Tow9zylWzSg
Darrien Campos
Campos played with Brendan Santos and Jesse Carl Cruz on the Hal's Angels back in 2012. He relocated to Abilene, Texas and is in his 3rd year with the varsity team. Campos starts at cornerback for the Abilene Cooper Cougars.
http://www.ktxs.com/news/darrien-campos-goes-from-overseas-to-cooper-secondary/27633210
Brandon McMasters
McMasters played with Tyler Okiyama on the Giants youth team as an 8th grader. Brandon is now entering his junior season as the starting running back in Georgia. He is now 5'9 and 200 lbs.
http://www.hudl.com/athlete/2736971/highlights/174291376/v2
Mario Aquino
Aquino will be starting his senior year at cornerback. He started on a JV1 team that finished 4-3. East Central (San Antonio, TX) is expected to win their district. Mario plans on attending Texas State and major in business. His mom's family is from Guam.
Logan Guerrero
Guerrero is a senior at South Kitsap in Washington and starts as cornerback. Logan holds down a 4.0 GPA and also wrestles. He was born in Guam and left in 2004.
http://www.hudl.com/athlete/2675039/logan-guerrero
Royce Thomas
Thomas was all island his freshman year at Guam High. He is now a junior playing in Florida.
http://www.hudl.com/athlete/3933879/royce-m-thomas

QUICK HITS
3rd place: Big ups to the Para Todu Rugby Club for finishing 3rd out of 16 teams in the Manila 10's Rugby Tournament today. Biba Guam Rugby!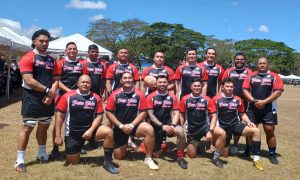 ——————————————
Guam MTB National Championship: Edward Oingerang and Jennifer Camacho are your 2023 MTB national champions. Oingerang finished the course in 1:13:24 while Camacho won her second straight title in 54:08.