By Patrick Lujan
Long-time football and basketball referee John Benavente was recently voted as the new President of the Marianas Sports Officials Association.
He now has the task of leading all sports officials on island. Before a busy season kicks off – especially with youth and high school football going on simultaneously – GSPN caught up with 'German' Benavente with 10 Questions:
1) Congratulations on being named the new MSOA President. What are your immediate plans as President?
– Besides the continuing effort to collect on invoices to get officials paid in a timely manner, I am working closely with fellow board members to update our by-laws.
2) What are your long-term plans?
–  Long term we need to look at recruitment and retention of new officials. We have many "senior" officials and need to recruit and train our future successors.
3) Football season is just around the corner with youth and high school going on at the same time. Do you have enough officials to cover all those games?
– We have just enough to cover the upcoming football season. We have recruited five new officials and will be able to cover the two leagues and the over 150 games scheduled through October.
4) How do you recruit or look for good officiating on island?
– Most of our recruits have no prior experience. We train them from the ground up. The  key element is you have to love the sport. We can teach you the rules, mechanics and technical interpretations, but the desire has to come from within.
5) With football outside, being played rain or shine, what does it take to be a good football referee?
– The pouring rain and intense heat do test all your abilties. The biggest challenge facing officials is maintaining the concentration level for the amount of games being performed.
6) What's some of the common misconceptions of a referee?
– The most common misconception of officials is that we make bad calls. They do happen, but not as often as people think. The position of the official, the view of the play, the judgement of the official all come into play on our decision. Without the benefit of instance replay like the professional leagues, we still depend on the official to make the right call.
7) What are some of the funniest names you've been called on the field or on the court?
– Funniest names called #&@$_ are not suitable for print. Suffice to say that just when you think you heard it all….someones comes up with something new and colorful.
8) Now that you're overseeing all sports, which sport do you have to get familiar with the most?
– Actually as President my goal is to watch all sports as much as possible. I personally officiate over 200 football and basketball games. This year I will make time to watch volleyball, wrestling, track and field and cross country.
9) What can the sports fans expect out of you as President?
– As far as expectations go fans should see an improvement in the service we provide to the various sports that we officiate. We are striving to improve our standards and hope that we raise the bar to a higher level.
10) If the public wants to try their hand at being a referee, who do they contact?
–  If anyone is interested in joining our officials in any sport contact me John B. 777-3413 and I can get you in contact with that sport's commissioner.

QUICK HITS
3rd place: Big ups to the Para Todu Rugby Club for finishing 3rd out of 16 teams in the Manila 10's Rugby Tournament today. Biba Guam Rugby!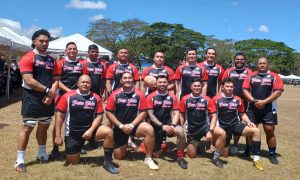 ——————————————
Guam MTB National Championship: Edward Oingerang and Jennifer Camacho are your 2023 MTB national champions. Oingerang finished the course in 1:13:24 while Camacho won her second straight title in 54:08.