By Mike Nauta Jr.
With the start of the IIAAG High School Girls Volleyball League looming around the corner, ten high school girls volleyball teams and their supporters made their way Thursday to the GW Gym to partake in the 16th Annual Shieh Invitational Pre-Season Volleyball Tournament.
From going with their starting lineups to mixing up their rotations, coaches used the first of the four-day scheduled tournament to get a feel of what's in store for the upcoming season. Divided into two pools, teams played a total of six (one-set) matches to 30. Fans in attendance got their money's worth as teams and their players didn't disappoint throughout the night.
"Pre-season tournament is a good way for teams to see where they stand before the regular season actually begins," said GW Geckos captain Sia Duenas. "Tonight, I believe we did well as a team despite some of our serving errors and first game jitters."
Despite playing the third game of the night, the defending IIAAG champion Geckos managed to open their pre-season tourney with a victory over a tough ND Royals. GW dispatched their opponents 30-20 led by Duenas and teammate Colleen Quinata's seven kills combined.
Earlier in the evening, the Royals kicked-off the tournament in a match against the St. John's Knights. After fending off a very scrappy Knights squad, ND garnered their first victory 30-22.
Although it was only a preseason tournament, the second game of the night was a historical one for one team. Participating in their first season as a team, the Tiyan High School Titans took on the St. Paul Warriors.
The Warriors entered the game not taking one of the league's newest team lightly. Both teams gave their fans lots to cheer about as they game had a total of five lead changes. However, at the end of the match the scoreboard reflected a 30-24 score in favor of the more experienced Warriors squad.
"I thought that we worked hard as a team and fought up till the very end," said Tiyan's Alana Fegurgur.
"We went out there determined to give it our all. We might have had a few hiccups, but that's what we need in order to build as a unit and build our foundation as a team especially being the newest addition to the league."
Fegurgur also adds that to her it's all part of the learning process and they will eventually grow into a strong Titans team.
Pool B action began with the JFK Islanders taking on the Sanchez Sharks. After shaking off a slow start, the Islanders managed to find rhythm and get back into the swing of things.  Strong serves by JFK propelled the Islanders to a 30-22 victory.
Later in the evening, JFK hoped to pick-up their second-straight win against the always competitive Academy Cougars. However, the Cougars had other intentions and were able to close out their opponents 30-25. In the closest game of the night, the Harvest Eagles downed the Guam High Panthers 30-27 to close out day one with a 1-0 record.
Shieh Preseason action resumes on Friday night with the first game scheduled for 6pm when the St. John's Knights and Tiyan Titans battle one another. Other games scheduled for Friday:
6:30pm  GW vs. St. Paul
7:00pm  ND vs. Tiyan High
7:30pm  St. John's vs. St. Paul
8:00pm  Academy vs. Guam High
8:30pm  Sanchez vs. Harvest
Saturday August 15 Game Schedule:
9:00am  GW vs. Tiyan High
9:30am  ND vs. St. Paul
10:00am  GW vs. St. John's
10:30am  JFK vs. Harvest
11:00am  Sanchez vs. Guam High
11:30am Academy vs. Harvest
12:00pm  JFK vs. Guam High
12:30pm  Academy vs. Sanchez
*PLAYOFFS WILL BEGIN AT 1:30pm.
PHOTO GALLERY:

QUICK HITS
Guam MTB National Championship: Edward Oingerang and Jennifer Camacho are your 2023 MTB national champions. Oingerang finished the course in 1:13:24 while Camacho won her second straight title in 54:08.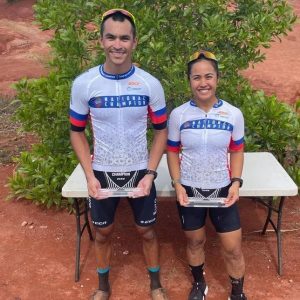 ——————————————
Kobe Miyashita, with St. John's coach Arvin Flores, was named the 2023 IIAAG Middle School Boys Volleyball MVP!