The biggest sporting event in America will also be the biggest sporting event on Guam. The best football players on island have poured in their responses on who they think is going to win. It's safe to say that plenty of Guam's football legends and current players are thinking repeat, with the Seattle Seahawks.
Who do you have?!
Seattle Seahawks
Ryan 'Bigs' Bigler,  Hal's Angels DB – That's automatic! Defense wins championships!!! Seahawks
Ryan 'Chairman of the Board' Rios, Pepsi Warriors LB, #1 Football Legend – Seattle, offense wins games! Defense wins championships!
De'Aundre Cruz, FD Friars RB – I want Seahawks to win because they have been my team. They also fought hard against Green Bay to get to the Super Bowl and I love the way Marshawn Lynch plays. He inspires me to play the way I do. And also Russell Wilson, having four picks in the last game but coming back stronger to win it.
Kenny Lujan, #2 All-Time, former Hal's Angels RB,S – Seattle, they have an excellent passing defense and a stout front line that would pressure Brady throughout the game. The key is to put "pressure on Brady". He has a history of bad games when pressured up front.  Seattle's secondary is physical and will punish the Patriot's receiving corp and disrupt their timing and routes. Beast Mode will control the ground and Wilson will control the game after a miserable outing at the last championship round with Green Bay. If this game plan is exploited by New England, they would score early and a lot to erase the memories of "deflate-gate".
Candy Taman, Pepsi Giants OL – Although I'm not a fan of either team my money would have to be on Seattle. They have too many weapons at their disposal. The kid in me wants to go with Brady and the gang because this isn't their first rodeo, but its like 1 vs 11 out there really.
Allen 'Say Owe' Blend, Hal's Angels LB Legend – STEELERS of course, but for this year I am picking the Seahawks, because Defense wins Championships.
Roque Martinez, Cars Plus Rams RB, Die-hard Seahawks fan – Fast, smart and physical defenses win championships and that's exactly what Seattle's defense is about!
Mike 'Mass Transit' Pangelinan, Hal's Angels FB – I'm not a fan of either team, but if I where to watch and cheer on a victor, I'd go with the Seahawks. For one I'm a NFC supporter and will be loyal to my Conference. And as a team I believe that the Seahawks have a much more balanced and stable attack all around, from offensive, defensive and special teams. It would take a phenomenal game from Brady… to have a chance to win.

Josh Bulla, former Hal's Angels WR – The Seahawks are going to win. They are still hungry from last year's victory. The team is young and work well with each other. They have a ton of playmakers who all want the ball in their hands when it's crunch time. BEASTMODE. #stillabroncosfan
Eric Fejeran, former Pepsi Giants/Warriors QB – My Broncos!! Oh they're out. lol. I think Seattle takes it again. I like how Wilson is humble and I like underdogs.
Will Williams, former MFL and IIAAG Offensive MVP QB – Two great teams, great coaches.. two of my favorite quarterbacks in the league today. Great defensive mind with the Pats, great defense with Seattle. I'm gonna side with my man Russell Wilson! Go Seattle.
New England Patriots
Justin 'The Shocker' Cruz, Hal's Angels DB – The Patriots will win if they can keep their strong running game going which will open up opportunities for Brady. The key to the Patriots offense is doing damage on the ground. As for the the Patriots defense they gotta keep Wilson from getting outside the pocket. They gotta contain Wilson in the pocket with plenty of pressure which will force turnovers. Also they gotta find a way to slow down Lynch. Prediction is Pats win 24-21.
Joaquin Pangelinan, Hal's Angels RB – I feel like this is the most evenly matched Super Bowl to be played in all my years watching the NFL. There is no clear winner, as a Pats fanI have to respect the team that the Seattle Seahawks are. Their defense is top notch when it comes to Man Coverage, allowing them to keep their front four and their linebackers playing upfield most of the time. Their offense is also difficult to predict and even the most disciplined defenses will make mistakes having to cover the read option.

As for the Patriots, we are an old school football team. Recently Bill Belichik decided to opt for these off balance line formations which confuse the defense by lining up certain receivers as ineligible allowing some receivers to get free if uncovered. There was controversy in the Baltimore game because of that, as seen when John Harbaugh was flagged for coming onto the field and trying to stop the game with the officials.

When it comes down to it, we have Gronkowski who pulls double coverages allowing our smaller receivers to get open. Tom Brady makes his reads and his progressions, moving the ball with the help of our surprisingly good run game as of late. Together with arguably the best defensive unit in years with the additions of darelle Revis and Brandon browner, you have a Patriots team resembling the golden years from the early 2000.
Leonard Calvo, former Miller Bears All-Star, OL – Patriots. Unless Brady has a crapper game like Manning had last year. I don't think the Seahawks have enough offensively and the Pats are pretty balanced.
Charles Churchill, former Miller Bears defensive line All-Star – Anybody but the chicken-Hawks, they beat my GB packers!P
Baby Joe 'The Juggernaut' Taimanglo, former MFL and IIAAG Defensive MVP – Patriots! They are unbelievable this year and I know Tom Brady will win this one versus a great defense like Seattle!
Tommy Morrison, Southern Cowboys QB Legend – Patriots: They've got a better overall offensive & defense system with the skilled players to run the tables.

QUICK HITS
Guam MTB National Championship: Edward Oingerang and Jennifer Camacho are your 2023 MTB national champions. Oingerang finished the course in 1:13:24 while Camacho won her second straight title in 54:08.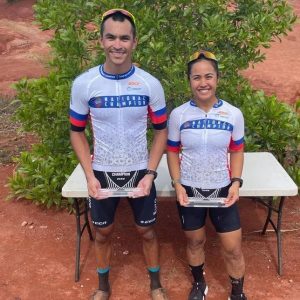 ——————————————
Kobe Miyashita, with St. John's coach Arvin Flores, was named the 2023 IIAAG Middle School Boys Volleyball MVP!