By Robert Balajadia
If this were the late 1800's then William (Billy) Belger would be the most feared, most wanted, and most notorious gunslinger in every county with his dead-eye ability to hit targets from just about anywhere.
Lucky for us, it's the year 2015 and the JFK Islanders junior sharpshooter focuses his talent on just basketball and he has become one of the league's most exciting players to watch.
Billy "The Kid" Belger has a gunslinger mentality, but his genetics are far from Western. Belger is half Pohnpeian and half Caucasian, but he was born and raised on Guam. If Belger wanted, he could've suited up for the Pohnpeian National Team for the 2014 Micronesian Games, but his intentions are to only play for Guam.
"I wasn't formally asked to play with them, but people were suggesting that I go and try out for their team," said Belger.
That desire to represent Guam Basketball was fulfilled for the first time in late 2014 when Belger traveled with the U19 Boys team to Fiji to take part in the FIBA Oceania tournament. The boys finished 1st in Pool B and Belger was one of the teams main offensive weapons.
"It was a very eye opening experience just being able to see such a high level of basketball from people who are roughly the same age as me. I learned how to be more physically and mentally tough," said Belger on his Fiji experience.
FD Friars head coach and Women's National Team head coach Eddie Pelkey was one to notice Belger's big-game ability, often stating that people don't get to really see how good a player like Belger is until he's competing with top level talent.
The strength of Billy's offensive game is his ability to knock down shots – repeatedly. All he needs is a little bit of space and he's confident every time the ball leaves his fingertips.
In the GSPN Preseason Basketball Tournament, he hit four-straight three pointers against the GW Geckos to blow open the game in the 1st quarter part of an 18-2 run.
In a regular season game against the Okkodo Bulldogs, he again went for four-straight triples in the 2nd quarter to bring his team back from a double-digit deficit to eventually take the lead.
You would think his shooting ability was just a necessary addition to a player who is tall enough to play in the front court and quick enough to get by guards, but Belger's sweet shooting stroke was actually discovered by altering his game at a young age.
"As a child I was more on the heavier side which impacted my speed, so when I began playing against older kids I realized the importance of shooting from a farther range," said Belger.
Now he's become one of the league's best, if not the best.
"I wouldn't consider myself the 'best', but that is what I'm striving for," he added.
Defenses are well aware of Belger's ability to light up the scoreboard, so seeing defenders stick to him as soon as he passes half-court is an every game norm. It's also usually the teams best defenders who are assigned to guard Belger.
Could he still shoot the ball just as accurately from behind the half-court line? Now that's taking things a little too far, but the way defenses are playing him, you would think they fear him making shots from anywhere in the gym.
Two out of three GSPN reporters, myself included, awarded Belger as the league's best shooter for the 2014 season, and he appears to have that position on lock down as long as he continues to nail shots as easy as he makes it look.
With all the emphasis on Belger's extraordinary offensive capabilities, he, his team, and most especially his coach believe his role on the Islanders is much bigger.
"This year, my coach is beginning to rely on me more as one of the leaders for the team. My mentality for this season is to take one game at a time and hopefully our team can progressively improve," he said.
The old adage is "defense wins championships" and defense is certainly an area Belger works at tirelessly to improve. With his JFK Islanders already out to a great 5-1 record, it's okay to assume that Belger's elevated play is a big reason why.
The Islanders have always been a dangerous basketball team and have a lot of talent on their roster. Though, if a game against them ever turns into an old fashion shootout then it'd be wise to put your money on the league's most notorious sharpshooter, Billy "The Kid".

QUICK HITS
Guam MTB National Championship: Edward Oingerang and Jennifer Camacho are your 2023 MTB national champions. Oingerang finished the course in 1:13:24 while Camacho won her second straight title in 54:08.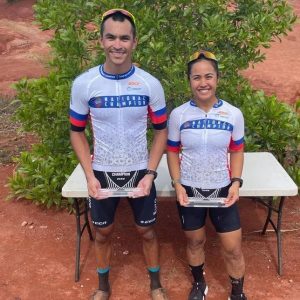 ——————————————
Kobe Miyashita, with St. John's coach Arvin Flores, was named the 2023 IIAAG Middle School Boys Volleyball MVP!