By Michael Cruz
The 3rd Annual GSPN High School Cup standings is used to determine the best all-around athletic program in the IIAGG for the 2014-2015 season. The cup counts football, cross-country, golf, volleyball, soccer, basketball, baseball, wrestling, softball, tennis, rugby, track & field, and paddling (not counted was flag rugby or junior varsity sports).
The point system is as follows: 5 points for All-Island Champions and 1 point per playoff victory.
1st Quarter Results
Football- GW 7, FD 2, Okkodo 2, JFK 1
Boys Cross Country- JFK 5
Girls Cross Country- JFK 5
Boys Golf- St. Thomas 5
Girls Golf- St. Thomas 5
Girls Volleyball- GW 8, AOLG 2, ND 2, Southern 1
2nd Quarter Results
Girls Basketball- Southern 8, Okkodo 2, JFK 2, AOLG 1
Baseball- Southern 8, GW 2, FD 2, Okkodo 1
Boys Wrestling- Sanchez 5
Girls Wrestling- Sanchez 5
Boys Soccer- JFK 8, Harvest 2, FD 2, GW 1
3rd Quarter Results
Boys Tennis- FD 5
Girls Tennis- St. John's 5
Boys Rugby- GW 8, FD 2, Southern 2, Sanchez 1
Girls Rugby- GW 8, Okkodo 2, Sanchez 2, JFK 1
Boys Basketball- JFK-8, FD-2, Okkodo-2, GW-1
Softball- JFK-8, AOLG-2, Sanchez-2, Guam High-1
4th Quarter Results
Boys Track and Field: JFK 5
Girls Track and Field:  Guam High 5
Girls Soccer:  Sanchez 8, ND 2, Southern 2, AOLG 1
Boys Volleyball:  8 Okkodo, 2 GW, Harvest 2, JFK 1
Boys Paddling: JFK 5
Girls Paddling: Guam High 5
Mixed Paddling: JFK 5
Standings after 4rd Quarter
1st Place: JFK Islanders – 53 points. The Islanders are your new champions! A 15-point burst with titles in boys paddling, mixed paddling, and girls track ended the year strong. The Islanders won titles in cross-country, soccer, basketball, paddling, and track & field.
2nd Place: GW Geckos – 37 points. Boys volleyball finish as island runner-ups. An overall solid year for the Gecko sports program with titles in football, volleyball, and rugby.
3rd Place: Sanchez Sharks – 23 points. The girls bring home a soccer title to Yigo after coming into the playoffs as just a #4 seed. The Sharks sports program was well balanced winning soccer and once again showed dominance in wrestling.
4th Place: Southern Dolphins –  21 points. The 2014 winners had another strong year coming in 4th place. Girls soccer won the 3rd place game after being bumped out of the semis by the upstart Sanchez Sharks. The Dolphins brought home titles in girls basketball and baseball during the second quarter.
5th Place: Okkodo Bulldogs – 17 points. Boys volleyball repeats and the Bulldog athletics program improved overall this year. Okkodo improves every year on the football field and are becoming more recognized in other areas outside of basketball and volleyball.
6th Place: FD Friars – 15 points. Friars won the team tennis title with the help of National team talent like Brian Tuncap Jr., who defeated Guam High's Sydney Gadsden in the finals. They also were runner ups in football, rugby, and basketball, all sports that the Friars are recurring contenders in.
7th Place: Guam High Panthers – 11 points. The Panthers gain 10 points in final quarter with titles from girls paddling and boys track. The win for the Panthers in track was a milestone given the size comparison to the much larger in number public schools. The girls too held their own on throughout the track season breaking rely records.
8th Place: St. Thomas – 10 points. The school has officially gone through its last year of shutting down after the 2015 calendar year. The school has had a rather remarkable run in golf the past few years.
9th Place: AOLG Cougars –  6 points. The Cougars were hoping to repeat as volleyball queens in the first quarter of the 2014/2015 year, but a ready group of Geckos denied them the opportunity. Academy also made it to the finals in girls softball but fell one rally short against the JFK Islanders. They did manage to do well in soccer given their overall season record.
10th Place: St. John's – 5 points. A girls team led by tennis standout Margaux San Nicolas took home the 2015 tennis won a title.
11th Place Harvest Eagles –  4 points. Eagles were runner ups in soccer and won 3rd place game in boys volleyball. Harvest was represented well in cross country.
12th Place: ND Royals – 4 points. Royals finish 2nd in girls soccer and 3rd in girls volleyball. ND has been power house players in girls basketball, soccer, and volleyball throughout the previous years, but it has been a while since the Royals have won titles in those programs.
Previous Cup Winners

QUICK HITS
3rd place: Big ups to the Para Todu Rugby Club for finishing 3rd out of 16 teams in the Manila 10's Rugby Tournament today. Biba Guam Rugby!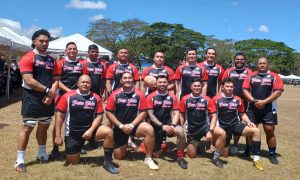 ——————————————
Guam MTB National Championship: Edward Oingerang and Jennifer Camacho are your 2023 MTB national champions. Oingerang finished the course in 1:13:24 while Camacho won her second straight title in 54:08.