[useful_banner_manager_banner_rotation banners=58 interval=5 width=200 height=200 orderby=rand]
By Jay Leon Guerrero
The JFK Islanders (9-1) showed no love on Valentine's night towards the host Southern Dolphins (4-4), extending their winning streak to eight games with a 68-63 victory in the IIAAG boys basketball league Saturday night. The Islanders started slow but finished strong down the stretch to hold on for the win, moving one step closer to home court advantage come playoff time.
Wayne Jesus led the Islanders with 22 points and teammate Ricky Pak hit 7-of-10 field goals for 15 points. Chris Conner had 14 points and nine rebounds, while Grape dished out a game-high six assists.
Diallo Cruz had a game-high 24 points for the Dolphins in the loss. Ryan Teologo had a double-double with 17 points and 10 rebounds, Michael Borja and Christian Lopez grabbed 15 and 12 rebounds, respectively.
The Dolphins stunned the leagues top team by taking an 8-0 lead to open the contest, forcing JFK coach Rey Serafico to burn an early timeout. Ryan Teologo, Cruz, and Michael Borja each scored from offensive boards to force the Islanders to change up their defense.
"We were playing at their pace to start the game, we came out with a little more sense of urgency and made them play more at our pace," said the Islanders' Ricky Pak. The Dolphins out-rebounded the Islanders 57-34 with three Dolphins grabbing 10 rebounds or more for the game.
Trailing 13-7 after the first period, the Islanders went to the full court press and managed to force turnovers to tie the game by halftime. Chris Conner and Wayne Jesus provided much of the offense for the Islanders as the Dolphins keyed in on shooters Ricky Pak and Billy "The Kid" Belger.
"Playing good man-to-man and help defense is what got us back into the game," said Jesus who had three steals for the game.
The Islanders trapped the Dolphin guards and forced them into bad passing angles which forced six turnovers in the crucial third period. Jaron Weilbacher, Belger, and Aljurell Grape each got steals that turned into easy points for the Islanders who pushed the lead to 45-33 in third quarter.
The Dolphins staged a comeback in the fourth period once again getting second chance opportunities from offensive rebounds. Teologo and Lopez collected offensive rebounds which created second chance points to cut the lead to six points in the final period. Cruz scored 9 points in the final period but the Dolphins ran out if time and Islanders hit their free throws down the stretch to hold on for the win.
The Islanders look to hold on to the top seed to earn home court advantage for the first round of the IIAAG single elimination playoffs. "We just have to take things game by game," said Jesus. "We're feeling good about the win but we have to stay content, we want to get to that championship," said Pak.
Other Scores
FD 48, St. Paul 39
St. John's 60, Guam High 49
Sanchez 38, Tiyan 17
Notre Dame 65, Harvest 55
PHOTO GALLERY BROUGHT TO YOU BY:

Foody's 5 Fun Facts
Harvest Eagle Trinity Terlaje
DID U KNOW?
FD senior Matt Fegurgur first dunked a basketball in his freshman year when he was 6'4″. The now 6'9″ center looks to dominate high school hoops.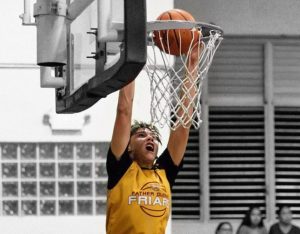 COMING SOON …
– FIBA Asia Cup: Guam vs. New Zealand, Feb 23
– Rizin 21: Aguon and Martinez
– Zach and Larry Return to Guam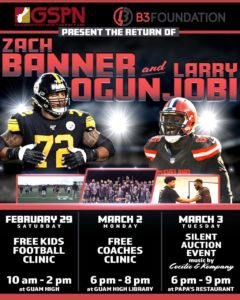 Brawl MMA March 13
QUICK HITS
190 runners took part in the 48th Hafa Marathon (half marathon).
Here are the top 5 finishers:
Ryan Matienzzo 1:13:17
Kris Lawrence 1:24:12
Taiga Sato 1:25:05
Chris Rasmussen 1:26:48
Carlos Leon Guerrero 1:28:46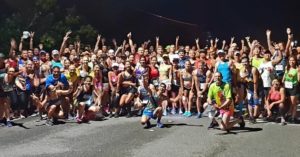 —————————————————-
Guam flags were waving in Clearwater, Florida in support of Bubba Nickles and Team USA in their Pre Olympics Softball Tour.