By Kaz Endo
About a year ago, I created a brand called VIBE. It is an acronym for Volleyball, Indoor, Beach, Everyday. The creation came about for several reasons. One, I love the sport of volleyball and two, the sport I love to play as a child and now as an adult in my mid 40's, needs help with fundraising!
The Guam Volleyball Federation (GVBF) is governed by a volunteer group of ambassadors who want to see the sport continue to grow locally and its players to achieve higher levels of skill to compete abroad in regional and international events. It truly is a wonderful federation. However, funding for sports is tremendously difficult to raise. Sports, despite its integral part in improving human physical and mental health, always seems to take a back seat to other priorities when it comes to robust investment and expenditure.
Enter VIBE.
I make no illusions. VIBE is still a very small and delicate brand. But it can grow to be tremendous, it just requires time, care and a lot of effort. When I realized that our local athletes (in this case, our volleyball athletes), need to raise their own funds to travel and compete at games where they represent our island, it hit a sad chord with me. I asked myself "why? … now why would the athlete need to do this?" Why hasn't the government or the federation done something more to try and find the funds to help our national team be more prepared?"
Washing cars and selling lunch plates does not help athletes improve their skills in their sport. Sure, it raises funds, but that time and effort spent at local parking lots scrubbing someone's tires or wiping windows, should be spent in the gym, the sand, doing drills, playing scrimmages — leveling up the body and mind to be a beast on the court. Alas, it doesn't quite work that way.
So what can I do? I'm not made of money. Like you, I donate to good, worthy causes, but I have a family to feed, children who need resources, rent, car payments, etc. I can only do so much and donate so few, that the impact would not have any practical affect to the problem at hand.
Even the federations can do so much.  Sure tournament fees generate some money, but not everyone plays and certainly not everyone can pay to play. Tournaments typically do not charge the audience any entry fees, so it's like putting on a free show.
As I began to analyze the problem, I had an epiphany. I'll use my creativity and start a brand and merchandise that brand to everyone — not just people passionate for volleyball. Portions of the proceeds from the sale of branded merchandise would then be donated to the federation. People pay to get what they want (in merchandise) and in the process they help others with or without realizing they are doing so. The mission — pay it forward. I'll create designs that people will want to wear and in return, they will make a contribution in the form of a purchase.
Good (or in our case 'mauleg') vibes indeed.
This month will mark just shy of one year for the VIBE brand. In that time, we've donated a modest amount to the federation. But each month it increases. I'm blessed to have passionate brand advocates within the local volleyball players and coaching community as well as private business owners like Hornet Sports, FlipFlops and others who see the bigger picture of what I'm chasing. Sports advocates such as GSPN provide me a voice to share this brand story with their readers, free of charge and censorship (thank you Patrick). What I've discovered in this past year is that it isn't so important how big an impact you have on people's lives immediately — but rather how big the crater of impact will be well after you've passed the torch to others to carry out and continue the mission.
So for the brand called VIBE, I've shared with you today our brief story and our mission… our brand is about helping the community through action and deed — through my art and design, through your delight and purchase. Our vehicle to help other is in the form of t-shirts, shorts, hoodies, snapback caps, bags and more.
Our manifesto is as follows: "Born from the passion of playing indoor and beach volleyball, VIBE is about enjoying life. VIBE may have its origins in volleyball, but its credo for all things good (mauleg), extends to everything around us. VIBE is about being good and treating others good. VIBE is about team, familia and the Guahan life."
I encourage you to join our tribe. It's an inclusive community and it doesn't matter if you play volleyball or not — it's more than that. It's about helping each other and taking care of the people who call Guam, HOME.

QUICK HITS
3rd place: Big ups to the Para Todu Rugby Club for finishing 3rd out of 16 teams in the Manila 10's Rugby Tournament today. Biba Guam Rugby!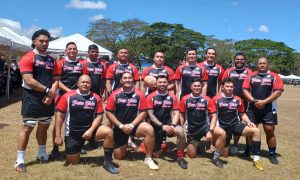 ——————————————
Guam MTB National Championship: Edward Oingerang and Jennifer Camacho are your 2023 MTB national champions. Oingerang finished the course in 1:13:24 while Camacho won her second straight title in 54:08.