By John Baza
Slingstone 62, UOG 46
In a game that saw close action from start to finish, it would eventually be the streaking team Slingstone pulling off the hard fought victory, forcing one more game to decide which team will take home the Men's recreation division championship.
Five minutes into the game, it would be Slingstone taking the 8-3 lead thanks to aggressive play to set the pace. UOG's Mark Tandoc hit a corner three to cut the lead to two points but points in the paint from Slingstone's Jesse G. and James White kept them at bay.
Hitting the halfway mark in the first half, UOG's Eric Reyes and Percy went on a run of their own to give their team the lead (14-12). The lead would continue to climb after a three from UOG's Jorge Piolo (21-16).
But Slingstone's White would continue to pester the defense, scoring 4 straight points to cut the lead (21-20) just before the half.
Opening the second in full swing, Slingstone's Ryan Camacho drained a three to once again give his team the 23-21 lead.
Reyes would take it coast to coast on the ensuing play for the "tear-drop" floater to tie it up, but the effort was short lived as Slingstone's White countered with a deep three from the wing.
Slingstone's Sam Setik scored on a putback followed by a layup in transition courtesy of the fancy passing of Kory Borja, extending the lead.
Determined to make a comeback was Reyes as he worked his way into the paint for quick easy buckets. Contibuting in the run was Tandoc who notched in a 4-point play to trim the lead (42-35).
But the defense and speed of the tenacious Slingstone lineup proved too much to handle as they ran away with the victory to force another game.
Leading all scorers was Slingstone's White with 24 points, followed by teammates Setik and Jesse G. who chipped in 14 apiece. In the loss, Tandoc dropped 16 points with Reyes pitching in 14.
Justice I 62, Justice II 50
It was do or die for the Justice II squad, as they would have to have won two straight games to walk away with the championship as well as bragging rights.
Despite a strong showing from both teams, it would be Justice I who would capture the hard fought victory, avenging an early playoffs loss.
Opening the game with the first few points for their respective teams were Roque Charfauros and Shaun Perez, with Justice II controlling the lead for the opening minutes.
Physical action would ensue, but a slip up in the defense allowed Justice I to gain the 10-8 lead after a steal and dish to Kin Charfauros.
Not to be shown up, Justice II's Brian Aflague and Jay Casimiro each notched in layups in transition thanks to tough defense to help their team regain the advantage.
But making an impact off the bench was Jerry "#letitfly", who hit two three pointers and a layup to propel his team ahead of Justice II.
Jerry would go on to hit a deep three just before the first half buzzer went off to give his team the 26-18 advantage.
Band and forth action kicked off during the opening minutes with buckets from Justice II's Perez and AJ Aguon being countered by Justice I's Derrick Royster and Oscar Espinosa's drives to the hoop (32-23).
After two straight 3's courtesy of Justice II's August sotelo, II found themselves right back in it. But this was the closest they would get as Justice I surged midway through the half.
Justice I would go on to build their lead 43-34 off a 9-1 scoring run with 7 minutes left, forcing a Justice II timeout. But right out of the timeout, Espinosa drained a three, sparking yet another run and sealing the win.
Justice II saw some signs of hope as Aguon fought hard in the paint to keep his team in it, but two fast break layups from Justice I and a couple of missed shots proved to be the nail in the coffin.
Leading his team in the win was Royster who scored 15 points followed by teammate Jerry H. with 11 points. In the loss, Aguon scored a game high 17 points, followed by teammate Shawn Perez with 13.

QUICK HITS
Guam MTB National Championship: Edward Oingerang and Jennifer Camacho are your 2023 MTB national champions. Oingerang finished the course in 1:13:24 while Camacho won her second straight title in 54:08.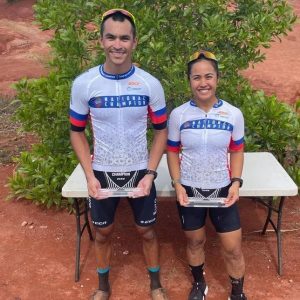 ——————————————
Kobe Miyashita, with St. John's coach Arvin Flores, was named the 2023 IIAAG Middle School Boys Volleyball MVP!