By Jay Leon Guerrero
Once again, team Justice prevailed in the GHRA basketball league. The Justice II team followed their brother team, Justice I, and picked up the victory in the varsity division of the GHRA double elimination playoffs last night at the Calvo's Field House. Justice II held off a scrappy Sea Grill team to stay undefeated in the playoffs and advanced to the winners bracket with the 63-54 victory.
Brian Aflague and Jay Casimiro led the offense for Justice II to close out a tight game. Julius Yu hit consecutive 3-pointers for Sea Grill to cut the deficit to 52-46 with 4 minutes remaining. But Yu's threes were quickly negated by a jumper from Justice's Shaun Perez and a fast break 'and 1' lay-in by Aflague.
Sea Grill was down but not out and continued to fight, making free throws and getting a huge bucket from Julius Yu's brother, Jayrald Yu, to trail just 58-54 with 40 seconds left in regulation.
Justice II slammed the door on the comeback with Perez making a highly contested short jumper and Casimiro hitting 3-of-4 free throw down the stretch to hang on for the "W".
Justice II leads from start to finish
Justice II led the entire game and established an early double-digit lead with the offensive rebounding from AJ Aguon and Joey Reyes. Aguon had 6 points and 6 offensive rebounds by halftime, Reyes put in valuable minutes off the bench scoring 4 points from the offensive glass.
Sea Grill played great team ball against the talented Justice II squad with Darrell Shandor making two reverse lay-ins and Kalel Delos Santos making a 3-pointer and recording three steals in the second half to keep the opposition within striking distance.
Jayrald Yu led Sea Grill with 21 points, 6 rebounds, and 3 blocks. Julius Yu was clutch down the stretch and scored 15 points, sinking 4 three-pointers and dishing out 5 assists.
Casimiro had the games only double-double with 20 points and 10 rebounds, Aflague scored 15 points to go with his 7 dimes.
"We just played really good team ball and got stops in the end," said Aflague. Aflague played against his class of 2006 FD alumni classmate Julius Yu in the contest.
"Yeah we are both very used to playing on the court together, we are both competitive," said Aflague. "Every time they came back we just had to regroup, slow everything down, play our own game and everything else will fall into place."
Aflague and the Justice II team will now face the Justice I team on Thursday in a civil war showdown for office bragging rights. The conversions the day after will be about which team will be the kings of the court (and we are talking about the basketball court).
Justice I wins behind Hinkle's hot hand
Team Justice I held off the MVP Stars 64-60 in a heated battle. Jerry Hinkle could have changed his jersey name to 'Curry' last night and no one would have noticed. Hinkle was unconscious behind the arc for the Justice I squad making a total of nine 3-pointers for 30 points to help the top-seeded Justice I squad advance to the winners bracket.
Earvin Jose scored scored 24 points for MVP, Daniel Del Carmen chipped in 14 points for a short-handed MVP squad who only had 5 players available for the game. Oscar Espinosa had 13 points for Justice I to help complete the sweep much to the delight of team manager Chief Justice Robert Torres. Torres was celebrating his birthday Monday night and got the gift of two playoff victories in the same night from his Justice Club(s).
The MVP Stars will take on the Baldyga Group tonight in a win or go home game at 7pm. Sea Grill will also play for their tournament life against Calvo's Insurance at 7pm on court B.
Rec Games
In the recreation division games, DFS defeated a talented team Slingstone squad 58-57 in a come-from-behind victory.
James White had the hot hand in the first half for Slingstone to take a 34-30 advantage by the break. Sam Setik ballooned the Slingstone lead to a dozen points in the second half as he slashed his way to the basket and made his 3-pointers.
But the savvy DFS squad hung around and took the lead with a minute remaining behind a hook shot by Merwin Martin to go up by the eventual final score of 58-57. DFS played good defense in the final minute and burned the clock for the win.
Martin led his team with 19 points, Jed Antonio scored 17 for DFS as they advance to play PIC in the winners bracket tonight at 8pm.
Setik led all scorers with 22 points, White chipped in 14 points for Slingstone. Slingstone suffered their first loss in the double elimination format and will play for survival for the rest of the playoffs.
PHOTO GALLERY:

Foody's Fun Facts
Favorites From Year 2
COMING SOON …
FRIDAY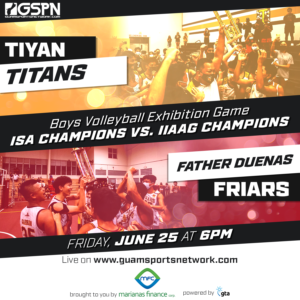 UFC Fight
July 25: Trevin Jones vs. Tony Kelley
QUICK HITS
The Guam Legislature recently paid homage to Michael Reidy, who passed away stateside in March. Reidy was instrumental in getting Guam into the Olympics in 1988 as well as a founding father of the island's paddling community.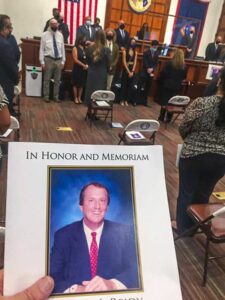 ——————————————————–
Nadine Del Carmen graduated from Santa Clara University on June 11. She was named captain of the Santa Clara women's tennis team in her senior year and she will be attending Georgetown University in the fall to pursue her masters and will be playing for the Hoyas women's tennis team.