[useful_banner_manager_banner_rotation banners=72,74,77 interval=10 width=120- height=600 orderby=rand]
The Lady Raiders achieved their ultimate goal over the Anderson Dragons at Anderson Gym Thurday night in a 37 – 22 contest.
The Raiders went undefeated (10 – 0) for the season claiming the IIAAG Middle School basketball championship under Coach Rudy Gaza.
The Lady Raiders broke the 400-point scoring mark this season scoring 414 points over 10 games, averaging 41.4 points per game.
The Raiders strong play started off at tip-off with center Monica Giger winning the tip to guard Kirsten Silva, who cross court passed it to teammate Ivory Howat for a quick two points in the first four seconds of the contest.
"We like to start the game on our terms with a quick basket," said Monica Giger. "We practice that all the time and our girls did it perfectly tonight, that's Saint Anthony basketball."
The Anderson Dragons came to play at home, giving everything they had with full court pressing and aggressive court play, but the Raiders were just to much on the night.
The Lady Raiders defense was on display with key rebounds, steals & blocked shots leading them into transitions going the other way which then activates that potent offense.
"We all worked together as a team tonight playing our defence and knowing that we had to leave it all on the floor," said Kirsten Silva. "It's our last game and we wanted to go undefeated for our Coach."
The Lady Raiders were flying up the court with floating shots from Ivory Howat, Post-up baskets from Giger and driving layups from Kirsten Silva.
The Lady Raiders strategy this season has been to play defense-first basketball. With this strategy, they were able to shut down the Dragons post-opportunities and inside shots all night with strong play from Giger leading defensive charge with 18 Rebounds, 8 block shots and 4 steals. Another defensive standout for the Raiders was Maria Egurrola, who pulled down 9 Rebounds, blocked 6 shots and had 4 steals.
The Lady Raiders used this strong defensive to create turnovers and transition them into points on the oppoiste end of the court with a halftime lead of 15 – 11.
The Raiders and Dragons traded a baskets right after half before the Raiders went on an 8-0 run in the 3rd quarter to a score at 27 – 13.
The Raiders picked up were the left off at the end of the third starting the 4th quarter scoring 4 more points.
At this time, foul trouble caught up with the Raiders with two of the five starters fouling out. Gandolli played her heart out before receiving her fifth foul.
Natasha Gandolli (Fouled out)
Maria Egurrola ( Fouled out)
Monica Giger (4 Fouls)
Ivory Howat (3 Fouls)
Kirsten Silva (3 Fouls)
Haley Salas (2 Fouls)
The Dragons went to the foul line in the second half 14 times scoring 11 of their points at the foul line. Two of the Lady Raiders starting five fouled out in the third quarter.
The Lady Raiders did not let this slow them down with Coach Gaza reaching to the bench bringing in Haley Salas & Oriana Sevilla. He implemented a strategy to stay aggressive sparking a persistent push to finish the game 37-22.
Statline
(Shooting Guard) Ivory Howat with 14 points, 5 rebounds & 3 steals.
(Point Guard) Kirsten Silva with 13 points, 4 steals & 5 assist.
(Center) Monica Giger with 8 points, 18 rebounds, 7 blocks & 4 steals.
(Forward) Natasha Gandolli 2 Points, 5 rebounds & 2 steals.
(Forward) Maria Egurrola 8 rebounds, 4 blocks & 4 steals.
Subs – Haley Salas & Oriana Sevilla.
2015 Season
1. Raiders vs St Johns 27 – 8
2. Raiders vs St Francis 43 – 21
3. Raiders vs Santa Barbara 43 – 6
4. Raiders vs Bishop 35 – 21
5 Raiders vs St Paul 41 – 16
6. Raiders vs Harvest 47 – 9
7. Raiders vs McCool. 45 – 8
8. Raiders vs Mt Carmel 55 – 27
9. Raiders vs San Vicente 41 – 3
10. Raiders vs Anderson 37 – 22
Contributing Lady Raider Players; Haley Salas, Mia Taitano, Oriana Sevilla, Ritisha Raj Kumar, Jeome Bandoc, Kailey McDonald, Anaika Almario
The Saint Anthony Lady Raiders will be having a championship award ceremony next week at the Saint Anthony Catholic School Gym in Tamuning.
Pictured: Ivory Front: Howat, Kristen Silva, Monica Giger, Natasha Gandolli, Maria Egurrola – Back: with Coach Gil Almario, Don Taitano & Head Coach Rudy Gaza.

Foody's Fun Facts
Favorites From Year 2
COMING SOON …
FRIDAY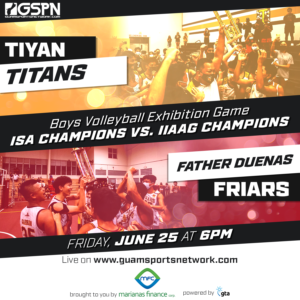 UFC Fight
July 25: Trevin Jones vs. Tony Kelley
QUICK HITS
The Guam Legislature recently paid homage to Michael Reidy, who passed away stateside in March. Reidy was instrumental in getting Guam into the Olympics in 1988 as well as a founding father of the island's paddling community.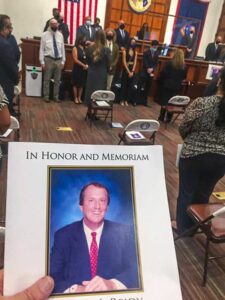 ——————————————————–
Nadine Del Carmen graduated from Santa Clara University on June 11. She was named captain of the Santa Clara women's tennis team in her senior year and she will be attending Georgetown University in the fall to pursue her masters and will be playing for the Hoyas women's tennis team.