By Robert Balajadia
After three years of knocking, the Lady Raiders are finally headed to the Guam Women's Tackle Football League Championship game where they will face off against the three-time defending champions in Team Legacy.
Top seeded Team Legacy ran through the #4 seeded Steel Blazers in the early morning game 38-6 at the UOG field, propelling them into their 4th straight GWTFL title game appearance.
The #2 seeded Raiders punched their finals ticket with a big win over the #3 seeded Lady Falcons in a 27-8 romping courtesy of Raiders half-back Brandi Potter, who broke loose for three touchdowns all in the first quarter.
"It's either win or go home and I didn't feel like playing for 3rd place this year," said Potter with a smile. "As a running back, it's just my job to get into the end zone. Heading into today's game we just needed to settle down mentally and I always have to give props to my offensive line."
Potter's first score came from just the Raiders second play from scrimmage, darting to the right side of the field for a 50-yard scoring run. The Raiders then recovered the ensuing kick off as the Falcons had troubles corralling the kick which set up another scoring drive.
Potter used a 15-yard run to put her self in position to score on the very next play off a 10-yard scamper on past the left side of the Falcons defense. After forcing a turnover on downs on the Raiders following possession, Potter got free for another score from 15 yards out to quickly put the Raiders up 20-0.
Potter almost had a 4th touchdown of over 70 yards, but a clipping call negated her longest run of the day.
The Raider defense was thinking shutout all-game long and they were just as fired up as in the final two minutes of the game as they if it were a close contest.
The Falcons were pressing within the red zone and repeatedly went to the run game of Irish Iriarte and Shondelle Ah Kuoi. After converting a 4th and short, Kuoi finally broke the chains of the near shutout with a quarterback sneak from four yards out.
"Our defense have proven time and again that we can rely on them and that they will do what they need to do. When it comes down to it, we can always rely on our defense," said Potter.
The Championship game is scheduled for Saturday May 16th at the Raider field in Tiyan.
Halftime Proposal
Raiders fullback Christine Deleon had a great overall game, helping the Raiders get into the finals with it just being her firs year with the team. Deleon and the Raiders bond radially grew through the course of the season which aided in Deleon's halftime proposal to girlfriend Shawna Rae Sanchez, now finance.
"Once I told one person on the team, everyone was involved," laughed Deleon on the proposal idea. "I didn't want to take the Falcons lightly so there was a possibility that this could've been our last game."
The Raiders gathered at midfield at the half and slowly revealed a "will you marry me" sign to Sanchez, who was waiting in the middle of the field, with Deleon tearing through the sign to then proceed to the traditional one-knee proposal.
"Football has been a big thing for me before I got on island and I loved it. I wanted to combine my love for football with the person that I love and so I just decided that this was how I was going to do it," said Deleon.
PHOTO GALLERY:

Foody's Fun Facts
Favorites From Year 2
COMING SOON …
SATURDAY
Boys Volleyball: Champion vs. Champion
Saturday 6 pm: FD vs. Tiyan
UFC Fight
July 25: Trevin Jones vs. Tony Kelley
QUICK HITS
Nadine Del Carmen graduated from Santa Clara University on June 11. She was named captain of the Santa Clara women's tennis team in her senior year and she will be attending Georgetown University in the fall to pursue her masters and will be playing for the Hoyas women's tennis team.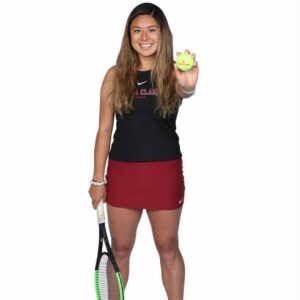 ——————————————————–
After a star-studded collegiate career at UCLA, Bubba Nickles turns her focus on the Tokyo Olympics with Team USA after the Bruins were eliminated in the College World Series. Nickles endured a broken arm on April 7 and worked her way back into the Bruins lineup for the WCWS. She will go down as one of UCLA's best softball players in its storied history.