By Robert Balajadia & Patrick Lujan
Katy Perry will be headlining the Superbowl Halftime Show for 2015. Due to her busy schedule, she will not be headlining the halftime show for the GSPN Pre-Season Boys Basketball Tournament championship game, but we have the next best thing.
Four of Guam's best shooters in their heyday will be setting up shop behind the arches for your viewing pleasure as Joey 'Pretzel' Gogue, Jin Han, Erwin Villa, and Rey Serafico will be competing in the Legends 3-Point Shootout during the halftime of the championship game on January 16th.
The championship game will be broadcast live as well as the 3-point shootout. In the battle of range, who do you think still has the sweet stroke from deep and is going to take top honors? For the young ones who aren't too familiar with the bunch, GSPN CEO Patrick Lujan will inform you on who exactly these lethal shooters are. (Or at least used to be)
Joey Gogue – Totally fearless with everything behind his wrist. When he's hot, nothing can stop him. In the heat of battle, Pretzel would pop a trey six feet off the 3-point line and drop it in like sweet butter. The thing about the 3-point shootout is that there will be no defender in the face of Gogue. It may be a little odd for him with no tight defense, where he seemed to make the most damage. But a shooter is a shooter and this legend is going to let it fly in the fun event.
Jin Han – Han just turned 40 and is the youngest of these legends. Heck, he's still active with the Guam National team after 20 years and what does he do in her first 40+ masters game? He drops 10 3-pointers on his opponent. He's in shape and he's been letting it fly since his high school days at JFK. His form is nearly perfect and fun to watch.
Erwin Villa – Villa is a JFK Islanders legend and still holds the high school record for 11 3-pointers in a game against GW. Somehow, he was always open in the corner where he could drop it in at probably a 70% rate. Most fans and players who know him say he can hit the 3 with his eyes closed. Early side betters have their money on Villa.
Rey Serafico – The current JFK head coach is probably the underdog in this contest, but we wouldn't put it past him if he pulls off an upset. In his prime, Serafico can nail the 3 from anywhere on the court. Since knowing he would be in this contest, he's taken his training seriously. Word has it he's been staying behind Islanders practices to sharpen his shooting.
Whether you're taking a trip down memory lane or are getting to know these shooters for the first time, this 3-point shootout will be one of the many highlights during the championship game broadcast on Friday January 16th!

QUICK HITS
Guam MTB National Championship: Edward Oingerang and Jennifer Camacho are your 2023 MTB national champions. Oingerang finished the course in 1:13:24 while Camacho won her second straight title in 54:08.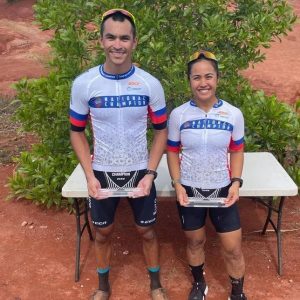 ——————————————
Kobe Miyashita, with St. John's coach Arvin Flores, was named the 2023 IIAAG Middle School Boys Volleyball MVP!