[useful_banner_manager_banner_rotation banners=72 interval=5 width=120- height=600 orderby=rand]
By Michael Cruz
The football journey of Kyle Lewis, who is of Chamorro heritage from his mothers side, has had peaks and valleys. Lewis started his varsity season his high school junior year and ran for 463 yards and scored 5 TDS in 8 games, but the team struggled to a 3-7 record in 2008.
Fast forward to April 24, 2010 and the day his football life changed.
He attended the Nike Sparq Combine with over 1,200 athletes. In the SPARQ (Speed, Power, Agility, Reaction, Quickness) testing, Lewis finished with a rating of 127.86. He ran the 40-yard dash in 4.49 seconds, completed the 20-yard agility shuttle in 4.06 seconds, threw the power ball 43 feet and had a vertical jump of 36 inches.
He won the event and was ranked #1 in the nation. The following July, he placed fifth at the Sparq National Championships with an improved score 129.84.
For Lewis, it was a wakeup call and the reality of playing college football was possible. Before the combine he was a mediocre student and felt he was not good enough nor smart enough. Through the support of family and coaches, he got his grade up to a 2.7 GPA. He also met Tim Tebow that summer which he explained was very motivating.
Setting A Goal
Kyle Lewis gained confidence and a goal to be a better teammate and student his senior year. Schools were starting to show interest and wanted to see if the athlete was a bonafide football player. Lewis started at running back and defensive back for Downey High. Lewis's first game was huge as he ran for 186 yards and 1 TD against La Serna.
By the end of the season, Lewis had 1,204 yards rushing, 11 TDs, and 55 tackles on defense. Downey improved to 6-5, placed 2nd in their league, and made the 1st round of the playoffs. Lewis was the best player on his team and had come a long way from lacking confidence a year before.
Obstacles
Grades and SAT scores are part of the college process. Even though the offers were there for Lewis he still needed to get his academics and SAT up to par. He missed out on National Signing Day and a few schools were still interested.
Lewis finally got his ACT score 19 and core GPA of 2.8. He was verbally committed to UCLA who wanted higher scores and SAT. By July though UCLA had not moved on the offer and Washington did. He signed July 12, 2011 to play for the Huskies.
http://www.scout.com/college/football/recruiting/story/1084708-lewis-jumps-on-chance-to-play-for-uw
The next obstacle for Kyle was one he didn't expect. He had taken a few online classes to try and meet the NCAA requirements. They didn't count and unfortunately he was not eligible to play on scholarship for Washington and enroll for fall 2011. He returned back to California and had to look at other options for college.
JC Route
The California Junior College Football System is the largest in the nation. Schools do not give out athletic aid for football so players must find other sources of financial aid. Lewis started over and begun a three college odyssey over three seasons. First, was Cerritos College where Kyle attended classes and didn't play football.
Next, he attempted to play at Mt. San Jacinto, but injuries limited his play in 2012. Third time was a charm, and Lewis played his first season of college football at West LA JC. The 2013 season was his best and it got him recruited by Ball State.
http://scfafootball.com/sports/fball/2014-15/players/kylelewislc3o
D1 Bound and Enrolled
Kyle Lewis is now a junior at Ball State and plays Safety for the football team. He is enrolled full time, plans to complete his degree, and earn playing time on the field. As the old adage saying goes it's not how you start but how you finish.
http://www.ballstatesports.com/ViewArticle.dbml?DB_OEM_ID=14200&ATCLID=210261931

QUICK HITS
Guam MTB National Championship: Edward Oingerang and Jennifer Camacho are your 2023 MTB national champions. Oingerang finished the course in 1:13:24 while Camacho won her second straight title in 54:08.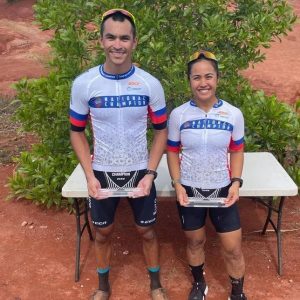 ——————————————
Kobe Miyashita, with St. John's coach Arvin Flores, was named the 2023 IIAAG Middle School Boys Volleyball MVP!