By Jay Leon Guerrero
Forty four youth basketball players attended the "94 Feet of the Game" Basketball Clinic at the Okkodo gym on Thursday afternoon.
Phil Handy, director of player development for the Cleveland Cavaliers, held the first basketball clinic for 14-, 16-, and 18-and-under players.
Handy was assisted by NBA players JR Smith and Gerald Green, much to the delight of the youth basketball players. Players from all over the island at different skill levels attended the camp.
Alana Salas, a 12-year old student from Untalan Middle School, said that she learned high-level skills that she will take home and practice to help her improve her game. "Coach Handy was really good, I learned so much today". She said that she wanted to learn more skills so she can help her club, the Mongmong-Toto-Maite Falcons and her schools team, the Wildcats.
Salas also spoke with Smith and she got some pointers from the 6'6″ shooting guard.
"JR Smith told me that he was doing these drills and exercises everyday when he was my age. He told me he got better by working on these drills everyday," said Salas.
"I love working with the kids, the turnout today was really good. They are getting some good pointers and tips from Coach Phil so I'm hoping they all stick with it," said Smith.
Coach Handy took center court and demonstrated various drilling, shooting and passing drills. Youth players each had a basketball and were assisted by Smith and Green as Handy walked around the court with instructions.
Green, a 6'8″ forward who recently signed with the Miami Heat, said that he was happy that he came to Guam and was really pleased with the first clinic.
"I love it. The people here are great; the hospitality is fantastic, the food is awesome and the weather is good. Coach Phil is doing a great job, he's teaching the kids the same drills guys like JR Smith and myself also do everyday. These drills are the same stuff NBA players do in training," said Green.
The clinic was made possible by director Leah Metra, the MTM Falcons Basketball Club and the Guam Women's Masters Basketball Association also assisted the program. Members of both organizations along with the Team Justice basketball team assisted the youth basketball players.
The clinics continue on Friday and Saturday with 14-, 16-, and 18-and-under youth athletes at the Okkodo High Gym with two clinics at 9 am and 2 pm. Smith and Green will play an exhibition game on Friday night with Team Justice I and II at the FD Phoenix Center at 7 pm. The last clinic will be on Monday at 9 am which will be strictly for 12-and-under athletes. Coach Handy will hold his final clinic to help coaches on Monday, August 3rd at 5 pm at FD.
According to Clare Camacho Agualo from the MTM Falcons, tickets are still available at both Avis Rent-A-Car locations in Tumon and the Guam International Airport. Ticket prices are $15 for children 12-and-under, $25 for general admission and $50 for VIP seating. The tip-off time will be at 7 pm at the Father Duenas Phoenix Center.

QUICK HITS
3rd place: Big ups to the Para Todu Rugby Club for finishing 3rd out of 16 teams in the Manila 10's Rugby Tournament today. Biba Guam Rugby!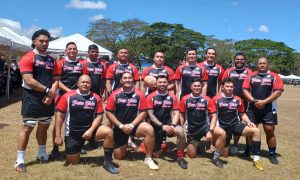 ——————————————
Guam MTB National Championship: Edward Oingerang and Jennifer Camacho are your 2023 MTB national champions. Oingerang finished the course in 1:13:24 while Camacho won her second straight title in 54:08.