By Jay Leon Guerrero
The countdown can officially begin. It's time for Team Guam to go at it against the best in the Oceanic region in a competition played every four years known as the Pacific Games (formerly called the South Pacific Games). The 15th edition of the Pacific Games will be played from July 4-18 in Port Moresby, Papua New Guinea (PNG) featuring 32 different sports covering 23 Island Nations and Territories.
Here is a list of the participating countries:
American Samoa
Australia
Cook Islands
Federal States of Micronesia
Fiji
French Polynesia/ Tahiti
Guam
Kiribati
Marshall Islands
Nauru
Niue
New Caledonia
New Zealand
Norfolk Island
Northern Mariana Islands
Palau
Papua New Guinea (Host)
Solemon Islands
Tokelau
Tonga
Tuvalu
Vanuatu
Wallis and Futuna
For the first time, the XV Pacific Games will include Australia and New Zealand in the Games playing four sports which include Sailing, Taekwondo, Rugby 7s, and Weightlifting.
Guam has performed poorly in the Games managing only one gold medal in the 2007 games won by female bodybuilder June Mair (57-kilo division). Mair celebrated in 2007 with teammate Florence Burke (52-kilo division) who won the bronze medal in her division. Burke passed away suddenly earlier this year, and long time friend Steve Oshiro wrote a special segment dedicated to the long-time professional.
In 2011, Guam managed to finish 14th of 19 in the medal ranking in previous Pacific Games held in New Caledonia, failing to bring home a gold while producing 6 silvers and 5 bronze medals.
Here are the previous games medal tally:
Over 200 athletes will be sent to the Games to participate in 12 sports. The sports participating thus far are as follows:
Basketball ( 12 M / 12 F)
Beach Volleyball (2 M / 2 F)
Boxing (8 M / 1 F)
Golf (4 M / 4 F)
Rugby (12 men)
Shooting (7M / 7F)
Swimming (13M / 13F)
Taekwondo (4M / 2W)
Tennis (4m/ 4F)
Track and Field (TBD)
Triathlon (3M/3F)
Va'a (10M/10F)
Volleyball (12M/12F)
Weightlifting (3M / 3F)
According to Team Guam Chef de Mission Joey Miranda III, Guam should perform better than the previous two Games and he is hoping to break out of the gold medal slump.
"Everyone in our delegation will definitely want to win the gold medal. We expect our athletes to compete at a high level and to give it their all. We are going to the Games to contend for every medal possible and when the opportunity knocks we expect all of the to seize it," said Miranda.
Guam will be challenged by regional powerhouses and previous medal top four finishers which were New Caledonia, Papua New Guinea, Samoa, and Fiji. Athletes have been motivated for the Games, training for the last year in preparation for the prestigious event.
All eyes will be on the Men's and Women's National Basketball teams looking to win that elusive gold medal after convincing Gold Medal performances last year in the Micronesian games in Pohnpei. The men's team, won lost the gold medal game in each of the last two Pacific Games, has been working hard after bringing home disappointing silver medals.
Willie Stinnett III, a member of the men's team, will be going to his third Pacific Games and said his team will be looking to win gold. "We were close but came up short. I think this time around we are more mature, more experienced and that should help us accomplish our goal," said Stinnett. "This is probably the most complete team and we look forward to the competition".
Guam Swimming will have more opportunities to bring home medals with more events than the other sports. Swimming has the largest team and they are bringing a young and hungry contingent eager to have their moment(s) on the medals stand. Olympian Chris Duenas said that he hopes his contingent will be able to help bring home more medals but will not make any gold guarantees.
"As far as swimming I cannot say, but for the other sports my hopes are for their highest achievement. We have new motivated swimmers who've looked beyond Guam for their training and have done well," said Duenas.
Duenas did give a little glimpse of the performance expectations and said to expect his relay team to perform well. "Our men's relay team is going to have the fastest time this island has ever seen".
Hard working Chef
Miranda recently visited PNG and said that the venues and the athletes hall will be ready for the athletes to start the 12 day event.
"My main role and responsibility is to ensure the safety and well-being of our delegation during the Games. I would like to work with all our officials, coaches, and athletes to provide them with the information they will need to allow them to concentrate on their sport so that they can be able to deliver their best performance during the Games," said Miranda.
"It's an honor and a privilege to be the Chef de Mission for Team Guam. I look forward to assisting our delegates during the games to help make these Games a memorable one for us all," said Miranda.

QUICK HITS
3rd place: Big ups to the Para Todu Rugby Club for finishing 3rd out of 16 teams in the Manila 10's Rugby Tournament today. Biba Guam Rugby!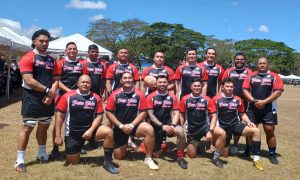 ——————————————
Guam MTB National Championship: Edward Oingerang and Jennifer Camacho are your 2023 MTB national champions. Oingerang finished the course in 1:13:24 while Camacho won her second straight title in 54:08.