[useful_banner_manager_banner_rotation banners=72,74,77 interval=10 width=120- height=600 orderby=rand]
By Robert Balajadia
The Guam High Panthers turned their (0-8) 2014 season into a 3rd place finish in 2015 after defeating the visiting Southern Dolphins 20-2 Friday night on the eve of the title game.
The Panthers had title aspirations so the 3rd place finish wasn't quite what they wanted, but the turnaround from 2014 was still a big accomplishment.
"We came from the bottom after going (0-8) last year and we worked hard all season. Even though we didn't win it all, we kept our heads up and practiced hard for this," said Wendy's player of the Game Juan King.
King punched in a touchdown from two yards out in the first quarter to give Guam High a 14-2 lead and later threw a touchdown from 54 yards out to receiver Xavier Richardson in the fourth quarter to put the Dolphins historic season to rest.
For Southern, the 4th place finish was their highest in school history.
A scuffle between the two teams broke out one minute before the end of the first half after a Panther punt which caused some parents from Southern to step on to the field in a heated exchange between the Dolphins and Guam High players.
The situation was diffused before the start of the second half as both teams took to the middle of the field and agreed to just play football.
Game Flow
The game couldn't get off to a worst start for the Panthers after taking the opening kick off for negative yardage, backing up the offense to their own five-yard line.
A bad snap ensued on the first play of the game which forced Panther quarterback Jujuan King to throw the ball out of bounds in his own end zone, which drew an intentional grounding call giving Southern a 2-0 lead due to the safety.
Guam High quickly checked into the game after stopping the Dolphins on four straight run attempts for a turnover on downs.
The Panthers benefitted from a 12-yard run from bulky running back Jeylen Dowdell and a 26-yard pass from Jujuan to Makoa Bamba to get into the red zone. Jujuan eventually punched in a goal-line score to give Guam High a quick 7-2 lead after a successful PAT from Nick Anderson.
Juan's second quarter touchdown gave the Panthers cushion heading into the second half.
Southern's run game got off to a good start in the second half by getting two first downs from runners Kam'ron Tenorio and Jeric Navarro. Guam High started to figure out the Dolphin run game after then forcing the Dolphins to punt away after three negative yard runs.
A series of punts from both sides allowed the game to stay close before Juan hit Richardson for the fourth quarter score.
A better finish in 2015 only bodes well for the Panthers in 2016, who are going to build off their recent success come next season.
"This is just one win and we can't let this one be the best of us. Next year, we're starting a clean slate so we're going to have to work hard next season," said King.
PHOTO GALLERY BROUGHT TO YOU BY:

Foody's 5 Fun Facts
FD Friar Raymond Castro
DID U KNOW?
FD senior Matt Fegurgur first dunked a basketball in his freshman year when he was 6'4″. The now 6'9″ center looks to dominate high school hoops.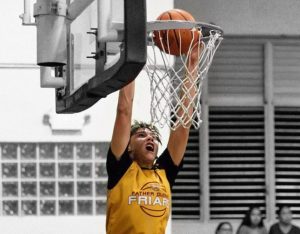 COMING SOON …
– ISA Sports League Kicks Off
– FIBA Asia Cup: Team Guam!
– Zach and Larry Return to Guam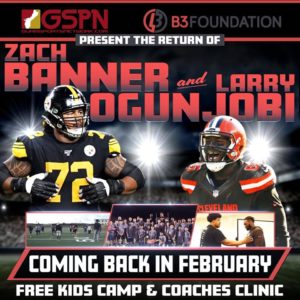 QUICK HITS
Still pumping iron: Pito Cruz, Ed Perez and Joe Duenas are some of the godfathers of bodybuilding and fitness on Guam. They're still at it with another workout together at Pito's gym.
—————————————————-