[useful_banner_manager_banner_rotation banners=74,77,72 interval=10 width=120- height=600 orderby=rand]
By Jay Leon Guerrero
Four teams assembled at the JFK gym to open up the IIAAG wrestling season Saturday morning. The host team JFK Islanders took the mats first defeating the defending champion Simon Sanchez Sharks 51-24. The Islander girls' team took on the defending champion Sharks and their meet ended with a 30-30 draw.
Islander team captain Napu Taimanglo said that his team looks strong despite only having 4 returnees. Taimanglo gave the Islanders 6 points for the win via pin over Sanchez's Tre' Starr in the 160 lbs weight division.
"I was just focused on my breathing and got the victory in the second round (via pin). It was a good win but we did have a lot of victories by forfeit," said Taimanglo. With the season still early, Taimanglo said that his role of team captain will be to get victories to get points for his team and also to help his teammates during practice to learn new techniques.
Sophomore sensation Paradis Fejerang was happy with the draw against the defending female champion Sharks. Fejerang, a finalist in last year's all-island meet as a freshman, got a huge third round pin to give her team valuable points for the tie. According to Fejerang, she was down on points before she executed the pin to give the Islanders 6 points. The Islanders needed every point after the meet ended in a deadlocked draw at 30-30.
"I'm very satisfied with the results today knowing we took the defending champions to a draw with only two girl returnees this season. We still have room to get better; in order to be ready for the all-island meet we'd have to work on our conditioning. A lot of us were getting tired; we are strong but we need to work on our stamina."
Sisters Mia (145 lbs) and Rckaela Aquino (138 lbs) will be the backbone of the Sharks' girls team. Both sisters recorded first round pins for valuable points. The mighty lady Sharks team was missing key returnees they lost to graduation last season. The Sharks surrendered seven forfeits to the Islanders.
Geckos get the win
In the second matchup, the GW Geckos defeated the Okkodo Bulldogs in both the boys and girls divisions. Head coach Luis Ting has a strong squad this season and his team will only get stronger after football season ends. According to Ting, he said he has about 6-8 male wrestlers playing the championship football game later in the evening. Once his players are done with football, they will jump right into the second meet as the Geckos look to contend for an IIAAG title.
Despite missing one-third of the team, the Geckos were still able to escape with a 42-39 victory in the boys' matchup. Juan Ada (113 lbs), Giovanni Taitingfong (126 lbs), Kyle Samonte (145 lbs) and  Gavin Borja (195 lbs) each won via pin for the Geckos. Frankeo Rosario (152 lbs) and Donel Pascua (220 lbs) recorded pins for the Bulldogs.
Gecko girls get huge blowout wins
The GW lady Geckos are just as strong in numbers and talent as their male counterparts. The Geckos easily defeated the lady Bulldogs 60-24 to put them as one the top teams for this season. Newcomer Augusta Ilemelong (112 lbs) picked up a win via pin in the first round to jumpstart a series of Gecko victories.
"I got the takedown but I wasn't able to get in good position for the pin during my match. I had to turn to different techniques that my coach (Ting) has taught me to get the pin later," said Ilemelong. Last season, the lady Geckos finished in second place and are looking to improve. "So far our team is pretty confident, we are just going to continue to wrestle and have fun at every meet".
The Gecko girls continued to dominate in their second meet improving to 2-0 with the 60-24 victory over JFK (1-1). The GW boys' team dropped their second meet to JFK 48-36.
In other meets, the FD Friars came out strong defeating Southern 60-18, Southern girls defeated Academy 18-12 Saturday morning at their meet at Guam High. The host team boys team defeated Tiyan 48-36, the lady Titan defeated Guam High 42-30.
Here are Meet 1 results:
Girls
JFK ties Sanchez (30-30) @ JFK gym
GW def. Okkodo (60-24) @ JFK gym
GW def. JFK (60-24) @ JFK gym
Okkodo def. Sanchez (42-36) @ JFK gym
Southern def. Academy (18-12) @ Guam High gym
Tiyan def. Guam High (42-30) @ Guam High gym
Boys
FD def. Southern (60-18) @ Guam High gym
JFK def. Sanchez (51-24) @ JFK gym
Guam High def. Tiyan (48-36) @ Guam High gym
GW def. Okkodo (42-39) @ JFK gym
Okkodo def. Sanchez (39-21) @ JFK gym
JFK def. GW (48-36) @ JFK gym
PHOTO GALLERY BROUGHT TO YOU BY:

QUICK HITS
3rd place: Big ups to the Para Todu Rugby Club for finishing 3rd out of 16 teams in the Manila 10's Rugby Tournament today. Biba Guam Rugby!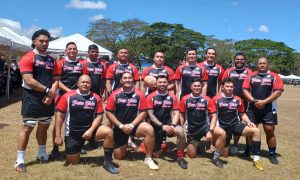 ——————————————
Guam MTB National Championship: Edward Oingerang and Jennifer Camacho are your 2023 MTB national champions. Oingerang finished the course in 1:13:24 while Camacho won her second straight title in 54:08.