By Michael Cruz
The Guam High Panthers return from a forgettable (0-7) campaign in 2014. Head coach Jacob Dowdell is back on the sidelines and had encouraged his players to work hard in the off-season as the Panthers are set for a 2015 rebound.
"We are looking young like always, but this is the physically strongest team since 2010. They really bought into the offseason strength and conditioning program," said Dowdell.
Guam High's biggest loss this summer was Lewis Harris, who will be playing college football for the Pima Aztecs in Arizona.
Receiver and linebacker Keith 'Trip' Chauret was one of those players and returnees from a productive summer camp circuit and he aims to be amongst the leagues best.
The King brothers in Jujuan and Juan have transferred back from FD and will provide a much needed boost at the quarterback and skill positions.  Jujuan will be the signal caller while his younger brother Juan King Jr. (all-island utility) will once again control the backfield.
Fullback and defensive back Avery Fernandez will play both sides as well. Fernandez had a very productive 2014 campaign, eventually becoming the teams highest yard-per-carry-average rusher by seasons end.
Receiver and defensive back Makoa Bamba may just be the Panther's best prospect that is coming up from youth football. Donovan Johnson-Coleman looks to step up at defensive tackle after starting as a sophomore.
Speedster Xavier Richardson looks to return from an injury shortened season and contribute at receiver and safety. Nick Anderson was one of the few Panthers who made it on the All-Island team as a punter last season.
Offensive tackle Ethan Rivera brings the most experience to the young offensive line.
Travis Aguon has two year of experience as a starter since joining the team as a Freshman. Big freshman Ronald Leuma will start on offense and defense after showing natural skill in practice.
Guam High should put some points on the board with their offensive weapons, but can the defense step up this season to stop the other strong offensive teams in the league? If so, the Panthers could make some noise come playoff time.
Players to Watch
WR/OLB – Keith 'Trip' Chauret III (6'2, 201, 4.62)
WR/SS – Xavier Richardson (5'10, 155, 4.5)
K/P-SR – Nick Anderson (6'3, 210)
LT-SR – Ethan Rivera (6'4,230)
RB-JR – Juan King Jr. (5'8, 165, 4.7)
WR/DE – Makoa Bamba (6'4, 200)
DT-JR – Donovan Johnson-Coleman (6'1, 200, 4.6)
FB/CB – Avery Fernandez (5'6, 160, 4.7)
LG/DT – Ronald Leuma (6'0, 285)
QB/CB – Travis Aguon (5'8, 150, 4.95)
QB – Jujuan King
Key Games
September 4 vs. FD: The Friars torched Guam High for 436 yards on the ground. Will the Panther defense be able to contain D'Aundre Cruz this time around along with backfield new comer Leon Shimizu?
October 3rd vs. Southern: Last season, both teams met for the battle of the winless teams. Southern defeated Guam High ending a near four-year losing streak dropping Guam High to (0-7) for one of the school's worst seasons despite getting a state of the art football field. Both teams have improved since last year and will end the year challenging each other. This game prove to be a crucial spot in the playoff standings, or instead, a redemption game for the Panthers.

QUICK HITS
3rd place: Big ups to the Para Todu Rugby Club for finishing 3rd out of 16 teams in the Manila 10's Rugby Tournament today. Biba Guam Rugby!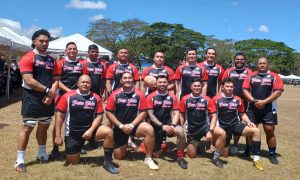 ——————————————
Guam MTB National Championship: Edward Oingerang and Jennifer Camacho are your 2023 MTB national champions. Oingerang finished the course in 1:13:24 while Camacho won her second straight title in 54:08.