By Robert Balajadia
After cashing in back-to-back titles in 2012 and 2013 the Sanchez Sharks found themselves in unfamiliar territory getting bounced from the playoffs in the opening round in 2014.
A years worth of gelling together in 2014 has brought back a good group of veterans to the Sharks along with some surprise newcomers.
Returning to the Sharks is Carlos Saralu, the youngest of the three Saralu siblings with his older brother Jonathan also on the team. His older brother Larry has since graduated, but the two still Sharks aim to produce.
Carlos is back in a big way for Sanchez right in the thick of action, in the trenches on offense and a linebacker on defense. He's been playing since freshman year, even winning a title with the Sharks in 2013.
"We have a strong returning group and we just have to work hard at it and we'll see how it goes from there," said Saralu.
Coach Jimmy Naholowaa is just as elusive to reporters as his running backs in his famous wishbone formation, but he's a proven coach who strictly lets his teams play speak for him.
He may dodge reporters for questioning, but he gives everything he's got to the kids in practice and the Sharks are completely behind him.
"Whatever coach [Naholowaa] wants us to do we do it. If he wants us to run the ball on 4th down then we just do it, no questions asked. We never second guess his decisions," added Saralu.
Familiar faces in offensive threat Tre Leon and defensive back Danny 'Dan Dan' Cruz will have give the Sharks experienced players in much needed areas.
New to the team is starting senior left tackle Henry Lizama, who is stepping on the field as a high school football rookie.
Lizama played football for the Saints in the GNYFF but elected not to play football until his senior year. He's a former defensive product but will be protecting his quarterback instead of hunting one down.
"I actually prefer to play on the offensive line," admitted Lizama. "I started coming out to practice with them over summer, but since then I've been coming out and working hard with them in the weight room and on the field."
Aiding with the teams workouts was former Sharks standout football and rugby star Matthew Sojo.
Saralu explained that veteran Sharks players have been making themselves available to assist in practice for the upcoming season and their impact has helped tremendously.
"They know the game the best," said Saralu on the veterans aid. They teach us everything they've learned and they don't take it easy on us so it always pushes us to do better and perform better."
PHOTO GALLERY:

QUICK HITS
Guam MTB National Championship: Edward Oingerang and Jennifer Camacho are your 2023 MTB national champions. Oingerang finished the course in 1:13:24 while Camacho won her second straight title in 54:08.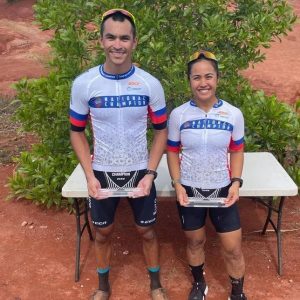 ——————————————
Kobe Miyashita, with St. John's coach Arvin Flores, was named the 2023 IIAAG Middle School Boys Volleyball MVP!