[useful_banner_manager_banner_rotation banners=72,74 interval=10 width=120- height=600 orderby=rand]
PRESS RELEASE – Lenore Pipes, 29, made history for Guam cycling as she battled it out with the world's best women cyclists at this past weekend's prestigious UCI World Championship race held in Richmond, Virginia.
Her final placing of 55th out of 135 racers does not reflect how close the finishers were to each other.
Pipes' finish time of 3:24:48 was less than a minute off the winning time set by Elizabeth Armitstead of Great Britain (3:23:56). The 80.6 mile World Championship course, described as 'technical', with long stretches of cobbled inner-city roads, a brutal 200 meter climb up Libby Hill Park, and a final climb up to Governor Street, presented Pipes with some difficult pre-race equipment set up decisions.
"The one thing I would've done differently is that I definitely would've put more air in my tires." says Pipes.
Higher-pressure tires offer less rolling resistance, which translates into increased speed. According to Pipes, the course started out in wet conditions prompting the decision to decrease tire pressure, but as the race progressed the course dried up.
"There is an extremely fine line between being able to get traction on a slippery course and crashing. I felt sluggish with my choice of tire pressure on the flats and up the Governor Street climb but I felt solid in the fast downhill turns and never crashed so I guess you could say it was a toss up." Pipes added.
With the World Championship behind her, Pipes' focus is now on the 2016 Olympic games to be held in Rio De Janeiro, Brazil. Competing with the world's best provided a gauge for her buildup to the Olympics.
"I think it gives me a lot of confidence that I can race on the world's level. Many of the same women will be racing in Rio." she stated.
Cycling on Guam has seen a recent surge, especially for females. Pipes had these encouraging words to offer – "I think the biggest advice I can give is to ride consistently and learn from each race experience. Most of all it should be fun."
Lenore had this to say in summarizing her experience at the World Championships – "I was so proud to represent my island home of Guam amongst the world's best women cyclists. Maybe on a different day or even slightly different course I could've finished higher but still proud to finish less than a minute off of the winner's time and come into Libby Hill for the last time with the lead group." She added, "I want to thank the Guam Cycling Federation for supporting me and my staff to race in Richmond. I wouldn't have been able to compete without them."
Lenore Pipes is a 2004 graduate of St. John's School. She graduated from Swarthmore College with a B.A. in Honors Biology and Anthropology, has an M.S. in BioInformatics from Johns Hopkins University, and is a National Science Foundation Graduate Research Fellow pursuing her PhD in Computational Biology at Cornell University.

Athletes Birthdays by W5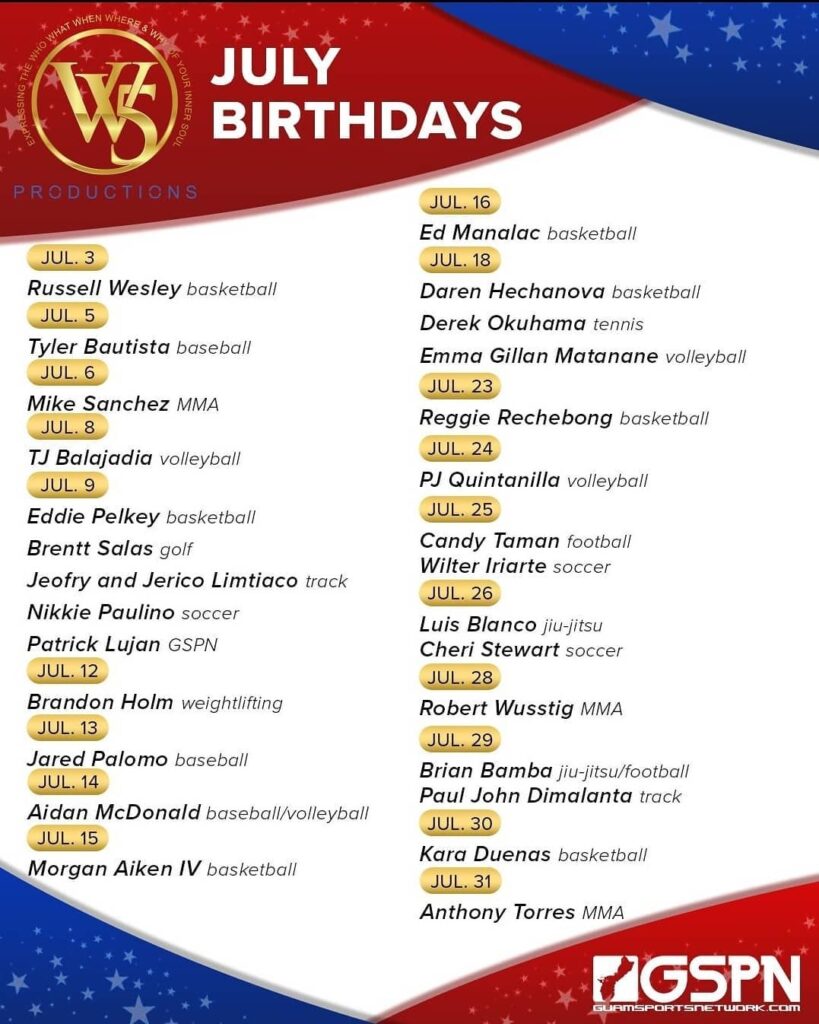 Foody's Fun Facts
Favorites From Year 2
COMING SOON …
2020 Tokyo Olympics
UFC Fight
Aug 1: Trevin Jones vs. Tony Kelley
QUICK HITS
——————————————————–
Guam's Joey Miranda met up with Chamorrita Softball Star Bubba Nickles and Olympic Teammates Dejah Mulipola and Aubree Munro out in Tokyo as we approach the Olympics!
Photo credit: GNOC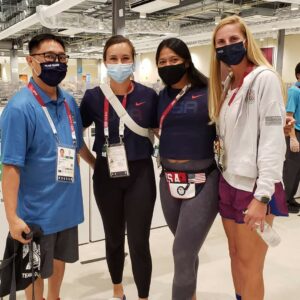 ——————————————————–
Former Guam resident Tre Taylor has committed to play cornerback for the Southwestern Junior College Jags.
Turner attended Harvest and FD before transferring to Hawaii where he played for Saint Louis, the 5th ranked team in the nation.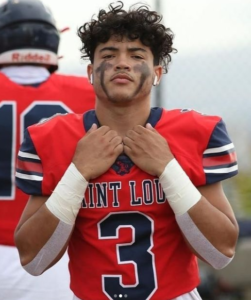 ——————————————————–
The big man Zach Banner getting to throw out the first pitch earlier today for the Pittsburgh Pirates!