[useful_banner_manager_banner_rotation banners=72,74 interval=10 width=120- height=600 orderby=rand]
PRESS RELEASE – Guam's Rick Ninete was awarded one of ten Awards for Services to the Game during the International Tennis Federation's Annual General Meeting held at the Santiago Marriott Hotel in Chile earlier this month, in the same meeting that saw the election of the United States' David Haggerty as new ITF President.
"I look forward to working closely with the ITF and new president David Haggerty to elevate tennis in Guam," said Torgun Smith, Guam National Tennis Federation President, who was one of close to 300 attendees at the AGM. "Dave is a friend of mine and the GNTF, and he has big plans for development of tennis around the world. Dave's experience as Chairman of the US Open and President of USTA, board member of the ITF, as well as CEO in tennis business, I believe, gives him excellent perspective on what our sport needs, which is more unity. He has committed to double the development budget of the ITF within the next two years, which we hope will translate to more help for Guam and the Pacific.
"With the success of the annual Guam Futures tennis tournament and the ITF Junior Championships over the years held in Guam, we're looking to expand our role in the world organization by applying to become an ITF Class B member, up from an ITF Class C member, which would give Guam voting rights in the ITF. Additionally, Class B membership will also give Guam the privilege of having our own Davis Cup and Fed Cup teams entered into the worldwide competition annually. Davis Cup and Fed Cup will be the top target of Guam's elite tennis pathway for junior and senior players alike to strive for in the coming years. We're looking to apply to make this leap by next year's AGM meeting with enough local and international support, and hopefully gain approval for 2017," Smith added.
Haggerty, 58, was elected on the second ballot with 200 votes over Anil Khanna of India with 192 votes, according to an ITF news release. Haggerty will serve a four-year term from 2015-2019. Also elected during the 2015 AGM were ITF Board of Directors for the same four-year term: incumbents Sergio Elias (CHI), Jack Graham (CAN), Anil Khanna (IND), and Rene Stammbach (SUI). New board members voted into their positions are Katrina Adams (USA), Martin Corrie (GBR), Ismail El Shafei (EGY), Bernard Giudicelli (FRA), Thomas Koenigsfeldt (DEN), Celia Patrick (NZL), Aleksei Selivanenko (RUS), Stefan Tzvetkov (BUL), and Bulat Utemuratov (KAZ).
Outgoing president, Francesco Ricci Bitti, who served for 16 years, was named Honorary Life President of the ITF, the release states.
"I would like to congratulate David Haggerty on his election as ITF President and wish him all the best for the future," Bitti said in the release. "It has been my pleasure to serve as President for the last 16 years, and I am confident that under David's leadership, the organization can continue to grow with the support of the ITF staff and our 210 member nations."
Haggerty is an experienced tennis administrator, having held a variety of roles within the United States Tennis Association since 2001 and the ITF since 2009. He served as Chairman, CEO, and President of the USTA in 2013-2014, and was a Vice President on the ITF Board of Directors from 2013-2015. He is a former President of the Tennis Industry Association and current board member of the International Tennis Hall of Fame, the release states.
The AGM also approved an increase in size of the Board of Directors from 13 plus the President to 15 plus the President to include athlete representation. Regulation changes and clarifications for the Davis Cup by BNP Paribas and the Fed Cup by BNP Paribas were also approved at the meeting, among other topics on the agenda.
Delegates also approved Awards for Service to the Games nominees, which included Guam's Ninete. Other awardees were Radu Albot (MDA), Sheikh Hasher Bin Maktoum Al Maktoum (UAE), Yves Freson (BEL), Tamas Hamori (HUN), Aleksei Selivanenko (RUS), Stuart Smith (GBR), and Vladimir Voltchkov (BLR). The ITF Board of Directors nominated Great Britain's Charles Trippe for his outstanding contribution over 50 years, while the Coaches Commission nominated Australia's Bruce Elliott.
The GNTF will present the award to Ninete at an upcoming GNTF function, Smith said.
The 2016 ITF AGM meeting will be held in Zagreb, Croatia in June.

2022 GSPN I MÅS METGOT COMPETITION
2022 GSPN I Mås Metgot Competition Recap
2022 GSPN I MÅS METGOT COMPETITION
2022 GSPN I Mås Metgot Competition Recap
2022 GSPN I MÅS METGOT COMPETITION
2022 GSPN I Mås Metgot Competition Recap
COMING SOON …
Sat: Origin Power Lifting Meet 
ISA Girls Volleyball/Boys Soccer Finals
QUICK HITS
Guam runners complete London Marathon. Former Guam top runners Charlie Epperson and Aysha Perez Epperson along with Cameron ONeal completed the 42nd London Marathon.
Charlie 2:47:56
Cameron 2:59:49
Aysha 3:51:04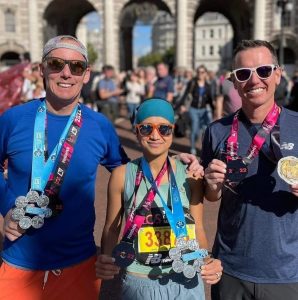 ———————————————–
Trevin Jones drops a unanimous decision 30-25, 30-27, 30-27 to Raoni Barcelos in UFC Fight Night 211 in Las Vegas.