By Patrick Lujan
In what is developing into a perfect scandal movie script, Guam's girls softball team to the 2015 Little League World Series in Delaware is facing not only a long flight and tough opponents but now an unforeseen local foe.
After months of fundraising and preparing to participate in the Little League World Series girls fast pitch softball tournament, the team showed up to the A.B. Won Pat International Airport at their scheduled departure, only to find out that they've never been booked to travel.
Over $51,000 of travel money was given to a supposed travel agent named Frances Quinata, who never held her end of the deal.
According to team parent Bill Quenga, the girls were to leave island since Friday but were told that the flights were delayed on numerous occasions. When they arrived Saturday morning to the airport, the team was stunned as they found out they were never booked. The tournament starts in Delaware on Monday.
"The girls are all hurt," Quenga said on Saturday as things were still being sorted out. "The parents are all upset but we have to keep our composure for the girls' sake."
Emergency arrangements with the Little League organization stateside somehow found a way to get the girls to leave for the tournament Sunday morning. That will leave the girls with less than a day to acclimate before the tournament starts.
Meanwhile, the airport police released a 'wanted person' post throughout the airport stakeholders. Reports from the sports community show that this is not the first time Quinata has pulled such a scam on sports teams.
This issue is still developing.
UPDATE
The girls were able to leave late Saturday evening after the Little League paid for the airfare of the 14 girls and 3 coaches.
They will be late for the opening ceremony and will forgo their BYE game, but they will make it in time to play their first scheduled game on August 3rd.

QUICK HITS
Guam MTB National Championship: Edward Oingerang and Jennifer Camacho are your 2023 MTB national champions. Oingerang finished the course in 1:13:24 while Camacho won her second straight title in 54:08.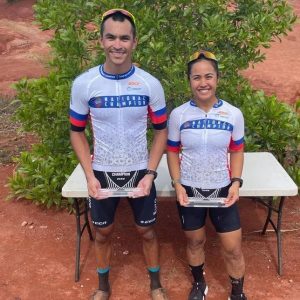 ——————————————
Kobe Miyashita, with St. John's coach Arvin Flores, was named the 2023 IIAAG Middle School Boys Volleyball MVP!