By Robert Balajadia
Topping a 282 lb. marlin from Day 1 wasn't easy, but the crew behind boat Gualafon reeled in a 541.25 lb. prize winning behemoth early Sunday morning, highlighting the closing day of the 20th Annual Guam International Fishing Derby.
Gualafon and the crew of captain Frank Mendiola, Ray Leon Guerrero, Chris Leon Guerrero, Jaython Leon Guerrero, and Jaena Leon Guerrero all played a part of reeling in the giant catch.
"It took us about 30 minutes to reel it in," said Mendiola on the catch up north. "We couldn't even put it on the boat so we had to come back to turn it in."
Mendiola and the crew returned before 9 am, just three hours out of the designated start time for Day 2. The crew went back out immediately, but didn't reel in anything remotely close to their tourney beast.
No lucky gear, no superstitions, just pure luck was what the Gualafon crew believed helped them bring in the prize winner, especially since Day 1 of the derby wasn't nearly as kind.
The first place Yellowfin, Wahoo, and Mahi Mahi catches from Day 1 all stayed safe while Goru II and captain Fank Roberto became Day 2 first place finishers in the Bonita catch.
Day 2 Derby Results
Marlin – Gualafon (Frank Mendiola) 541, 3rd Day (Glenn Leon Guerrero) 330, MJ (Michael Alvarez) 282,
Yellowfin – Amba Marie (Dom San Gil) 66.5, Monquieta (Fil Flires) 46.05, Ashaliesee (Layne Duprist) 45.85
Wahoo – Doris Day (Ronnie Hattori) 28.55, Goru II (Frank Roberto) 26.6, Island Girl I (Joe Palacious) 25.80
Mahi Mahi – Marianas (Taisacan) 26.25, Ocho Ocho (Jesse Cura)14.65
Bonita – Goru II (Frank Roberto) 19.05, Magnificat (Frank Camacho) 17.65, Ambu Marie (Dom San Gil) 16.7

QUICK HITS
Guam MTB National Championship: Edward Oingerang and Jennifer Camacho are your 2023 MTB national champions. Oingerang finished the course in 1:13:24 while Camacho won her second straight title in 54:08.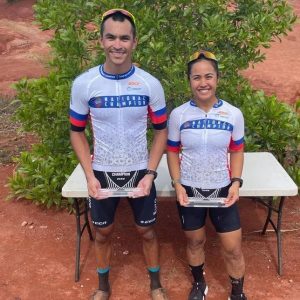 ——————————————
Kobe Miyashita, with St. John's coach Arvin Flores, was named the 2023 IIAAG Middle School Boys Volleyball MVP!