Tag "watersports"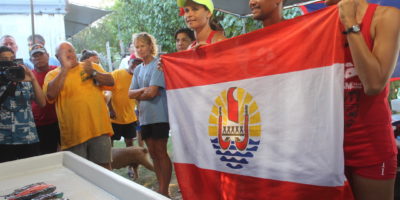 - April 02, 2017 -
The 2017 Inter-Pacific Spearfishing Competition wrapped up over the weekend with Tahiti finishing atop the Men's and Women's division, edging the pool of five other island competitors in New Caledonia, New Zealand, Hawaii, Australia and the host team Guam.
- September 27, 2015 -
Kiteboarder Isaiah Ignacio rides on the water, but drinks water from the tap as well.
- August 02, 2015 -
Topping a 282 lb. Marlin from Day 1 wasn't easy, but the crew behind boat Gualafon reeled in a 541.25 lb. prize winning behemoth early Sunday morning, highlighting the closing day of the 20th Annual Guam International Fishing Derby.
- August 01, 2015 -
Day 1 of the 20th Annual Guam International fishing derby turned in a big days worth, but none bigger than the Saturday's catch of a 282 lb. Marlin brought in by team MJ and Michael Alvarez. Check in with Day 1 results of all the top 3 weight holders from five different fish categories.
- July 25, 2015 -
The 11th annual Spearfishing competition didn't quite bring in as many competitors (13 teams) as it's usual reel, but the two-man teams still brought in a worthy catch during Saturday's all-dat event. The deep sea hunters turned in their catch at 2 pm at the Agana Boat Basin with a handful of great sized fish.
- June 30, 2015 -
10 Questions with Guam National Paddler Mike Pangelinan