[useful_banner_manager_banner_rotation banners=72,74,77 interval=10 width=120- height=600 orderby=rand]
By Robert Balajadia
This coming Sunday November 8th will be the official kick off for the first ever Triple J & GSPN's High School Football All-Star game. The game will be played between 60 of best high school football players split into two teams, the Blue Raptors and the Silver Mustangs.
The rosters are based off the All-Island list, which was comprised at the end of the season between all the school's coaches. The 1st Team Defense and 2nd Team Offense (Silver Mustangs) will be head coached by FD Friars Bruce Meno and the 1st Team Offense and 2nd Team Defense (Blue Raptors) will be head coached by GW Geckos Ryan Rios.
GSPN will feature both teams and the entire roster, building up the excitement level before Sunday's big showdown. Check in with the BLUE RAPTORS before the big game!
The Silver Mustangs
As sleek and stylish as the iconic Ford Mustang, the Silver Mustang football squad is full of reputable football players with big time talents. A modern classic, but still a constant trend, the Ford Mustang draws attention anywhere it goes and a lot of eyes will be on the Silver Mustangs come Sunday.
The 1st Team Defense led by IIAAG MVP Damon Hocog and the 2nd Team Offense with star running back De'Aundre Cruz are a mere fraction of the talent the Silver Mustangs posses. The team is also flooded with championship winning FD Friars on both sides of the ball which, on paper, makes the Mustangs the more appealing team.
Cruz spent nearly half of his season on the sideline which played a part in his slide to 2nd team. Cruz dominated in the playoffs amassing over 342 yards on the ground and three touchdowns. He will be joined by fellow running back Leon Shimizu, who showed flashes of his running talents with a 491-yard season.
Anchoring the offensive line are brothers Tim and Tommy Castro, JFK Islanders Dean-Michael Jesus, and Friar Alex Shinohara.
"I've got a jersey with my name on it for once, it feels pretty awesome," said Friars offensive lineman Alex Shinohara. "This is a changeup from what we're usually used to, but it's going to be fun playing with and against all the players that we've challenged all season long."
FD Friars quarterback Daniel Phillips will be under center for the Mustangs, but his favorite target Devin Sudo will not be available with Sudo lining up with the Raptors. Instead, Phillips will be throwing passes to Panthers Makoa Bamba, Xavier Jones, and JFK Islander Marcus Manglona.
The 1st Team Defense is where the Mustangs become an over-the-top group. Hocog, Friars Joaquin Mesa, RJ Rokop, and Pierre Aflague alone are individual playmakers with the team flooded with defensive stars.
The 1st Team offense will seem some-what familiar to their defensive counterparts having faced them all season in practice.
"Practicing with [Sudo] and [Benito], you kind of understand what they're capable of doing so it might be a little easier for me to prepare for them. It's real cool to be a part of a game like this with the best players in the league.
One player most benefiting from the star studded defense is Southern Dolphins Safety Napu Topasna. A do-it-all player for Southern playing quarterback, running back, receiver, punter, and safety, Topasna finally gets to focus on his primary and preferred position manning the secondary.
"It feels good to have a lot of Dolphins in the All-Star game because we put a lot of hard work into this season," said Topasna on his teams finish. "Now I can just focus on one position to play since we have a lot of players on the team that I can trust to get their job done. "
The teams will meet for just their second practice today (Thursday) with their final practice on Friday.
The Silver Mustangs
*Not all players were present in jersey distribution
Coaching – Head coach Bruce Meno (FD); assistants Mike Pangelinan (JFK); Arsenio Babauta (Southern); Rowel Carreon (Tiyan); Keoni Badua (FD); Bill Ada (FD)
(Not pictured below)
KR – Vance Camacho Southern Dolphins
S – Bryton Cepeda FD Friars
WR – Keith 'Trip' Chauret Guam High Panthers
RB – Leon Shimizu FD Friars
K/U – Aiden Ferrara Okkodo Bulldogs
LB – Jermayne San Nicolas GW Geckos
WR/RB – Marcus Manglona JFK Islanders
OL – Gabriel Noket FD Friars

QUICK HITS
3rd place: Big ups to the Para Todu Rugby Club for finishing 3rd out of 16 teams in the Manila 10's Rugby Tournament today. Biba Guam Rugby!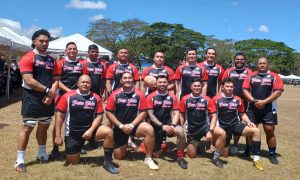 ——————————————
Guam MTB National Championship: Edward Oingerang and Jennifer Camacho are your 2023 MTB national champions. Oingerang finished the course in 1:13:24 while Camacho won her second straight title in 54:08.