[useful_banner_manager_banner_rotation banners=72,74,77 interval=10 width=120- height=600 orderby=rand]
By Mike Nauta Jr.
Five Guam schools have begun their quest to clinch the 2015 Far E.A.S.T. Girls Volleyball Tournament held in Alabang, Philippines. With tournament action kicking off Wednesday morning, the GW Geckos, Notre Dame Royals, Academy of Our Lady of Guam Cougars, JFK Islanders, and St. John's Knights went right to work with a full day schedule ahead of themselves.
Each of Guam's teams played two pool play games against teams from the Philippines. At the conclusion of day one's tournament, the defending IIAAG High School Girls Volleyball League champions (George Washington Geckos) picked-up Guam's only victory of the day.
"We were happy to have earned a win on our first day of the tournament," said GW captain Sia Duenas. "If day one is any indication of what's in store for all of us in the next couple of days, we know it's going to be a good challenge for all teams."
With two courts running matches simultaneously, both the JFK Islanders and St. John's Knights had the honors of starting things for Guam. The Islanders went to battle against the hosting De La Salle Zobel-A, while the Knights took on De La Salle-B. Despite putting forth a good fight in each game, Guam just couldn't muster a victory as De La Salle-A cruised to a straight-set (25-4, 25-10) victory. The Knights weren't successful on their side of the court as De La Salle Zobel-B downed their opponents 25-12, 25-12.
Just when things were starting to look a little bleak for Team Guam, the Lady Geckos shed some light after picking-up a 25-9, 25-11 win over De Le Salle – Antipolo. Jasmine Almoguera and Sia Duenas led GW offensively combining for eight aces, three kills, and two blocks. Teammate Samyra Duenas contributed 21 assists. Later in the day, the Geckos hoped to remain undefeated as they took on a very strong De La Salle-LIPA squad. However, DLS-LIPA proved to have the upper edge from start to finish as they dispatched the Geckos 25-12, 25-13.
"That De La Salle team that we played in our second match is an awesome team and it was either fix our mistakes fast or we knew what the turnout would be," said GW's Jojo Cruz.
For the remainder of the day, things for Guam just didn't get any better as the tally in the loss column continued to build. Here's a look at results and scores from opening day:
• GW Geckos defeated DLS-ANTIPOLO 25-9, 25-11
• DLS-ZOBEL (A) defeated AOLG Cougars 25-17, 25-12
• DLS-LIPA defeated GW Geckos 25-12, 25-13
• DLS-ZOBEL (B) defeated JFK Islanders 25-19, 25-8
• DLS-LIPA defeated Notre Dame Royals 25-13, 25-7
• DLS-ZOBEL (A) defeated JFK Islanders 25-4, 25-10
• UST defeated AOLG Cougars 25-8, 25-16
• DLS-ANTIPOLO defeated St. John's Knights 25-21, 25-23
• UST defeated Notre Dame Royals 25-11, 25-13
• DLS-ZOBEL (B) defeated St. John's Knights 25-12, 25-12
Volleyball action resumes on Thursday at 11am Guam time as the JFK Islanders take on DLS-ANTIPOLO on court one and the St. John's Knights going up against DLS-LIPA. Later in the day, the GW Geckos square off against UST.
PHOTO GALLERY BROUGHT TO YOU BY:

QUICK HITS
Guam MTB National Championship: Edward Oingerang and Jennifer Camacho are your 2023 MTB national champions. Oingerang finished the course in 1:13:24 while Camacho won her second straight title in 54:08.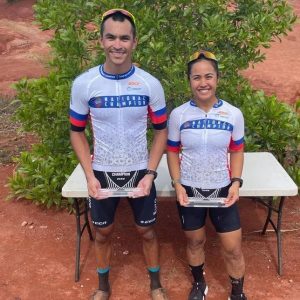 ——————————————
Kobe Miyashita, with St. John's coach Arvin Flores, was named the 2023 IIAAG Middle School Boys Volleyball MVP!