[useful_banner_manager_banner_rotation banners=72,74,77 interval=10 width=120- height=600 orderby=rand]
By Robert Balajadia
This coming Sunday November 8th will be the official kick off for the first ever Triple J & GSPN's High School Football All-Star game. The game will be played between 60 of best high school football players split into two teams, the Blue Raptors and the Silver Mustangs. Kick-off is scheduled for 6:30 pm at the JFK Field in Tamuning.
The rosters are based off the All-Island list, which was comprised at the end of the season between all the school's coaches. The 1st Team Defense and 2nd Team Offense (Silver Mustangs) will be head coached by FD Friars Bruce Meno and the 1st Team Offense and 2nd Team Defense (Blue Raptors) will be head coached by GW Geckos Ryan Rios.
GSPN will feature both teams and the entire roster, building up the excitement level before Sunday's big showdown.
The Blue Raptors
The boys in the predominant blue uniforms have inherited the name of Triple J's vicious Ford Raptor, the do-it-all truck that is a fierce machine both in performance and aesthetics. With the truck built to withstand even the toughest of terrains, the Blue Raptors football squad will aim to do the same with the leagues top offense and gritty defense.
"Our passing game is going to be much more dominant," said GW Geckos Quarterback Brendan Santos of his Raptors. "I'm not trying to talk trash, but we've got a lot of weapons for our passing game, but we're just going to have to see how this plays out on Sunday."
Santos was also named the IIAAG All-Island Offensive MVP and at his disposal are the two most dangerous receiving threats in action man Devin Sudo from the FD Friars and a very familiar target in Noah Blas of the Geckos.
"I've played against all these guys so I know what we are capable of doing. I'm more than excited to play in a game like this," added Santos.
The run game will be heavily reliant on the speed of Shancez Sharks Dan Cruz and Okkodo Bulldogs Jesse Karl Cruz, with Friar fullback and leading touchdown getter Jake Benito in the mix for a potent run game. Also making the 1st Team cut was Geckos Ryan 'Hollywood' Quitugua, the all-purpose offensive threat who can line up anywhere he's needed on offense.
The lone Tiyan Titan in All-Star game will be specialist Leo Diaz, the return man that sparked the Titans in their 2015 season debut.
They will be going up against the IIAAG's best defense, which consists of MVP Damon Hocog and a slew of championship performers from the FD Friars. Santos knows that Sunday presents a tough challenge ahead, but he feels his team might surprise people.
As for the Raptors defense, the 2nd Team boys aren't playing into the 2nd Team mentality. They will be going up against the Friar heavy run game with De'Aundre Cruz and Leon Shimizu carrying the ball for the Silver Mustangs as well as the rising star in quarterback Daniel Phillips of the FD Friars.
Linebacker Sage Garcia, a JFK Islander, is up to the challenge and feels his defense is strong enough to disrupt the offensive grooves of their Mustang opponents. With a defense that also consists of a handful of title winning Friars, The Raptors defense are hungry for some hits.
"I feel all the players on this team is made up of top level talent and there's no disadvantage of us being the 2nd team," said Garcia of his teams defense. "This is going to be a fun game and I'm sure our defense is looking forward to laying out a few hits."
The teams met for practice Tuesday and will meet again Thursday and Friday before the game Sunday. Stay tuned tomorrow as we check in with the Silver Mustangs!
The Blue Raptors
*not all players were present during jersey distribution
Coaching – Head coach Ryan Rios (GW); assistants Ken Cruz (Okkodo); Jacob Dowdell (GH); Jimmy Naholowaa (SS); Bill Quichocho (GW), Mark Mesngon (GW)
(Not pictured below)
FB – Jake Benito FD Friars
RB – Jesse Karl Cruz Okkodo Bulldogs
K – Jerome Artero FD Friars
P – Joshua Lujan FD Friars
CB – T.J. Aguon Guam High Panthers
S – Nolan Chamberlain JFK Islanders
KR – Hezekiah Cruz GW Geckos
U – Mason Manglona JFK Islanders
DE – Donovan Johnson-Coleman Guam High Panthers

QUICK HITS
3rd place: Big ups to the Para Todu Rugby Club for finishing 3rd out of 16 teams in the Manila 10's Rugby Tournament today. Biba Guam Rugby!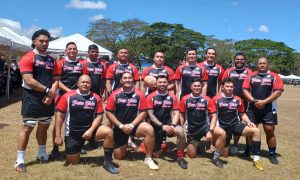 ——————————————
Guam MTB National Championship: Edward Oingerang and Jennifer Camacho are your 2023 MTB national champions. Oingerang finished the course in 1:13:24 while Camacho won her second straight title in 54:08.