By Robert Balajadia
Amongst the teams of the Triple J GNYFF stands a group a Giants suited up in blue and red ready for the biggest season of youth football yet. With a team name like the Giants, they are pegged to synonmously play big and that's what each of the four divisions are planning on doing.
There is no secret to their plans, but talent and hard work will be on display every single weekend. After a successful run in each of the divisions last year, the Giants are only hoping to top their accomplishments.
The Giants will open up their season against the Eagles on Sunday.
Mandikiki
Head Coach: Josh Roberto
What's the recipe for success in the Mandikiki division? Fun, of course! It helps to have natural football talent, but you can't expect a bunch of four-to-six-year-old kids to have football all figured out.
Although, five-year head coach Roberto has figured out a way to keep the kids 10-second attention span, which is to simply make practice fun!
"Every practice you'll find out something new, there's nothing like it. Their willingness to learn is the thing that keeps me coming back. For normal drills we try and make them chase the ball, but we just call it 'tag' and in a minimum of two weeks these kids have got it down already," said Roberto.
Second year quarterback Adam Aguon says his favorite part of playing football is running with the ball. He's going to be wearing #23 because it is his favorite number and he says he has a lot of fun during practice.
Live fumbles are the hot topic with the Mandikiki division and Roberto chimed in on the rule believing it's a great change.
"Communication will be key in keeping them safe. We're teaching them not to immediately dive on the ball, but to instead make sure they're able to pick up the ball one at a time so not everyone is bumping into each other."
Manha
Head Coach: Jerry Guerrero
Quarterback Noah Hernandez is a running type of quarterback and will not be afraid to take off at his first year under center.
Hernandez is a six-year product of the Giants and has moved from handing the ball off to quarterbacks as a former center to now taking snaps and orchestrating the offense.
"I know it's time to run when we're losing and we only have one more play left. The plays for me are more running than passing," said Hernandez.
"I'm not that nervous because we've been working on a lot of plays," added Hernandez on how he feels about kicking off against the Eagles on Sunday.
The motivation from most of the Giants comes from wanting to beat the best and Hernandez knows that beating the best will be the highlight of the season.
The best Manha squad in 2014 were the champion Hal's Angels, and Hernandez feels the Giants are in a great position to overcome the hurdle.
"We want to beat the Angels because we always lose to them. This year we have strong running backs so I think we're ready to beat them," admitted Hernandez.
It's safe to say that Hernandez has circled August 29th on his calendar, which is their first meeting with the Angels in just Week 2 of the GNYFF season.
Metgot
Head Coach: Jeff Garcia
Inhereting players from the Manha division has benefited coach Garcia and the Metgot boys which will carry them this season despite appearing small in numbers.
"It's not the amount of kids or size of the kids, it's really the quality of the players you have on the field and we have a lot quality players," said Garcia.
Polished Giants who have been with the program since the Mandikiki division is more than Garcia could have asked for and Garcia sees that his group is particularly hungry for a championship.
"This final week we're going through special teams and execution timing on both fronts. We'll see how it plays out this weekend," said Garcia on their season opener.
Offensive threat and 12-year-old Brendan Cruz transitioned from playing defense in the Manha division to a now dual-threat running back/tight end combo for the Metgot Giants.
"I enjoy running the ball more," admitted Cruz on what position he prefers. "My coach asked me if I wanted to try out offense and I did, and it was really fun so I stayed. I really just want to make it to the championship."
Playing two prominent offensive positions has helped Cruz' game evolve as a running back who is reliable in catching pass in the backfield. When the Giants need a little more yards or strong blocking, Cruz can step in and fill the void.
Matua
Head Coach: Frank Arriola
First year head coach Frank Arriola had an easy transition taking over the program and that the players too have adapted very well. Quality over quantity is a recurring theme for the entire Matua division and Arriola has seen the struggle in practice of not having numbers.
"You can run through plays with a skeleton crew, but the hitting is minimal and you can't scrimmage that much. The dynamics for the full line on a full field becomes hard to replicate. Our numbers our few, but we have a bunch of great athletes on this team." admitted Arriola.
But don't think that the Giants are going to take their foot off the gas pedals at any point this season.
"These kids are hard working and have sacrificed coming out to practice everyday and they're ready to play. My only concern is for our first year players having to play majority of the game. Usually first year players are on the sideline learning, but they're going to have to learn things on the fly. It seems like that's going to be an issue with every team this season," Arriola continued.
Quarterback Kristian Quintanilla has played positions from defense to offense and now finds himself as the teams main signal caller. He admitted that some of the plays are hard to memorize, but his coaching staff has made the transition easy for him in it being just his second year as the teams QB.
"It has its fun times…" openly admitted Kris on playing QB. "I'm looking forward to a good sportsman like game next weekend. We still need to work on some things, but we'll get there."
The Giants are getting back one of their biggest producers in offensive/defensive threat Jalana Garcia, who is also playing volleyball for the defending champion GW Geckos. And yes, if you didn't already know, Jalana is a girl. Garcia is a rare and talented athlete who will be balancing two sports this year as well as being a Gecko student sophomore.
"Don't let that long blonde hair fool you, she's very skilled and very athletic and she's going to be our work-horse on both offense and defense. It's such a luxury to have that kind of talent on the team and she's got the instincts of a great football player," added Arriola.

QUICK HITS
3rd place: Big ups to the Para Todu Rugby Club for finishing 3rd out of 16 teams in the Manila 10's Rugby Tournament today. Biba Guam Rugby!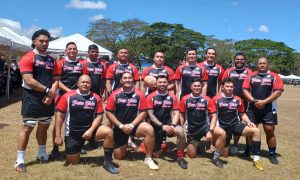 ——————————————
Guam MTB National Championship: Edward Oingerang and Jennifer Camacho are your 2023 MTB national champions. Oingerang finished the course in 1:13:24 while Camacho won her second straight title in 54:08.