By Jay Leon Guerrero
After several years of watching powerhouse programs dominate the IIAAG football league, the Okkodo Bulldogs finally look to join the party. Last season, the Bulldogs finished in the highest placing in school history which was 3rd. This season, they look only to upstage themselves from last years success by making it to the championship game in 2015.
Why are they a new contender? They have a large number of returnees and a fine tuned line. According to head coach Ken Cruz, the program from three years ago is molding.
"I've had a very young team for the past three years. We were a developing team and now we have more experience," said Cruz.
"Some things that have definitely improved is our line and our running game," continued Cruz. One obstacle, like their first opponent GW, is the team has no pads available for full contact practice.
Key players who graduated last year are quarterback Leeray Zapatos and running back Angel Chiguina. Despite the loss of these key players, the Bulldogs are still deep with talent, filled with rugby players and track speedsters.
Multi-sport athlete Aiden Ferrara said the team has been working hard and that they are "ecstatic" to take the field in opening weekend. Ferrara will have double duty this season, playing both offense and defense. With his height and jumping abilities, look for Ferrara to catch some passes in the red zone.
"We are more focused, our mindset is good this year. We have about 15 returnees, all we need now is our gear," said Ferrera.
According to defenive coach Joe Cruz, his group is more disciplined and dedicated. "These kids are dedicated, they are all ears and eyes. When the coaches are not around, they are at the weight room or running in groups," said Joe. "Now that they are off at 2pm, they either get their homework done or do extra voluntary workouts on their own before practice."
Key returnees John Anthony Cruz (strong safety) and Arthur Nedlic (defensive tackle) will put in hard work for both Coach Cruz' as they start their journey this Friday against the defending champion GW Geckos.
"Having the experience of the returnees is going to help, we just have to continue to work hard and gel as a team," said pre-season all tackle Nedlic.
"We are going to come in stronger this year and we are going to do our best at getting better everyday," said John Anthony Cruz.
"We have more players with at least a year of experience off their belt. We had some inexperienced players that we had to work with last season and I believe they now know what to expect when the season starts," said Ken Cruz.
Last year, the Bulldogs finished 4-2 with a suspended game due to a power outage. In the playoffs, the Bulldogs lost to the eventual champion GW Geckos in the semi-finals.
Coach Ken Cruz said that he hopes the pads are available soon so his team can get a glimpse of full contact practice. "It makes a huge difference when the gear comes in. After the gear comes in, we can solidify which players will play certain positions," said Ken Cruz.
The Bulldogs will open their season against the defending champion GW Geckos. The location and time of the first game is scheduled at GW at 7 pm.
PHOTO GALLERY:

QUICK HITS
3rd place: Big ups to the Para Todu Rugby Club for finishing 3rd out of 16 teams in the Manila 10's Rugby Tournament today. Biba Guam Rugby!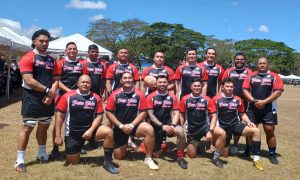 ——————————————
Guam MTB National Championship: Edward Oingerang and Jennifer Camacho are your 2023 MTB national champions. Oingerang finished the course in 1:13:24 while Camacho won her second straight title in 54:08.