By Patrick Lujan
'Training hasn't ceased'
Those are the words from Brazilian Jiu-Jitsu black belt Bryant Pangelinan, who is gearing up for a BJJ Superfight against Evandro Nunes this weekend at the Gracie Worlds in Anaheim, CA.
Submission only. No points. No time limit.
'I constantly compete so it's just a matter of fine-tuning things.'
The most decorated BJJ athlete from Guam, the 38-year-old Pangelinan will be taking on a younger Nunes in a grappling match pitting two No-Gi world champions. Pangelinan is a three-time No-Gi world champion (2008, 2010, 2011) and the 2015 No Gi Pan American Champion, among many other gold championships from around the world in the sport.
Since earning his black belt three years ago, Pangelinan has actually increased his competitiveness , entering between 12-15 tournaments a year – and this weekend is no different.
'There's something about competing. It's hard to explain. I don't mind putting my neck out there, so to speak, to test my skills and see how I do. Why not go out there and try and be the best.'
As for preparing for a superfight, it's a different strategy, he says – a free-for-all of sorts. A veteran of 25-minute superfights in the past, the Concord, CA resident is certainly looking forward to showcasing the martial art at the event sanctioned by the BJJ royal family. Gracie Worlds was started by Rose Gracie, daughter of 9th degree red belt Rorion Gracie and grand daughter of great master Helio Gracie.
"When the Gracies started this stuff, they wanted to prove that their style is the best, so they went out there and sought the competition and looked for the challenges."
Old and New Jiu Jitsu
In recent discussion with different practitioners, there seems to be an imperceptible divide between old school and new school jiu jitsu.
The owner and head instructor of Sabre Jiu Jitsu Academy explains the difference.
'It's evolved. The athlete: physical abilities and physical stature. When I see guys doing movements of today, some would call it fancy. It's all relative. In today's techniques, if I don't learn them, then it's my fault. It's up to me to learn those things and show my students and do them. To me, I like the combination of both. The old school style is understanding self-defense and protecting yourself without a single punch. No matter what, the goal and ideal, whether it's sport or art, is to find position and end the fight. Old school style vs. competition sports style, I don't look down upon any of them.'
NOTES: Pangelinan started in wrestling, moved to bodybuilding and then settled with BJJ; he was a guest poster at the 2001 Guam National Bodybuilding Championships; He was not familiar with the BJJ point system when he won his first world championship in 2008, "I just went out there and tapped out everybody."

QUICK HITS
Guam MTB National Championship: Edward Oingerang and Jennifer Camacho are your 2023 MTB national champions. Oingerang finished the course in 1:13:24 while Camacho won her second straight title in 54:08.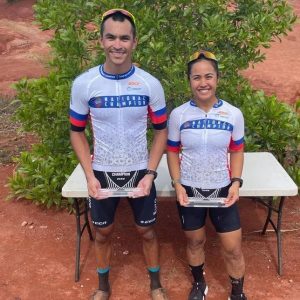 ——————————————
Kobe Miyashita, with St. John's coach Arvin Flores, was named the 2023 IIAAG Middle School Boys Volleyball MVP!