By Mike Nauta Jr.
The 16th Annual Shieh Volleyball Preseason Tournament came to a close Monday night at the GW gym in Mangilao. On the agenda for the evening was the championship game that pitted the ND Royals and the hosting GW Geckos.
Both teams came battle ready looking for a victory. While the Geckos cruised through pool play untouched, the Royals only loss came at the hands of the defending IIAAG Champions and hoped to extract revenge. From start to finish, the Geckos were all business and took care of their opponents in straight-set fashion defeating the Royals 25-14, 25-17.
"We came ready to play this game," said GW captain Sia Duenas. "Of course as a championship game, everyone was nervous but we knew what we had to do to succeed. We had mistakes but we never let down. I am very proud of my team and good job to the Royals, they did well themselves."
GW wasted no time in the opening set as they stifled the Royals with excellent defense complimented with strong offense. Led early by Duenas' ace and a kill the Geckos built built a 5-1 lead that forced ND coach Mike Rabago to burn a quick timeout. The one minute huddle didn't seem to deter the Geckos as they returned to the floor firing on all cylinders.
With the help of reigning IIAAG volleyball MVP Jasmine Almoguera, GW built a commanding 14-4 lead.
Late in the set, an ace by Brianne Leon Guerrero and a kill by Destiny Castro sparked a mini Royals surge that narrowed the deficit to 16-10. Staying composed, the Geckos responded with a 9-4 run to close out the set that included a set clinching kill by Colleen Quinata.
"Communication with one another on the floor was what kept us going through the entire set," said Duenas. "Once we found rhythm we just kept going, you can't allow a team like ND to get hot."
Second set action started slow with each team trying to get something going. Several unforced and service errors had both teams trading points. With the score knotted at five, the Geckos turned up the offense and eventually built a 15-10 lead.
A few plays later, an ace by ND's Leon Guerrero pulled her team within (16-14) two. However, that would be the closest the Royals would get before GW went on a 9-3 run to claim victory and hoist the championship trophy.
"Winning this championship is nice, but we still have work to do as its only preseason," said Duenas. "We can expect all these teams to come out strong once our season begins."
In the consolation game, the Academy Cougars defeated the JFK Islanders in straight sets.

QUICK HITS
Guam MTB National Championship: Edward Oingerang and Jennifer Camacho are your 2023 MTB national champions. Oingerang finished the course in 1:13:24 while Camacho won her second straight title in 54:08.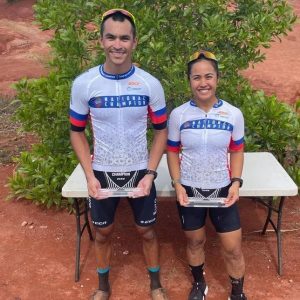 ——————————————
Kobe Miyashita, with St. John's coach Arvin Flores, was named the 2023 IIAAG Middle School Boys Volleyball MVP!