By Robert Balajadia
The boys and girls of the Triple J GNYFF Raiders plan to paint the 2015 season all kinds of silver and black just like the infamous NFL Oakland Raiders.
Though the 2000's haven't been kind to the pros in the NFL with their names almost always in the bottom of their division, the GNYFF Raiders are much different emerging as the one of the leagues most dangerous teams in all divisions each and every season.
Mandikiki
Head Coach: Dave Elliot
Small, but efficient and wired to score touchdowns. The defending champion Mandikiki Raiders don't plan on giving up the title in 2015 and head coach Dave Elliot will have his group ready to go.
"We've got a whole bunch of new kids, a lot of four-year-olds, so we're just going to make use of all the talent that we do have. We get to see what kind of skills these kids have in what we can't teach" said Elliot.
One of the runners that Elliot will be entrusting a lot will be returnee in running back Kaisaiah Flores, who has developed a nifty little juke move along with being one of the fastest guys on the team.
"I like to run through gaps when my teammates make the holes big for me," said Flores on how he plans to run the ball.
"I'm more excited to start playing than nervous," Flores added.
Adjusting to the new rule of a live fumble, Elliot believes the pace of the game will change which only makes the division more exciting, despite teaching it to the kids has been a challenge.
"Teaching four year olds about fumbling is rough, but they learn a lot from it when they begin to move up in the division. We just have to hope that when they do get the fumble that they run the right way!"
Manha
Head Coach: Bill Salisbury
It's no surprise that the most feared Raider in the Manha division plays on defense as a linebacker, but to some it may be shocking to know that it is an eight-year-old girl named Rya Castro.
Forget the cliche's, it's a new age where girls are playing football consistently and this girl hits just as hard, if not harder, than any of boys on the team.
"She's something special. There was a play last year when [Rya] went in for a tackle and the runner powered through her and made her fall on her butt. The very next play, she targeted him and hit him so hard that he fumbled the ball, and that's just the kind of player she is," said coach Steve Aguon.
During hitting drills, Castro demonstrated proper tackling technique, laying a good hit on the ball carriers during one-on-one drills. Castro has been playing for four years and her form and I.Q. just develop naturally.
"I just lead off with the opposite shoulder as the ball carrier, tackle low, and put my head on the ball," said Castro on her form.
Castro credits her older brother Rambo Castro, a former Raider, for teaching her all the right ways to tackle.
Along with Rya, Aguon and the Manha Raiders are prepared to battle for the league's top spot.
"At this age, you could always be better, but I feel this team is ready. This group has been waiting and they are excited. All kids this age hate the conditioning, but once they hit the field they'll notice why we condition and this group will come together well," added Aguon.
Metgot
Head Coach: Ray Macias
With a big group of kids, the toughest part of coaching may just be getting the competitive Metogot Raiders mentally ready for the seasons grind.
"My team is almost there, we've still got a lot of things to work on. We're really just trying to get this team mentally ready for the start of the season, and it helps that we have a lot of returnees and those that moved up from the Manha division," said coach Vince Pangelinan.
Gelling the newcomers with the veterans has been easy thanks to some of the players that Pangelinan trusts as the leaders of the team.
"The veteran players have taken it upon themselves to help get all the newer players up to speed. They take time out in practice to help each other out."
One of the teams leaders is returnee and quarterback Darren Cruz, who relies more on his arm than scrambling for yardage.
He's good from 30 yards out and loves to hit his ends and receivers for big gains.
"I look forward to seeing out team succeed. We can win the championship if everyone sticks to their jobs and does what they're supposed to do.
"It's my job to help make sure no one slacks off in the team so we can win it all this year," continued Cruz.
And note, Cruz said the team has not been slacking off so look out for the Metgot Raiders!
Matua
Head Coach: Fred Pangelinan
The struggle for most of the 14 year Matua division players is whether to play out their final year in the GNYFF or get acclimated in their high school football system. Those decisions have played heavy on some of the Matua Raiders, which is why their numbers are scarce.
"We've got a bunch of talent, though we've got a really small group. The 22 players that do come out to practice do come out hard and work hard everyday and that's all we can ask of them to do. We aim to put on a great show for the Raider Nation on Guam because we work hard," said coach Pangelinan.
One player the Raiders are glad to have on the squad is 14-year-old Nate Borja who averages 8-10 yards per carry as a running back and a handful of tackles each game as a linebacker.
Borja is a freshman at GW, but his choice to suit up for silver and black over purple and gold wasn't easy.
"I just wanted to get more exposure and gain more experience before I leave the Raiders," said Borja.
His switch to play offense and defense comes from pure love of the sport and he tries to get on the field as often as he can.
"I'm really depending a lot on my offensive line this season. We do have a bunch of new guys, but they're working really hard and I think we'll be just fine."
The bulk of this years Matua Raiders will be made up of experience with majority of the kids coming up from the Metgot division, which means football conditioning will be the biggest asset.
"From day one, we stress conditioning no matter how our numbers look. Our conditioning is really high because we want our kids fresh in the 4th quarter. A lot of teams loose games in the 4th quarter due to fatigue and we want to make sure that doesn't affect our guys," added Pangelinan.

QUICK HITS
Guam MTB National Championship: Edward Oingerang and Jennifer Camacho are your 2023 MTB national champions. Oingerang finished the course in 1:13:24 while Camacho won her second straight title in 54:08.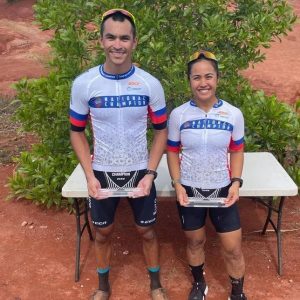 ——————————————
Kobe Miyashita, with St. John's coach Arvin Flores, was named the 2023 IIAAG Middle School Boys Volleyball MVP!