By Patrick Lujan
For most Guam athletes, Division I is but a dream watched on television.
Rarely does one of our own make it to the highest level of collegiate sports competition.
For 17-year-old Caitlin Benavente Peterson, the dream is becoming a reality as she's committed to play women's volleyball for the University of South Carolina. Not bad for just completing her junior year at Palos Verde High School in California.
Peterson may not live on Guam nor was she born here, but her pedigree's strength is deeply rooted in Guam and she comes to visit her families just about every summer.
Her father Glen Peterson was a standout linebacker with the vaunted GW Geckos of the late 1980's and her mother Danica Benavente Schutz was a long-time SKIP dancer and a track athlete in the 1994 Micronesian Games.
Club Help
Born in Hawaii and moved to California when she was two-years-old, Peterson started playing club volleyball at the age of nine.
"I was trying out all the sports. I ended up choosing volleyball," the 5-foot-6 libero said.
It was the help of a recruiting coordinator within her current club – California Volleyball Club – that got the ball rolling in her sophomore year. She told the coordinator that she was looking for a school with a big sports program with somewhat warm weather.
"All my games, my step dad (Jake) and mom would record them all. They'd use I-Movie and compile highlights. I would email any colleges I was interested in, maybe 40 colleges. I started to narrow down the list. You have to just keep reaching out to them, almost annoying them."
She said it boiled down to five or six schools she contemplated seriously, even taking a big east coast college tour of schools like Harvard, Tufts, Connecticut College, Georgetown and South Carolina.
"The reason I visited (South Carolina), they told me I'm one of three liberos they were looking at. I got a tour by the coaches and I ended up falling in love with the school. They told me they want me to play for them and I went home, thought about it and made the commitment as a DS (defensive specialist)."
It was the biggest decision she's made in her young and inspiring life.
Academic Scholarship
Though she impressed the coaches enough to get a slot on the team, she's actually joining the Gamecocks on an academic scholarship and jumping on to the team as a preferred walk-on.
She scored a 30 on her ACT and has a 4.3 GPA.
"I've gotten a B before," she admitted. "But it was in my honors class – so it's a weighted GPA. It was in Advanced Placement Biology.
"All the opportunities I've had in Los Angeles that my parents didn't have on Guam. My parents pushed me to put in the effort and not take the opportunities for granted."
In college, she plans to either major in sports medicine (like her mom) or forensic psychology.
Now that she's gotten her college destination all settled, she can focus her senior year on her academics and "a lot of beach volleyball and high performance training".
Transition to Libero
Having the height deficiency like your normal islander, Caitlin made the transition from outside hitter to libero in her freshman year when she said she stopped growing.
"It was a pretty easy transition for me because as an outside hitter, you have to be a pretty good passer and digger. Some people would be upset about it, but it wasn't upsetting to me because I love passing and digging. That's my favorite part of the game. I feel that a libero is also a captain of the team. You have to be very smart and know what to do on the court. It wasn't as devastating to me as much as for a girl who loves hitting.
"You have to be a leader on the court and loud and often times you have to keep the team fired up and a leader on the court (as a libero)."
 GOALS
– Get playing time. "If I can just step on the court my freshman and sophomore year in any match, that would be awesome."
– Learn how to balance her time as a D-1 athlete.
– Make new friends and get to know her teammates.
– Play for Team Guam
Asked if attending school in South Carolina will hinder her yearly summer trips to Guam, she said, "I'm not going to let that happen!"
Notes: Glen Peterson also played in the MFL for the Giants and Eagles; she has a 3-year-old brother Greyson; she is the grand daughter of GPA General Manager John Benavente; her uncle Craig Quichocho was an All-Island receiver for the JFK Islanders ('93) and MFL star with the Pepsi Giants.
Former Guam volleyball players who played for the South Carolina State Bulldogs: Aubrey Posadas (2002-2005), Charlene Pama (2003-2006) and Lillian Gootinag (2005-2006).

QUICK HITS
3rd place: Big ups to the Para Todu Rugby Club for finishing 3rd out of 16 teams in the Manila 10's Rugby Tournament today. Biba Guam Rugby!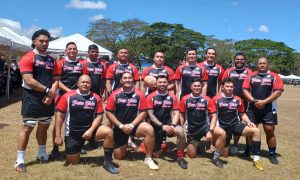 ——————————————
Guam MTB National Championship: Edward Oingerang and Jennifer Camacho are your 2023 MTB national champions. Oingerang finished the course in 1:13:24 while Camacho won her second straight title in 54:08.