As 2014 comes to a close GSPN takes a look back at the 10 most popular stories of the year!  Today we unveil the #1 story, but don't forget to read some of the other top stories in our Other Memorable Moments spot below!
Thanks for another great year in 2014 GSPN fans, let's make 2015 even more memorable!
The biggest sporting event in America also brought forth the biggest GSPN story for 2014! Seattle Seahawks cheerleader Pia Gillan instantly became the most visited story in the websites history as well as receiving over a thousand combined Facebook shares and likes, the most from any GSPN story. The Seahawks ended up thrashing the Broncos in the Super Bowl and Gillan was there to cheer on every single moment of it. Read up on the top story of 2014 by clicking on the title or photo below. Congratulations Pia Gillan for being the top story of 2014!
———————
Guam's very own Okkodo Bulldog Vern Gustilo became an overnight internet sensation after going through the legs of an Australian members screen during the U19 games in Fiji. The video became so viral that all the major sports websites eventually caught on like ESPN, Bleacher Report, and SB Nation to name a few. The NBA's Dirk Nowitzki even tweeted out the video, along with being broadcasted on NBA Vines. Gustilo and the U19 team didn't finish as strong as they hoped in Fiji, but Gustilo undoubtedly left the tourney the most famous. Check in with Vern, his coach, and of course the video of the move from the title or photo below!
———————
Eddie "Barefoot" Bandito had an idea to run a marathon barefoot in all 50 states for the Soles4Soles charity. Then after getting in the Guinness Book of World Records, Vega set out to complete 100 barefoot marathons, which he completed before the year ended! GSPN has been following Vega after each milestone and he has embraced the support he has received from everyone across the world. This honor will not be the last reward Vega receives from GSPN this year, but check out his amazing journey from start to 100 by clicking the title or photo below!
———————
Guam's finest basketball talent were recognized after the topic had bounced around in the NBA regarding LeBron James. GSPN CEO Patrick Lujan then spawned the idea of creating a Mt. Rushmore for Guam which turned into a big event held at Pika's Cafe for the induction ceremony! Tony Susuico, Joey Gogue, Joe Taitano and Chris Fernandez were elected as Guam's best ballers ever. Click the headline or photo below to read all about them!
———————
Guam had an impressive outing in the 2014 Micro Games taking five gold medals with one silver medal in Pohnpei. GSPN was there to capture all of the action as each team celebrated every moment of their victories in baseball, boys and girls volleyball, boys and girls basketball. Get the full summer recap of gold medals by clicking on the title or picture below!
———————
The Southern Dolphins repeated as the 2014 girls basketball champions after their thrilling win in 2013. Southerns April Talledo once again took center stage in the biggest game of the year, also becoming the top high school story of 2014.  The Dolphins repaid their regular season loss at the hands of the Bulldogs in the finals. Southern held off a late Bulldog charge in the end to secure the title, check out the story by clicking the title above or picture below!
———————
The FD Friars were heavy underdogs all playoffs long, but strong defense got them over the St. Paul Warriors in the quarterfinals, over the JFK Islanders in a thrilling semifinals that went into overtime, and eventually the title over the favored Okkodo Bulldogs. FD snapped a title drought of eight years since winning back in 2006. The title game featured non-stop action right from the tip off and you can relive those moments by clicking the title or picture below.
———————
It was the first televised game of the year from GSPN and partner Docomo Pacific. The FD Friars had upset the top seeded Harvest Eagles to get to the title game, but it was all Okkodo from the beginning to the end as they won in three very convincing sets. Outside hitter Aiden Ferrara won the GSPN player of the game and the Bulldogs brought home their first volleyball title! Check out the entire rebroadcast here or click on the story title or picture below for a faster recap!
———————
In a stunning turn of events, DoDEA's Superintendent Steve Bloom officially announced Guam's withdrawal from participating in the Pacific Far East high school sports competitions, with the exception of cheerleading, in September. Acting quickly, Guam Basketball Confederation quickly stepped in to offer high school players an alternative to still give the kids some off-island exposure. Click on the story title or image below to read the official release and reactions from those involved.
———————
The Guam Rugby Team got a wealth of praise after defeating Laos in the Asian 5 Union Division III East Semifinals. It was Guam's biggest win of the tournament which earned them a spot in the top stories of 2014. Relieve the story by clicking on the title above or on the featured picture below!
Other Memorable Moments:
– Baby Joe Rebounds With Bellator Win
– Lady Geckos Win Volleyball Title
– Where R They Now? Boxer Fred Cing
– GSPN Basketball Stars
– Legacy Crowned Football Champs
– Micro Memories: Family Affair
– GNOC Assists U19 Teams

Athletes Birthdays by W5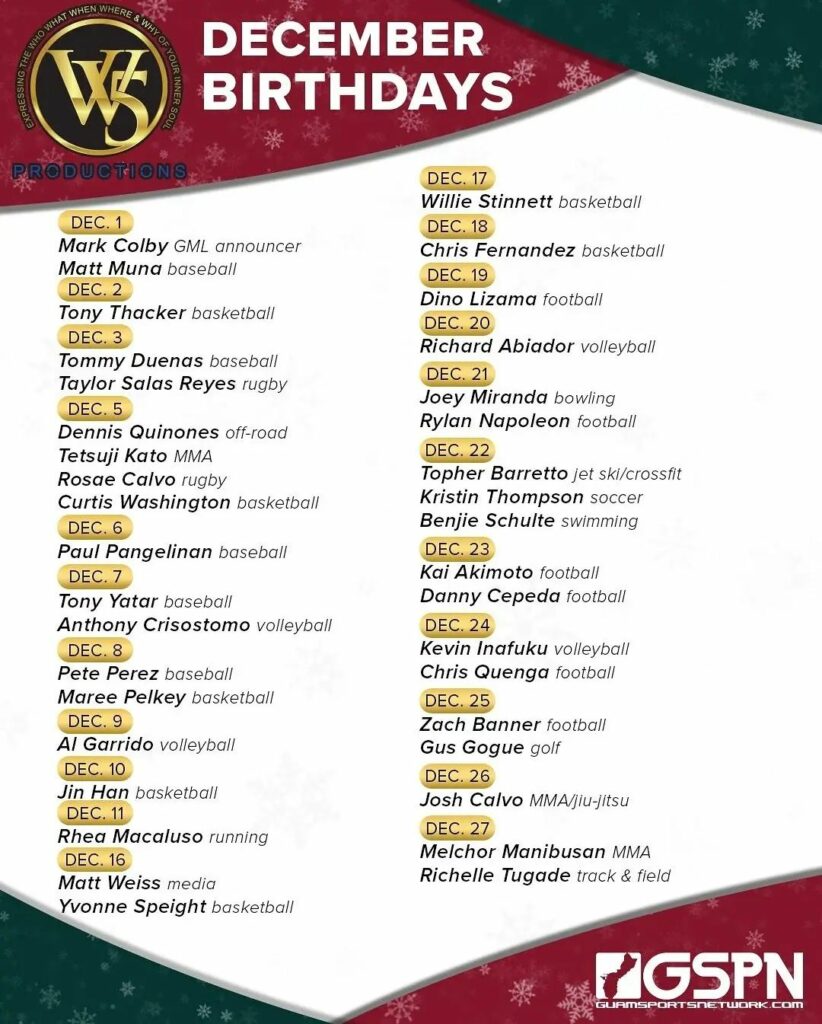 GPS Sports Calendar
SU

MO

TU

WE

TH

FR

SA
Events for December
5th
No Events
Events for December
6th
Events for December
7th
Events for December
8th
No Events
Events for December
9th
Events for December
10th
Events for December
11th
06:00 AM - 08:00 AM
Umatac
Events for December
12th
No Events
Events for December
13th
No Events
Events for December
14th
No Events
Events for December
15th
No Events
Events for December
16th
Events for December
17th
Events for December
18th
19

20

21

22

23

24

25
Events for December
19th
No Events
Events for December
20th
No Events
Events for December
21st
No Events
Events for December
22nd
No Events
Events for December
23rd
No Events
Events for December
24th
No Events
Events for December
25th
No Events
26

27

28

29

30

31

1
Events for December
26th
No Events
Events for December
27th
No Events
Events for December
28th
No Events
Events for December
29th
No Events
Events for December
30th
No Events
Events for December
31st
No Events
National Guard Athletes
Scott Eclavea
Scott Eclavea is a jiu-jitsu black belt and an accomplished MMA fighter. The Guard has given him an outlet in combatives to display his martial art skills, where he's become a head instructor for that program. Eclavea has served since coming out of high school and the Guard has only changed his life for the better.
COMING SOON …
LIVE FOOTBALL ON GSPN
Semifinals: #1 FD vs. #4 Southern (Friday 7 pm)
GSPN Preseason Basketball Tournament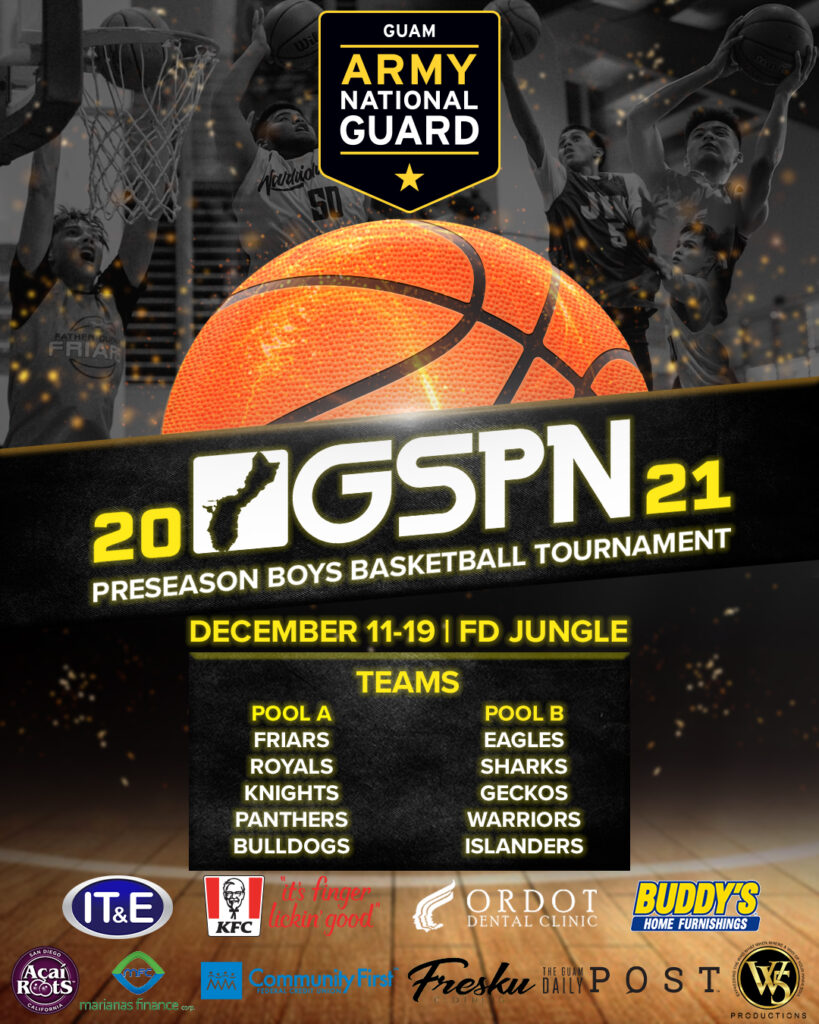 QUICK HITS
Robert Artero Maley recently captured the 182-lb. division of the Costa Mesa Classic, winning via pin in 4 out of 5 matches. Robert is a 4-year varsity wrestler at San Clemente HS (Tritons) and is currently ranked 15th in California's high school scene. He is the son of Jacque Artero Maley (AOLG 1991).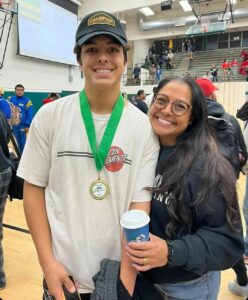 ——————————————–
Pat Taitano and Rich Abiador, teammates on the 1995 SPG volleyball team, have led their high school girls volleyball teams to the Washington State Championships in Yakima, Wa.
Taitano coaches Mt. Rainier High while Abiador leads North Creek High.
There for support is Dr. Mark Perez, a health professor at Central Washington University and a former UOG volleyball player.