By Robert Balajadia & Patrick Lujan
The 2014 GSPN Athlete Of The Year belongs to none other than Eddie "Barefoot Bandito" Vega and his amazing 2014 accomplishments.
Southern Dolphin April Talledo finished second place after a terrific two-title winning year. Notre Dame Royal Destiny Castro grabbed third place as she produced even better than expected in her junior year of high school in every sport she played. XTERRA and Community First-sponsored athlete Charlie Epperson proved he can win XTERRA events in just about any setting at the number four spot, and record breaking JFK Islander John Aquino comes back to the top athletes list, the only returnee from 2013!
Read all about the Top 5 athletes from 2014 below!
GSPN Athlete Of The Year – Eddie "Barefoot Bandito" Vega
Running one marathon barefoot is enough to be considered one of the top athletes of the year on Guam, but completing 100 barefoot marathons for charity (Soles4Soles) while getting into the Guinness Book of World Records puts you in a completely different league. The "Barefoot Bandito" has been catching attention all around the globe and even on ESPN, the Worldwide Leader in Sports.
Vega's accomplishments in 2014 were astounding, and he is as humble as they come. When Vega was given the news that GSPN was awarding him the Athlete of the Year he was shocked, to say the least.
"I am deeply honored to receive the GSPN Athlete of the Year Award.  Never in my wildest dreams did I ever expect to be honored with an award of this magnitude especially since I am a 55 year old grandfather, an ex-smoker of 23 years, and one who never even excelled in sports during his younger years.
"As a teenager, I was just an average athlete relegated to the bench as a substitute player in volleyball, bench warmer in basketball, and cut from the football team.  Being an asthmatic kid, I did not even attempt to tryout for the cross country team knowing that I probably did not have the stamina and endurance for the sport.
"I would like to dedicate this award to the average folks, those who like me, had never believed that they had superior athletic abilities. That's what makes receiving this GSPN Athlete of the Year Award even more significant and I hope it will serve as an inspiration."
Back track on Vega's amazing year, where he also managed to grab the #3 spot on the GSPN Top 10 Sports Stories of 2014 as he continues to serve as an inspiration to those who dream big. In 2014, no one was bigger from Guam than "The Barefoot Bandito."
Read all about Eddie Vega here! Even GSPN's Patrick Lujan made an attempt to run a barefoot 5K in honor of the Bandito…read about that in The Agony of My Feet.
#2 GSPN Athlete Of The Year – April Talledo

Southern Dolphins April "Speedy" Talledo is a winner – plain and simple. The Dolphin stands at just 4'11", but plays bigger than everyone else on the court, field, or any sporting surface she can get her speedy feet on.
Winning the girls soccer title for the third straight year to begin 2014 (scoring the game winning goal) and finishing it off by winning the girls basketball title for the second straight year easily has Talledo in the conversation as one of the year's best athletes. Her dazzling dribbling skills – specifically in the championship win over the Okkodo Bulldogs – left many fans and basketball experts in awe.
The second most impressive part of Talledo as an athlete is her fan base. #TeamSpeedy drew a big crowd over social media, more than any other of the fantastic female ballers who were given nicknames by GSPN Sports Director Robert Balajadia.
Talledo changes the game like not many athletes can with blinding speed and a will to win. Though Speedy doesn't get her worth in individual award accolades, she could care less. Talledo is only concerned about winning, her team and her fans. That appears to be the recipe for success for the already heavily decorated high school athlete who is giving her all in her final year at Southern.
"I was surprised and also honored to be the #2 Athlete of the year. I had no idea I would get it so I greatly appreciate the recognition from GSPN.  I would like to say thank you GSPN for this honor and also my parents John and Melba Talledo for always being supportive on my sports games. I would like to say thank you to my friends and to all my coaches from Southern High School," said Talledo.

Not one for individual accolades, Talledo did admit this honor for the #2 spot on the 2014 Athlete Of The Year is the best recognition she received thus far. 
"This recognition is better than getting an MVP trophy or All-Island trophy."
#3 GSPN Athlete Of The Year – Destiny Castro
Two MVP titles, one in basketball and one in volleyball, were already enough to get Destiny "Queen B" Castro recognized as one of 2014's best athletes. Add on a gold medal in the Micro Games in Pohnpei, a bronze medal in the U19 FIBA Oceania games in Fiji, wins in the FIBA 3vs3 tournament, and tournament MVP in Guam's (possibly) last ever Far East basketball games averaging 18.5 points per contest and you can't put many people ahead of her for Athlete Of The Year.
You could easily lose your breath trying to get through Castro's accolades in just 2014!
Castro has performed like Guam's best female baller with her overseas accomplishments. Castro was also a force of nature in girls soccer, becoming one of the league's most dangerous scorers. It's no rarity to see Castro take over in any sport she plays.
#4 GSPN Athlete Of The Year – Charlie Epperson
XTERRA and numerous running event top finisher Charlie Epperson was the first-ever sponsored Guam athlete by Community First Federal Credit Union. Epperson gets revenue off the hard work he puts in and he's one of the most physically gifted athletes Guam has seen in a long time.
Winning 1st place in XTERRA events in the Oak Mt. Trial Run in Alabama, the Tsali Off-Road Triathlon in North Carolina, and a 2nd place finish in the Knoxville Off-Road Triathlon in Tennessee were just some of the major accomplishments from Epperson in 2014.
Epperson has currently been sidelined with an injury which has kept him out of action, but you can expect him to be back on his grind in 2015, which of course means he could climb the GSPN Athlete of the Year ladder come December 2015!
"It truly is an honor, especially with all the support from the local community and the triathlon and track & field associations. Of course, all the support I've received from Community First – to make it to the Top 5 athletes on Guam is an honor."
#5 GSPN Athlete Of The Year – John Aquino
2014 was a record-setting year for JFK Islander John Aquino, literally. Each time Aquino stepped on the track during the 2014 Track & Field season he set new records, but none more celebrated than his record time of 9 minutes and 11 seconds to set a whole new level of speed for the 3000 meter event.
Oh, and the previous 3000m time he broke was his own he set in 2013.
Aquino also won 1st place in the Oceania Athletics Championships 5K in Rarotonga, Cook Islands. Aquino was the lone gold medalist of the few Guam medalist of participating athletes.
Who knows how many medals he would've won (and possibly be placed higher on this list) if we fielded a Track & Field team to the Micro Games in the summer.
"I am surprised that I got ranked (again). I was gone for quite a while competing at the college level, and I appreciate the consideration GSPN has for me and their belief in my ability to become a great athlete for Guam!"
He is the only returning athlete to make the list from 2013.
PREVIOUS WINNERS
Other Top Notable 2014 Athletes
Alison Bowman
Baby Joe "The Juggernaut" Taimanglo
Mike Carbullido 
Ian Lujan
Zach Pangelinan
Jagger Stephens (Micro Games Top Male Athlete)
Pilar Shimizu (Micro Games Top Female Athlete)
Zach Banner
Mia San Nicolas
Ryan Matienzo
Regine Tugade
Bryton Cepeda

QUICK HITS
The Guam Smokin' Hot women's softball team captured first place in the Asia Cup Softball Championships 2023 in Bangkok, Thailand.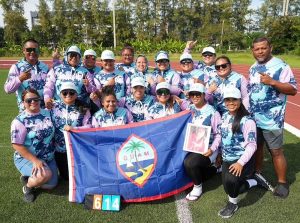 ——————————————————-
Roque Martinez gets the unanimous decision win Saturday night in his debut fight in South Korea's Black Combat promotions.
The 37-year-old controlled the tempo all three rounds and bloodied his opponent with some 3rd round ground and pound.