[useful_banner_manager_banner_rotation banners=55 interval=5 width=200 height=200 orderby=rand]
By Robert Balajadia
As the book on 2014 has officially been closed, one of Guam's most prolific ballers will also be ending a storied run of championship victories with a special pair of shoes he wore while winning each one.
Will Stinnett never played a championship game in 2014 without his "Flight Before Christmas" Jordan XX8's (28), winning his first ever FD Alumni Tourney title with his 2004 Class, his first gold medal for Guam in the Micro Games, and outside league titles in the GHRA and Shirley's league.
"I was playing in the GHRA league and Aulmni Tournament at the same time and was joking with a friend about winning three tournaments in a span of two weeks while wearing these shoes. It started out with comfort, but this was the first time I ever made a conscious decision to wear a certain pair of shoes," admitted Stinnett.
Of all the championships won by Stinnett in 2014,  winning the FD Alumni Tourney behind a 35-point 16-rebound performance was his most memorable. Though, he did alternate between his designed Nike ID Kobe 8's and Jordan 28's in the finals.
"The FD Alumni Tournament win was by far the most memorable because I was playing with my friends I went to school with, my boys,  and also it was our host year and everything came together after a bunch of us worked so hard for it. In Micro Games, your expected to win gold and it's more of a disappointment if you don't," said Stinnett.
Stinnett was advised to give Jordan's newest 2013 signature model a run after national teammate and good friend Joe Blas highly recommended the shoe for its performance level and comfort. Four pairs later, it's safe to say the 28's became Stinnett's go-to-shoe come game time.
For most athletes, especially basketballl, the type of shoe used to play in has to meet a certain comfort, performance, and even stylistic standard. While some basketball shoes have evolved to be worn more for stylistic purposes rather than court use, the cosmetics of this special pair fell into place with performance, hitting each of Stinnett's demands.
"A shoe for me has to be comfortable and feel right on foot. The 28's feel great and features a lot of support and it's very comfortable. I used to wear the Kobe 8's, which are more low to the ground, but the 28's are more comfortable and I just like playing in them. I really liked the design for the Christmas edition one too," said Stinnett.
The "Flight Before Christmas" Jordans feature flight pattern designs with radar graphics on the shoes outer which blends the shoes overall colors together for a unique design, being one of the more aesthetically pleasing color ways of the 28 model. The model was released late in December of 2013 which prompted Stinnett to make great use of it all 2014 long.
Since then, Stinnett's pair officially gave out having popped the air bubble in the back of the shoe. Though it's no longer serviceable, the memory of a great year of basketball in 2014 will always be remembered when Stinnett looks at the "Flight Before Christmas", a special pair of Jordan XX8's.
From this day on, the Jordan XX8 "Flight Before Christmas" will now be known as the "Air Stinnett's." Name change not official.

QUICK HITS
Guam MTB National Championship: Edward Oingerang and Jennifer Camacho are your 2023 MTB national champions. Oingerang finished the course in 1:13:24 while Camacho won her second straight title in 54:08.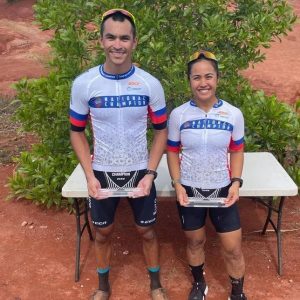 ——————————————
Kobe Miyashita, with St. John's coach Arvin Flores, was named the 2023 IIAAG Middle School Boys Volleyball MVP!