By Robert Balajadia
"Swing for the fences," has become and overused cliché when pointed towards your life goals.
But when young 16-year-old softball star Madilyn Nickles steps up to the plate, 'swinging for the fences' is only one of the things a new member of the 2015 USA Junior Women's National Team's has on her mind.
Madi's grandfather Joe Kusunoki was born and raised on Guam, who then moved to California after her mother was born. Kusunoki is part of the Flores family from Inarajan, so Madi has a little bit Guam flowing through in every softball play she makes.
Madi is currently a junior at Merced High School in California and will be playing an infielder for the 2015 Junior National Team.
"Every little girl who plays softball in the US, including me, has the dream of being able to have USA across their chest while playing the sport they love. I am one step closer to fulfilling that dream! It's crazy!" said Nickels in what being selected means to her.
Nickles already has a big list of personal softball awards and accomplishments, but she too was surprised that she was selected to be a part of the short list of just 17 athletes for the Junior National Team out of 112 girls trying out.
"I was in complete shock I had been selected for the team. My parents and I originally signed me up for the open try-out just for the experience, since I'll still be eligible for the Junior Team again for the next tryout in two years. I am still in amazement that I was selected as one of the 17 for the roster, but I'm very honored as well," said Nickles on her selection.
Madi will be competing in the upcoming World Cup of Softball X June 29-July 5, 2015 in Southern California and the International Softball Federation (ISF) Junior Women's World Championship, which will be held August 9-15 in Oklahoma City, Okla. at the ASA Hall of Fame Complex.
"I'm more excited than nervous for being able to play in the games this summer. I still have high school season coming up and I am focused a lot on that at the moment. My team and I have many goals we are shooting for this season that I am so concentrated on. However, I know as time will go on and the games approach quickly I will be much more nervous than I am now. I just always think to myself that this is the same game, just on a different field. It helps to relieve some tension I have before I play in big games," admitted Madi.
Nickles already has established a consistent workout routine which made preparing for the try-outs not too difficult. She's practicing her hitting 4-5 days a week, strength and agility 3-4 times a week, and at the gym 3-4 times a week as well for roughly two hours while balancing school on her shoulders.
But when the official selections were released, everything she had done to that point proved its worth.
"That selection camp lasted another day and a half and was actually the hardest try-out I have ever been through. I was competing against the best players in the U.S.! I found out Monday during school of all the girls who had officially made the roster, and when I saw my name in the middle of the list I almost screamed during class! Best moment of my life so far."
The busy life of Madi Nickles is still a book being written, but helping her put the pieces together is no other than Mom and Dad, who are not only her biggest supporters, but two of her biggest fans!
"My parents are definitely my biggest supporters. If it weren't for them, I definitely would not be where I am today. So, thank you mom and dad! I love you both so much! My dad is a teacher and has the same schedule as me, so he drives me all over God's country to get me to lessons and practices. My mom is a pharmacist and works so incredibly hard so we can afford to travel as much as we do, and I love how she takes time off as much as she can to be able to come watch me. My parents are the type to come and watch everything even if it is just practice. I love them for that."
A spot on the USA Junior National Team could easily be the peak for some athletes, but not Nickles. She's taking everything in stride, but her dreams and goals are bigger than her already big-time game.
"I'm still very young and like most high school student athletes I have the goals of doing well in school and softball. I also want to encourage little girls as much as possible to work harder than any opponent they face because that was my goal ever since I started sports when I was a little girl. After high school, I am fortunate to already be verbally committed to, and have the opportunity to fulfill my dream of playing softball for UCLA."
Madi Nickles Softball Accomplishments 
~ 2011 ASA Western National 14U Champion (All American Sports Academy)
~ Committed as a high school freshman to attend UCLA on an athletic scholarship.
~ 2-time Central California Conference Most Valuable Player 2013, 2014 (as a Freshman & Sophomore)
~ 2-time Merced Sun-Star Softball Player of the Year 2013, 2014 (as a Freshman & Sophomore)
~ 2014 Cal-Hi Sports All-State Softball Underclass Second Team Multipurpose (pitching, hitting)
~ 2014 Modesto Bee All District Softball Team
~ just selected to the 2015 USA/ASA Junior Women's National Team

QUICK HITS
3rd place: Big ups to the Para Todu Rugby Club for finishing 3rd out of 16 teams in the Manila 10's Rugby Tournament today. Biba Guam Rugby!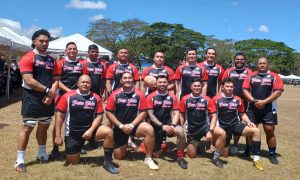 ——————————————
Guam MTB National Championship: Edward Oingerang and Jennifer Camacho are your 2023 MTB national champions. Oingerang finished the course in 1:13:24 while Camacho won her second straight title in 54:08.