[useful_banner_manager_banner_rotation banners=72,74,77 interval=10 width=120- height=600 orderby=rand]
By Michael Cruz
Name: Josh Bulla
Sports: Football
Sports Accomplishments: 2012 Guam BFL MVP
Former/current occupations: Former active duty Navy, currently in Navy Reserves. Full-time student at Diablo Valley College.
Family: Wife- Inna Bulla
GSPN: What have you been up to since you left the Guam?
JB: After leaving Guam, I was stationed at Camp Pendleton Marine Corps Base in Oceanside Ca. While there, I played football for The LAR Highlanders football team in the Camp Pendleton football league. We went 10-0 and won the Championship. After the championship game, the championship team from the up north base, 29 Palms came down and we played the 'best of the west game' we won that as well.
GSPN: Do you still keep up with Guam sports?
JB: I do keep up with Guam sports. I'm still good friends with coach Jacob Dowdell at Guam High school and follow the Panthers success.
GSPN: You were the hardest receiver to cover in the BFL league. Why do you feel so?
JB: Thank you, I appreciate that. Football is a mental game. I think that my experience and knowledge of the game is what helped me the most. You can be the biggest, fastest, strongest player on the field but if you don't know your responsibilities, all that talent is for nothing. I know what the DB's are looking for to tip off when I break my routes off, I try to use that to my advantage. I can't take all the credit though. Steve 'SP' Phillips was an amazing quarterback. He had a rocket for an arm. He was able to thread the needle and deliver me the ball when the team needed it most.
GSPN: What are your career plans?
JB: After earning my degree in kinesiology I plan on becoming a physical education teacher and continue my coaching career. I started playing youth football in 1997 and all of my coaches growing up were very important father figures in my life who helped me become the man I am today. I want to give back to the youth and hopefully impact them in a positive way like my coaches did for me.
GSPN: What's your fondest memories of sports on Guam?
JB: My first season playing for the Hal's Angels we played against the Rams in the championship game. The Rams scored back-to-back touchdowns late in the 4th quarter and had the momentum. There was about a minute left in the game and we were only up by 3 points. SP gave me a post route. I caught the ball and got tackled into the end zone. We ended up winning. The feeling was electric. It was awesome to celebrate that victory with my brothers.
[youtube id="OJmnfqjW_8o" width="620″ height="360″]
GSPN: One of your offensive players Najee Harris is the #1 player in California, #1 running back in nation, and Top-10 player nationally for Class of 2017. What is it like coaching a player of this caliber?
JB: Najee is an amazing athlete. He is the hardest worker on the team and he has his success to show for it. The rankings and records do not get to his head. He is a very respectful and humble young man. He loves the game and just wants to play. He doesn't get any special treatment at practice for being ranked #1, all of that stuff doesn't matter to him and our team. Our goal is to win the BVAL.
GSPN: Antioch (YOC Boyz) is 7-0 with three regular season games left. The team is in the Top 6 North Coast Section rankings with the likes of De La Salle, Clayton Valley Charter, Monte Vista, Pittsburg, and Foothill. The Panthers were 1-9 just two years ago. How is this roster of 46 players turned around the program so quickly and do they have what it takes win section and possibly the school's first State Title?
JB: We have a different mentality. We practice with intensity and focus. Our coaching staff has a very good connection and we are all dedicated to the success of these young men. Head Coach John Lucido is an amazing leader and these young men will follow him to battle any day. Our offensive coordinator Brett Dudley has done an awesome job creating an offensive system that works well with the player's skill level. Of course having a talent like Najee Harris has been a huge advantage in our success but he can't take and won't take all of the credit. Our defense is outstanding. We have shut out teams with powerful offenses. Our linebacker Kobie Beltram is a monster who has broken records at Antioch High and the defense follows his intensity. I can't speak on winning a state title. Our goal right now is winning our league (BVAL). We focus on winning one game at a time. If our boys can continue to work harder than our opponents, keep focused on the task at hand, keep their heads in the books and maintain grades; anything is possible.
The Highlights
[youtube id="QHSkwKVH3hI" width="620″ height="360″]
[youtube id="sveFpGI6JeY" width="620″ height="360″]

QUICK HITS
Guam MTB National Championship: Edward Oingerang and Jennifer Camacho are your 2023 MTB national champions. Oingerang finished the course in 1:13:24 while Camacho won her second straight title in 54:08.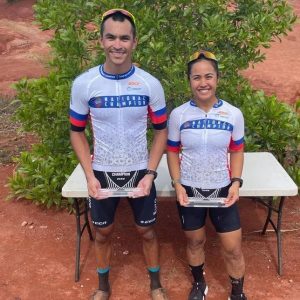 ——————————————
Kobe Miyashita, with St. John's coach Arvin Flores, was named the 2023 IIAAG Middle School Boys Volleyball MVP!