[useful_banner_manager_banner_rotation banners=72,74,77 interval=10 width=120- height=600 orderby=rand]
By Jay Leon Guerrero
It's been the ultimate goal of all aspiring young golfers to make the sport's most prestigious event, the Masters in Augusta. At just 7-years-old, Guamanian Jayden Lizama will have that opportunity.
Every avid golfer dreams of reaching that pinnacle of playing professionally and being apart of the biggest show known as the Masters. Thanks to the US Golf Associations's youth tournament called the 'Drive, Chip & Putt Championship', Lizama will be apart of the opening act (or for MMA fans, the undercard) prior to the main event.
Residing in New Grove, California, Lizama qualified for a slot to play in the annual youth tournament that will be broadcasted live nationally. Lizama went through a series of local and regional qualifying tournaments to stamp his ticket to the prestigious event.
According to the 'Drive, Chip & Putt' website, eighty junior golfers representing 30 U.S. states and two Canadian provinces have earned an invitation to Augusta National Golf Club to compete in the third annual 'Drive, Chip and Putt Championship National Finals', to be played on Sunday, April 3, 2016, prior to the start of the Masters Tournament.
Lizama will be entering the 7-9 year old division ranked 2nd with a total of 119 accumulated points. Stephen Hernandez from Houston, Texas, who qualified first with 123 points in the division.
The road to Augusta was challenging, but Lizama was able to qualify after advancing in three tournaments. According to Jayden's parents Jesse and Hazel Lizama, there was a series of qualifying rounds in local and regional tournaments that Jayden had to place in before advancing to the National show in Augusta which will be held next April.
Jayden's road to Augusta included the following tournaments with results:
-Local Qualifier was held in Reno, Nevada (Montreux Country Club on August 8, 2015) where Jayden placed 3rd with overall points of 87, in the boys 7-9 year old division.
-Sub-Regional Qualifier was held in Sacramento, California (Haggin Oaks Golf Complex on August 10, 2015), where he placed 1st with overall points of 97, in the boys 7-9 year old division.
-Regional Qualifier was held in Tacoma, Washington (Chambers Bay Golf Course, (where the 2015 U.S. Open was held) on September 12, 2015, where he placed 1st with overall points of 119, in the boys 7-9 year old division.
The Lizama's last visited Guam in 2009 with Jesse originally from Agana Heights and Hazel from Latte Heights. Jayden has a younger sister named Isabella who also travels with him during the tournaments.
Jayden Lizama aspires to be a professional golfer one day.
"My favorite golfer is Jordan Spieth and I'm hoping to play in the Masters by the time I'm 20," said Jayden.
Like every young boy his age, he plays outdoors with friends and also enjoys video games when he has free time.
"I like to play basketball and kickball. When my parents allow me to, I like to play video games on the Xbox and also play games on the Ipad."
According to Mom, Dad is just as heavily invested in young Jayden's future.
"His dad has always been his coach and caddy. Jayden has been doing competitive golf since the age of five, and he is a member of The Little Linkers, Junior Golf Association of Northern California (JGANC) and the U.S. Kids Golf," said Hazel Lizama.
With six months left until the event, Jayden will continue to practice and play tournaments in California. It is every young golfers dream to meet his or her idol and play at the same event. Jayden will have that opportunity. Hopefully, he will bump into his favorite golfer Jordan Spieth.

QUICK HITS
Guam MTB National Championship: Edward Oingerang and Jennifer Camacho are your 2023 MTB national champions. Oingerang finished the course in 1:13:24 while Camacho won her second straight title in 54:08.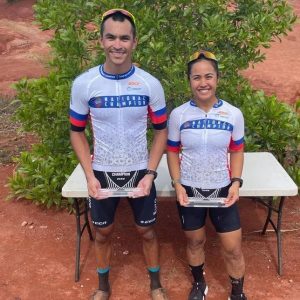 ——————————————
Kobe Miyashita, with St. John's coach Arvin Flores, was named the 2023 IIAAG Middle School Boys Volleyball MVP!