[useful_banner_manager_banner_rotation banners=72,74,79 interval=10 width=120- height=600 orderby=rand]
By Jay Leon Guerrero
"Failure to prepare is preparing to fail" – John Wooden.
The Wooden quote is one of the many favorites of Guam Basketball's coaching staff Jimmy Yi.
He has read over 400 books and he has about 165 in his office. Yi uses his publications to help teach and motivate his players.
Graduating from FD in 2002 and LIU (Long Island University) in 2006, Yi returned back to Guam and is now a new father to a baby girl born this past summer. He coaches at Academy and FD and also helps with the women's junior and senior national team with head coach Eddie Pelkey.
Yi takes much pride in seeing his players succeed, not only on the court but also in life. He uses publications to absorb as much as he can to help the teams he coaches.
GSPN had a Q&A session with Yi, here is what he had to say.
GSPN: First of all, how many books do you have in your collection?
Yi: Presently I have 165 books in my office, however, I have lost more books than I actually have. I have read over 400 books since 2002.
GSPN: What kind of books do you read?
Yi: I like to read self help/growth books, leadership.
GSPN: How did you get started or decide reading books to help you with your role as a mentor/coach?
Yi: Funny story, after graduating from high school FDMS (02), my sister gave me a book (RichDad/PoorDad) by Robert Kiyosaki, that was my first book that I finished cover to cover in two days! That is when my journey of reading books started. In (04) I became an entrepreneur with a friend of mine, and we were part of a system that supported self-growth. Since then we have a book of the month program, which I still get one book a month. Wow, so many books have helped me to become a better mentor/coach.
As a mentor/coach we need to be on the cutting edge of dealing with people/kids. As technology changes, the way we deal with people has to change, we cannot solve a problem with the same mind that created it. The day we stop growing is the day we start going backwards. The books have helped look at the positive things of life, and most importantly speak positive to the people that I have been able to mentor/coach.
GSPN: Any famous quotes you want to share with us and why you have chosen them?
Yi: "Everything rises and falls on leadership," – John C. Maxwell
Because every company, sports team, organization, people follow the leader and it will rise or fall based on their leadership.
"You will be the same person in five years as you are today except for the people you meet and the books you read" – Charles Tremendous Jones
Because its so true, we all want things to change in the outside, however, we need to first change in the inside.
"Success; how many people are better off because you lived" – Bill Britt
Because we are here for a reason, its our duty to make a positive impact.
"People never care how much you know until they know how much you care" – John C. Maxwell
Because people want to be noticed, as a mentor/coach, we need to care for them, relationships are key and we are either all in or not in at all.
"Motivation is required daily, just like showers," – Zig Ziglar
Because motivation only last so long, we need it every day.
GSPN: How long does it take for you to finish reading a book? With a newborn, have you had time lately to catch up on reading?
Yi: I can finish a book in a day, however, I say 10 days at most. We all have the same 24 hours, I don't make extra time to read, I read with the time that I have. I read when I'm waiting in line, stuck in traffic or a red light, break times during work. Yes, I have been reading with our precious new born, we just make time for what's important. I personally do not watch much television, I'll use that time to read, it's all about making a decision. My goal for 2015 is to read 40 books, which I set on January 1st, I have 12 more books to go, and I will achieve it.
GSPN: Where do you go to search for the right book to order? Is there someone you ask or is it a website you go to when reading publication reviews? Or perhaps a particular author you follow?
Yi: Great question, since I've been reading for quite some time, I like to read things on leadership, positive mental attitude books. Majority of all the self growth books makes suggestions on other books you can read. You can go to the nearest book store and go to the business section and there are many books available. I follow John C. Maxwell, Robert Kiyosaki, Coach K, Napoleon Hill, Dale Carnegie.
GSPN: How do you use reading to help with your coaching? Any particular publication that assisted you in accomplishing a goal during a season?
Yi: Oh wow, reading is so important, no matter what position you are in. As a high school coach, we need to be on top of how to deal with GEN-Y kids. It is a different generation; old school teaching will not connect with a generation that is online 24/7. The books help me stay positive, give more positive encouragement, because today's kids do not respond well with negative criticism. Most importantly, I found out how to motivate them, once you find their hot button its amazing what can happen. As a coach, building relationships are so important, it's not about the wins or losses, it's building them up to be a better person. Building relationships does not stop after one season, it is a continual journey as they go through life. The day you think you know everything is the day you stop learning.
GSPN: Do you have a long term goal set with your role in the Guam Basketball Confederation? How will reading help you accomplish these goals?
Yi: The goal is keep developing our current junior and senior ladies; we have a great bunch of ladies. The future is looking bright for our Women's National Team. Staying motivated and reading helps us connect with players.
GSPN: Anything else you would like to add?
Yi: Thank you for giving me this opportunity to share with you and the fact that we are promoting READING! If you are a teacher/coach/entrepreneur/parent/student/mentor no matter what age, please continue to read. Real education starts after you finish school, we need to keep developing our minds because once that stops, our growth stops. To change the world, we need to change our country, to change our country, we need to change our island, to change our island, we need to change our village, to change our village, we need to change our home, to change our home, we need to change how we THINK.

QUICK HITS
Guam MTB National Championship: Edward Oingerang and Jennifer Camacho are your 2023 MTB national champions. Oingerang finished the course in 1:13:24 while Camacho won her second straight title in 54:08.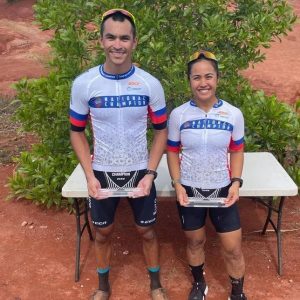 ——————————————
Kobe Miyashita, with St. John's coach Arvin Flores, was named the 2023 IIAAG Middle School Boys Volleyball MVP!