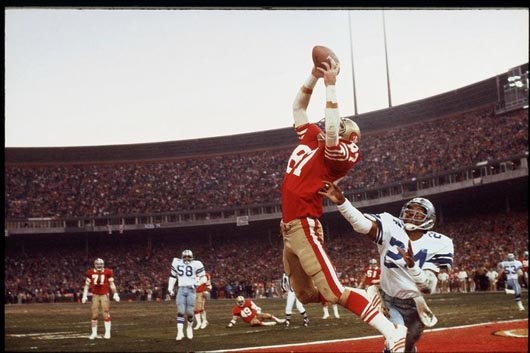 By Patrick Lujan
You don't have to be a San Francisco 49ers fan to appreciate 'The Catch'.
In what would be the turning points in the storied franchise's history – and one of the most memorable moments in NFL history – that play lives on today.
January 10, 1982 goes down as the historical day when 49ers receiver Dwight Clark snatched a pass out of the sky from Joe Montana and propelled San Francisco into its dynasty years.
Almost 36 years later and now 60-years-old, Clark now suffers from ALS but still makes time to share with fans.
One fan who recently not only met Clark, but had him draw out the play of 'The Catch' as a priceless keepsake, is Rich Chou – former Guam sports star and current matchmaker in the Bellator MMA promotion.
"A buddy of mine is friends with the guy who owns one of the biggest memorabilia places in San Jose," Chou shared with GSPN. "I was able to come in early and beat the crowd to have a more personal experience. It was cool to have that than with a line and the crowd." (Note: looks like the pare-pare system works in the states, too.) 🙂
Consider it another box checked for Chou, who has already met Montana and Jerry Rice in previous occasions. His well-connected Bay Area sports networking has also led him to meet current 49ers rookie Reuben Foster and San Francisco Giants Angel Pagan.
"It's been one of the cool perks of the job.," Chou said, as some in the sports industry knocks on his door for MMA connections as well.
As for his brief meeting with Clark, he understood his current condition with ALS and wanted to give the great Niner his space.
"I tried not to bother Dwight too much. We exchanged a couple of words and just told him to keep fighting. He seemed in good spirits. He was smiling and joking with the staff there."
Chou was the high school MVP in both basketball and volleyball in 1997 for the St. John's Knights. He's on his way to Pennsylvania for Bellator 186.

QUICK HITS
Guam MTB National Championship: Edward Oingerang and Jennifer Camacho are your 2023 MTB national champions. Oingerang finished the course in 1:13:24 while Camacho won her second straight title in 54:08.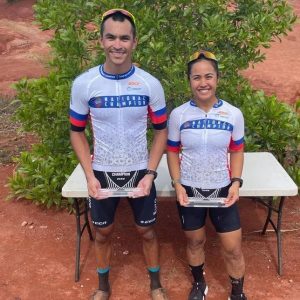 ——————————————
Kobe Miyashita, with St. John's coach Arvin Flores, was named the 2023 IIAAG Middle School Boys Volleyball MVP!