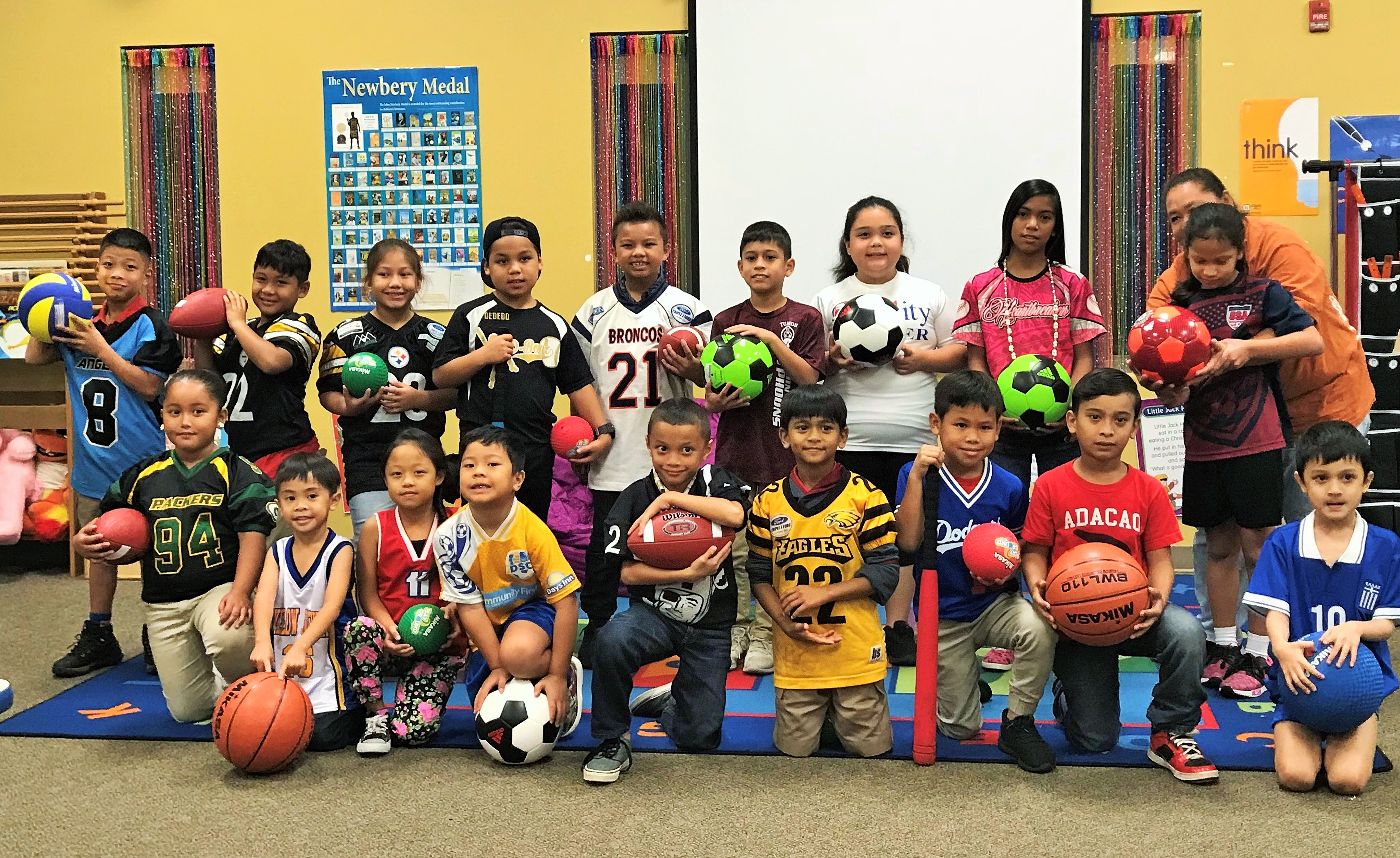 By Patrick Lujan
The mission. To provide sports balls to schools in need to support their physical fitness programs.
GSPN's Got Balls? Program delivered once again, awarding Adacao Elementary and Sanchez High School with sports balls to help enhance students physical activities.
GSPN teamed up with community conscience partners Community First Credit Union, Hornet Sporting Goods and the Aklan Association of Guam.
"We're so happy, and quite surprised we were awarded with these balls," said Adacao's Analyn Palugod, who submitted the letter of request to GSPN on behalf of the school's Positive Behavior and Interventions Support Team (PBIS).
In the letter, Palugod described that the PBIS – made of the school's teacher's aides – started an initiative called 'Recess before Lunch.' This initiative has the aides teach lessons through games that develop sportsmanship, social skills, team building and cooperation among the 500+ students at the school. Palugod, who is the chairman of the PBIS, added that the existing gear are either in need of repair or is just insufficient for the amount of students in the school.
The award included a host of balls to include basketballs, footballs, soccer balls, tether balls, dodge balls, tennis balls and a few more.
Such a program has made an organization like the Aklan Association of Guam to gladly partake in the GSPN program in giving back to the children of Guam.
"When we first heard about the program, we were very interested in getting involved," said Aklan President Patrick Luces. "Aklan believes in community support and what better way than to invest in the healthy lives of our island's children. We are so happy to partner with GSPN on this type of program."
Community First Credit Union has partners in the Got Balls? Program from the beginning.
"This is the third time we've provided balls to schools and every time, the sure appreciation by both the students and the school staff is always so gratifying," commented Derek Mandell, CFCU marketing manager.
SANCHEZ SHARKS RUGBY TEAM
Unlike the first two issuances, the giving didn't stop at Adacao. GSPN managed to deliver the wishes of the Sharks rugby team.
Though rugby doesn't start until the next semester, boys head coach Chris Sgro submitted a request for balls for a school as a whole that is struggling with support.
Note: The school infrastructure itself is in a deplorable condition and the students there deserve better. You need to visit the school and see for yourself!
Sgro said that there's a total of 45 players for both boys and girls and the teams have only four balls.
"Rugby is a sport that all players have to touch the ball," Sgro explained. "It's not like football where only a few players on the field get a chance to touch the ball. We have 45 players and it's hard to get all of them to practice the game without getting a chance to pass, kick and just feel the ball."
The Program almost tripled that amount for the Sharks.
"We're so happy that GSPN selected us," Sgro added. "You don't know how much this means and how far this will go with our students."
THANKS TO OUR GREAT COMMUNITY PARTNERS IN THIS PROGRAM!
FIRST TWO
First Issue: I-Learn Charter School
Second Issue: P.C. Lujan Elementary School

COMING SOON …
High School Football starts Sept. 29
Brawl 3: Oct 13
Guam's Strongest Man and Woman Competition October 29
QUICK HITS
The Figo Islanders 40s women's softball team took gold in the Senior Softball World Championship in Las Vegas. Figo came out of the loser's bracket and beat the Arizona Belles 17-3 in the AA division championship game Sunday afternoon.
Other Guam teams that played in the 40s tournament were: Team SOTTA (women's) and Bud Light Guam, Friars 671 and Sindalun Guahan (men's).
Sindalu finished a respectable 4th out of 24 AAA division teams.