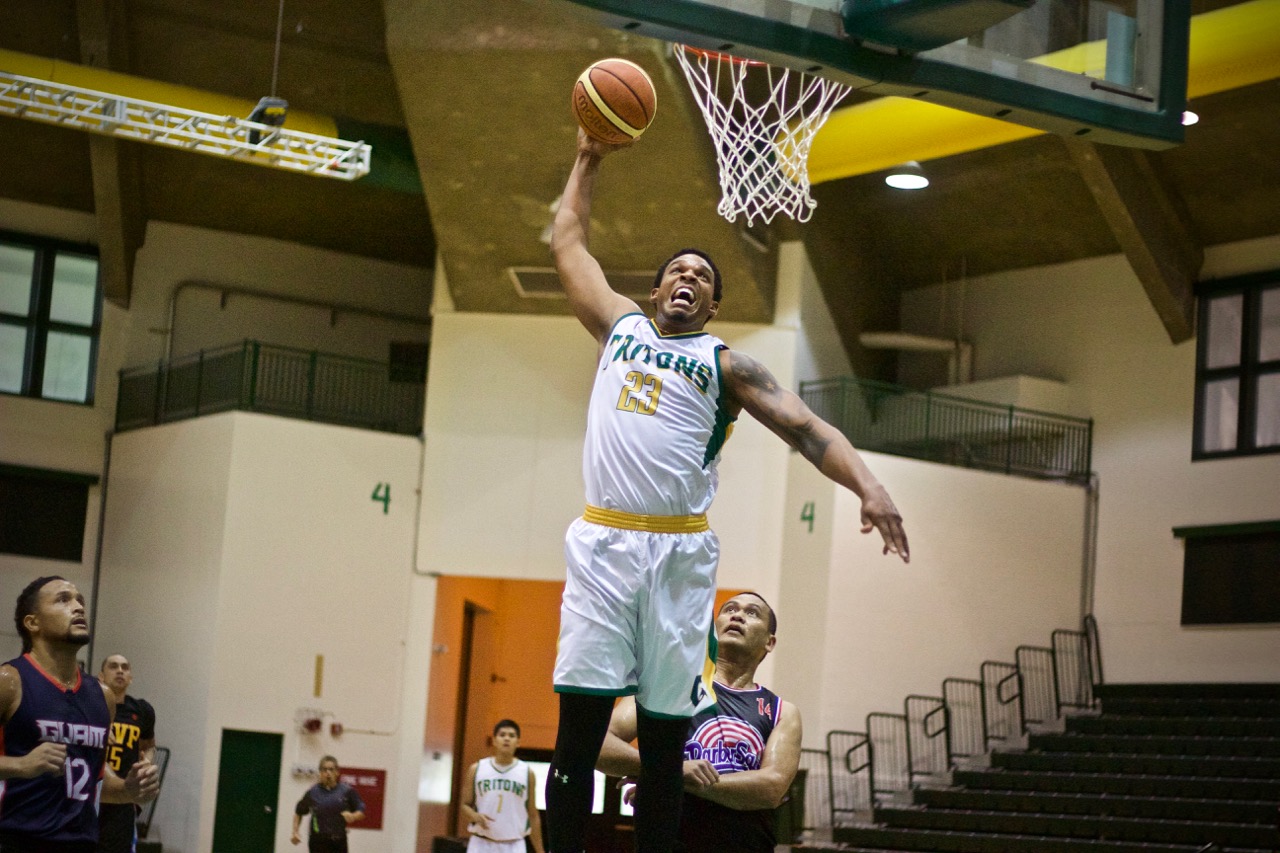 By Jay Leon Guerrero
The UOG Tritons men's basketball team made a huge statement Sunday afternoon defeating the MVP Stars 123-111 in the Tritons Basketball League to remain undefeated in the inaugural league. UOG is in good position to take the top seed of the league, getting one step closer to accomplishing their goal of winning the championship.
The Tritons led from start to finish, never allowing MVP to get within six points. MVP started the game with only five players with Joe Blas, JP Cruz, Reggie Rechebong, Gerard Jones and Daren Hechenova present at tip off with no subs. Just after tip off, Will Davis came to the game to offer some relief against a full Triton squad.
The Tritons took it to the veterans from the opening tip, jumping out to a 12-0 lead with Blake Jenkins and AJ Brown scoring in the paint. MVP was unable to knock down open shots and the Tritons capitalized on their second chance opportunities with Billy Belger and AJ Carlos swishing long-distance shots to extend their lead to 40-23 by the end of the first quarter.
The Stars went on a run in the second quarter, scoring eight straight points to get within single digits. Joe Blas and Darren Hechanova each scored four points during the run with mid-range shots and transition baskets to trail 51-42.
The Tritons countered with a run of the own their with Simon Demadjeo and Geno Anderson draining three-pointers to score 70 points by halftime. The Tritons led 70-51 by halftime.
Triton AJ Carlos drained two open three-point shots in the third quarter to go ahead by as much as 22 points. The Tritons refused to get blown out and made a comeback led by Cruz who scored 10 points in the quarter.
MVP had momentum on their side with Hechanova pushing the pace, either making or dishing out transition baskets to get within ten points in the final period. But a crucial foul by Cruz sent him to the bench early, picking up his fifth foul of the game with four minutes left in regulation.
The Tritons capitalized with guards Ryan Nangauta and Anderson scoring down the stretch to seal the victory.
"It will be a much more interesting matchup if they had their full team for sure," said Anderson.
Anderson had 19 points and seven assists in the victory.
"We will need to make adjustments to our tranistion defense the next time we meet them. Darren, Joe and JP are all running in tranisiton; if we don't stop the ball then they are going to score"
Hechanova shines in loss with a triple-double
Hechanova stuffed the stat sheet with a triple-double contributing 31 points, 13 rebounds and 10 assists for MVP. Hechanova never switched gears and kept running the entire game despite being heavily guarded by multiple defenders. Cruz still managed to score a game-high 39 points despite fouling out; Blas had 18 points and nine rebounds.
Jenkins for MVP
Jenkins is an early season favorite for league MVP; he had a monster game with 34 points, 23 rebounds and five blocks. He also had two highlight dunks that got the Triton fans cheering. Brown nearly had a triple-double as well with 18 points, 10 assists and eight rebounds. Belger and Carlos scored 15 and 13 points, respectively for the 4-0 Tritons.
The Tritons Basketball League continues it's regular season next Sunday (Nov 5th) with MVP taking on their rival the Tooth Fairies at 2 pm, the KFC Bombers go against the UOG Tridents at 4 pm next week. All games are played at the Calvo Field House.
PHOTO GALLERY BROUGHT TO YOU BY: