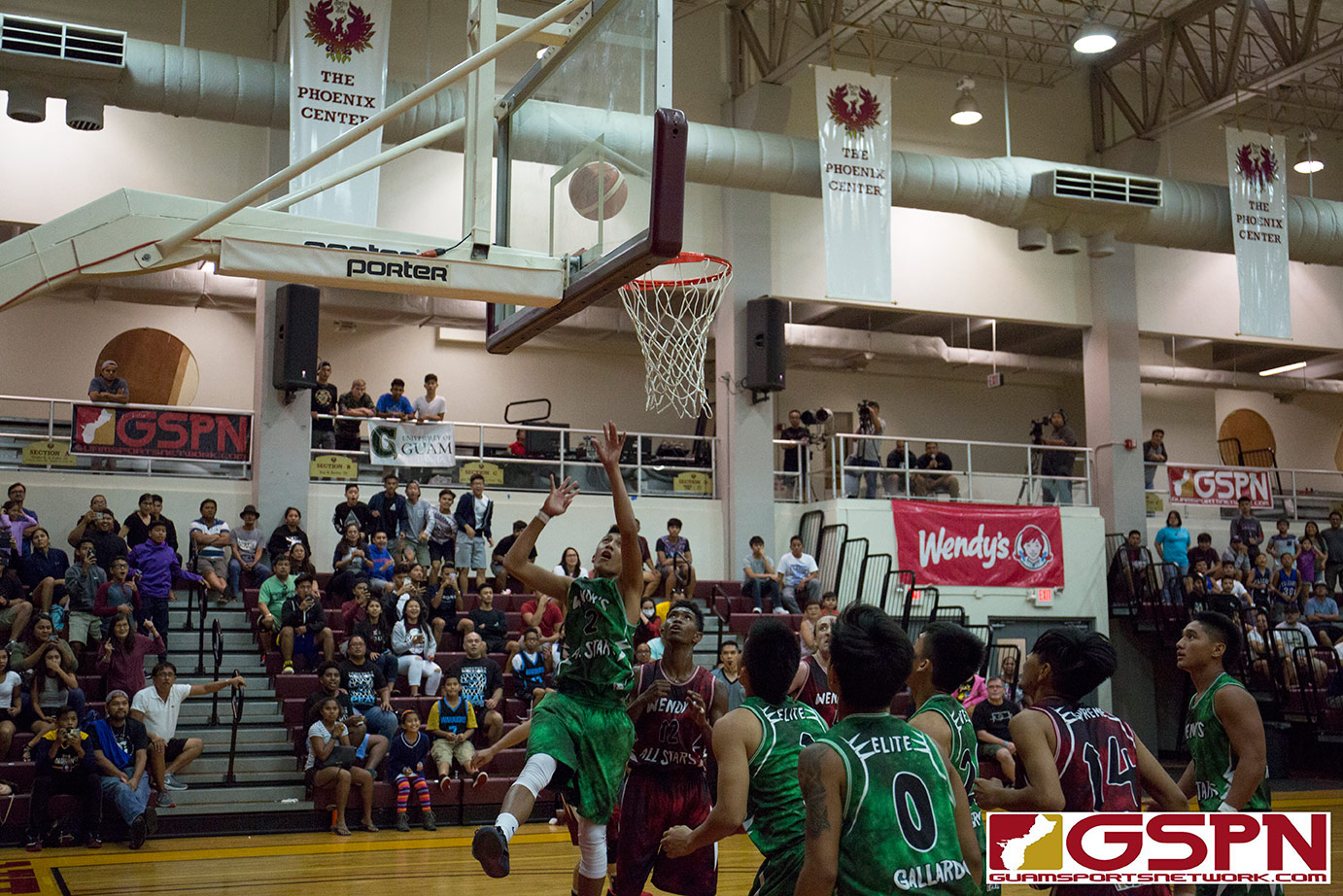 By Jay Leon Guerrero
What seemed like a blowout win, turned into an instant classic.
Fans started heading for the exits during the Wendy's Boys High School All-Star Game as the contest entered the fourth quarter with Team Elite trailing by 25 points against Team Supreme.
The Elite, coached by IIAAG champion Neo Pineda from St Paul, trailed the entire game. For 39 minutes, Pineda's squad never held a lead against Team Supreme coached by EJ Calvo from FD.
IIAAG League MVP Jason Diaz from Team Elite gave his squad their only lead to win the game 101-99 with a buzzer beater. After his team crawled their way back into the contest, Diaz put the icing on the cake with a put back off an offensive rebound as the buzzer sounded to give Pineda's Elite squad the victory.
"I told the team to have hope and keep playing hard," said Diaz.
Diaz was at the right place at the right time as his teammate Anthony Castro (Sanchez) drove the baseline for a shot, just missing a running lay-in. Diaz slid under the basket; retrieving the rebound and quickly putting the basket in as the buzzer sounded for the exciting win.
"With the game tied 99-99, coach drew up a pick-and-roll play with myself and Juan (King Jr.). If I was open, he was to pass it to me or if he had a shot then he would take it. It didn't actually go either way but I'm happy with the outcome," said Diaz.
Diaz had 21 points to lead all scorers, winning the Wendy's Player of the game honors. Shannon Enriquez (Okkodo) had 16 points for Team Elite, King Jr. (Guam High) and Jahmar White (St Paul) each scored 14 points for Team Elite.
"We tried to keep our heads composed and stayed focused. Our game plan was also to work together as a team and at the same time have some fun," said King.
King led the fourth quarter comeback with a lay-in and a pair of assists to D'Angelo Gallardo (St Paul) and Castro (Sanchez) to cut the lead to eight points. Diaz swished a three-pointer and made a bucket in the paint to tie the game at 99-99 with 30 seconds remaining in regulation. Supreme got the ball back but a costly turnover with 20.8 seconds remaining gave possession back to Elite.
Team Elite had a chance to go ahead but a shot put up by Aaron Castro (Sanchez) hit the front end of the iron and Supreme's RJ Kranz (Guam High) and King from Elite wrestled for the rebound as a jump ball was called with possession in the favor of the Elites. With 15.7 seconds remaining, Diaz and King were supposed to work the pick-and-roll but the play was broken up with Anthony Castro finding a lane quickly closed by Kranz as the shot missed and Diaz rebounded for the win.
Supreme builds early lead
Supreme was cruising early, seizing a 24-12 lead after the first period. Supreme's Kobe Sotello (Harvest) had six quick points to put his team ahead early. Team Supreme's St John's trio of Michael Min, Tony Hsieh and Takumi Simon helped push the lead to as much as 25 points in the third period.
Kyle Gaitan (FD) also had the hot hand scoring 13 points in the second half after going scoreless in the first half. But Team Supreme was unable to hold on to the lead with King showing good leadership as the Elite made the fourth quarter comeback.
"Juan told everyone to keep playing hard and lock down on 'D' going into the fourth. We all listened and kept playing hard," said Diaz.
"We lost our rhythm and they got momentum in the fourth quarter," said Gaitan from Team Supreme. "We got too comfortable with our lead, but I give them credit for fighting till the end."
Jun Espaldon from Wendy's Guam was happy the fans had a good show and praised the high school all-stars from both teams for playing hard.
"Team Supreme led by coach (EJ) Calvo played a terrific game and executed well to build a good lead. Coach (Neo) Pineda's Elite team taught us to never give up; they hustled and kept working hard to get back into game. Both teams played great and put on a good show," said Espaldon. "I'm happy with the event today, it was crowded early with the stands filled for the middle school game. I'm looking forward to more events like this."
Prior to the high school all-star game, the middle school all-star boys from two different leagues went against each other to open up the evening's events. The GDOE (public school) all stars and the IIAAG (private school) all stars put on a good show as well for the fans.
After going back and forth, the GDOE all-stars took home the 59-54 victory. Ian Asuncion (BMS Roadrunners) led GDOE with 12 points, Mathew Santos (Bishop Obispos) from the IIAAG league led all scorers with 15 points.
Extra curricular
Fans were also treated to a halftime three-point contest featuring the island's top sharp shooters from the GBA and the boys high school league. Ken Brozo (GW), Takumi Simon (St John's) and Shannon Enriquez (Okkodo) from the high school all-stars battled JP Cruz (MVP), Ledget Glover (Bombers) and James Stake (Tooth Fairies) from the GBA.
After round one, JP Cruz led all shooters with 17 points. Brozo advanced with 11 points and went head-to-head against Cruz in the final round. After the one minute showdown, Cruz was victorious despite great shooting from Brozo. Cruz, a Pacific Games gold medalist, proved once again that he is the island's top shooter.
PHOTO GALLERY BROUGHT TO YOU BY:

COMING SOON …
High School Football starts Sept. 29
Brawl 3: Oct 13
Guam's Strongest Man and Woman Competition October 29
QUICK HITS
The Figo Islanders 40s women's softball team took gold in the Senior Softball World Championship in Las Vegas. Figo came out of the loser's bracket and beat the Arizona Belles 17-3 in the AA division championship game Sunday afternoon.
Other Guam teams that played in the 40s tournament were: Team SOTTA (women's) and Bud Light Guam, Friars 671 and Sindalun Guahan (men's).
Sindalu finished a respectable 4th out of 24 AAA division teams.