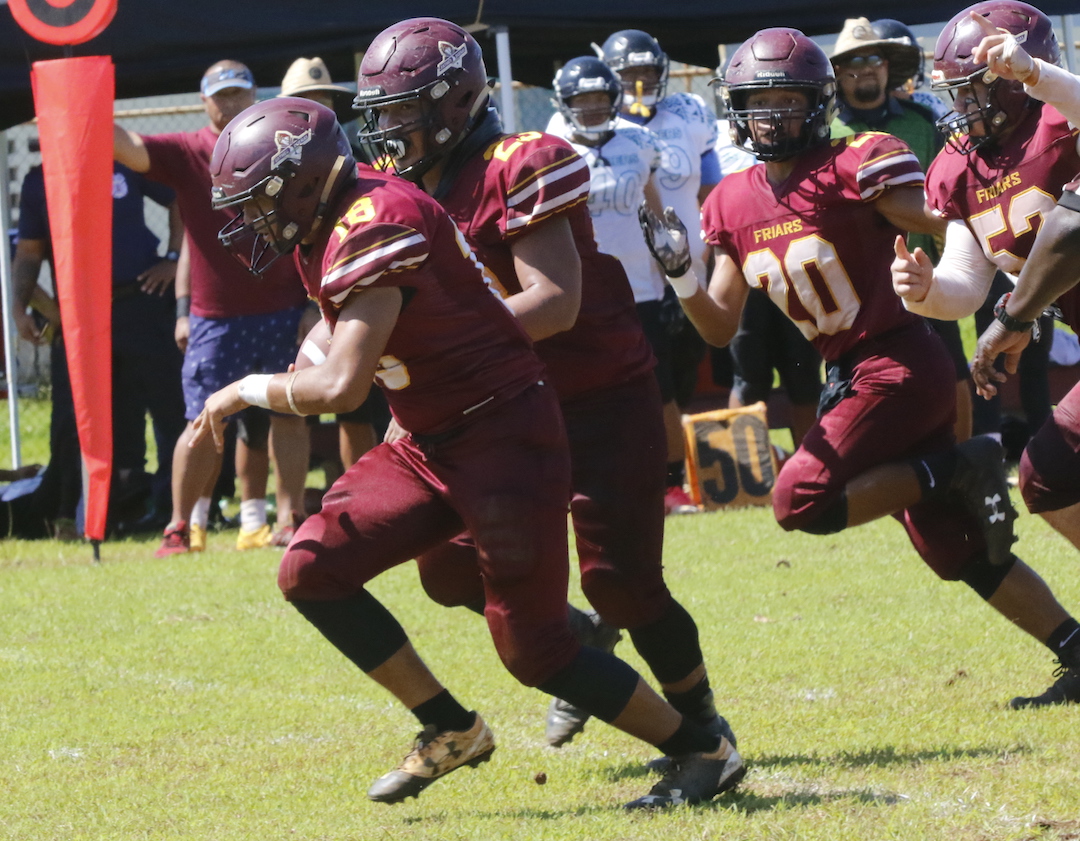 By Robert Balajadia
The FD Friars got off to a quick start scoring 35 points in the opening quarter as they dispatched the JFK Islanders 60-6 to advance to the IIAAG boys football title game. The Islanders become just the second team all season to score an offensive touchdown against FD, which came late in the 4th quarter.
The blazing start to the game for FD was not much hotter than the morning itself, but it was a welcome sign of rays after a rainy week.
Friar defensive end Isiah Reyes scored two defensive touchdowns via fumble recovery and interception to go along with two tackles and a sack. Reyes nearly found the end zone once more after a nearly pouncing on a fumble in the end zone, which turned into a safety right before the half.
"I knew I was going to come out and play hard today, but I wasn't expecting two touchdowns," laughed Isaiah.
Running back Kein Artero took eight carries for 115 yards and two touchdowns. The sophomore standout has been showing flashes of greatness all season, totalling over 100 yards for the second time this year.
"Without our offensive line and receivers blocking, there's no way we would score," said Artero on his production.
Artero has bounced back well since injuring his hip in Week 2 of the regular season.
"I did everything necessary to heal up and I'm feeling a lot better and running more confident," said Artero.
Feature back De'Aundre Cruz took five carries for 50 yards and two scores before being shutdown after the 1st quarter. Artero has embraced having a mentor like Cruz to ease him into the high school scene and Kein is ready to take the Cruz's handoff after his last game next weekend.
"[Cruz] has motivated me to work harder all practice and it's really helped me improve. What you see from me on the field are just the results of learning from him," added Artero.
JFK's Allen Blend II went down swinging, completing 8-of-28 passes for 100 yards and a touchdown. Blend found tight end Jonah Hahn in the corner of the end zone late in the 4th quarter to avoid the shutout while becoming just the second team to score offensively against the Friar defense all year.
Looking ahead to the title game, the Friars are hoping to buckle down on their points allowed.
"We're going to prep like we do every week, to keep our opponents out of the end zone. We want to win another championship, and hopefully I could be named Wendy's [Player of the Game]," joked Reyes.
Off to the races
The game got out of hand right in the opening quarter.
Friar linebacker Eugene Arriola blocked the Islanders first punt in their first offensive series to set up the offense with 1st and goal at the seven-yard line. Cruz needed just one touch to barrel into the end zone for a quick 7-0 lead.
A three-and-out by JFK allowed the Friars good field position on a 20-yard return from Xavier Naputi that ended in a five-yard punch in from fullback Kai Akimoto, putting FD ahead 14-0.
A turnover by the Islanders via fumble put FD at the 29-yard line where quarterback Daniel Phillips tossed a screen pass to Naputi who used a single juke move to break loose up the left sideline for the 29-yard score. FD went up 21-0 after Naputi's score, ending all three of their first offensive drives in touchdowns.
A fumble again by the Islanders on a handoff presented Isaiah Reyes his first golden opportunity as he scooped up the loose ball at the 47 to sprint untouched into the end zone to put FD up 28-0.
Cruz added his final score from two yards to end a drive that included a Phillips to Naputi 17-yard connection on 3rd down, putting FD firmly ahead 35-0.
Reyes added his second score via interception as he picked off Blend in the 2nd quarter as Blend tried to hit his running back on a flare. Reyes sprinted cautiously down the left side of the field and somehow found a way around the Islanders tackler to complete the 43-yard pick-six.
"I was looking behind me the whole time because I knew the defender was there. I just stopped and let him blow by me which allowed me to walk in for the touchdown," said Reyes on the play.
Artero scored his first touchdown from 18 yards to put FD ahead 48-0 with a safety ending the half, 50-0 FD.
Giancarlo Abrill hit a 22-yard field goal in the 3rd and Artero juked his way into the end zone from 40 yards in the final quarter to reach 60.
FD now awaits the winner of the other semifinals match, GW vs. Tiyan at 7 pm.
PHOTO GALLERY BROUGHT TO YOU BY:

QUICK HITS
Guam MTB National Championship: Edward Oingerang and Jennifer Camacho are your 2023 MTB national champions. Oingerang finished the course in 1:13:24 while Camacho won her second straight title in 54:08.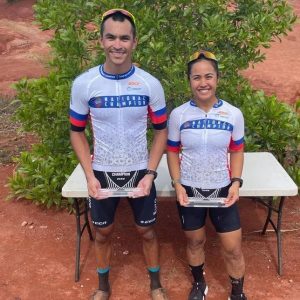 ——————————————
Kobe Miyashita, with St. John's coach Arvin Flores, was named the 2023 IIAAG Middle School Boys Volleyball MVP!