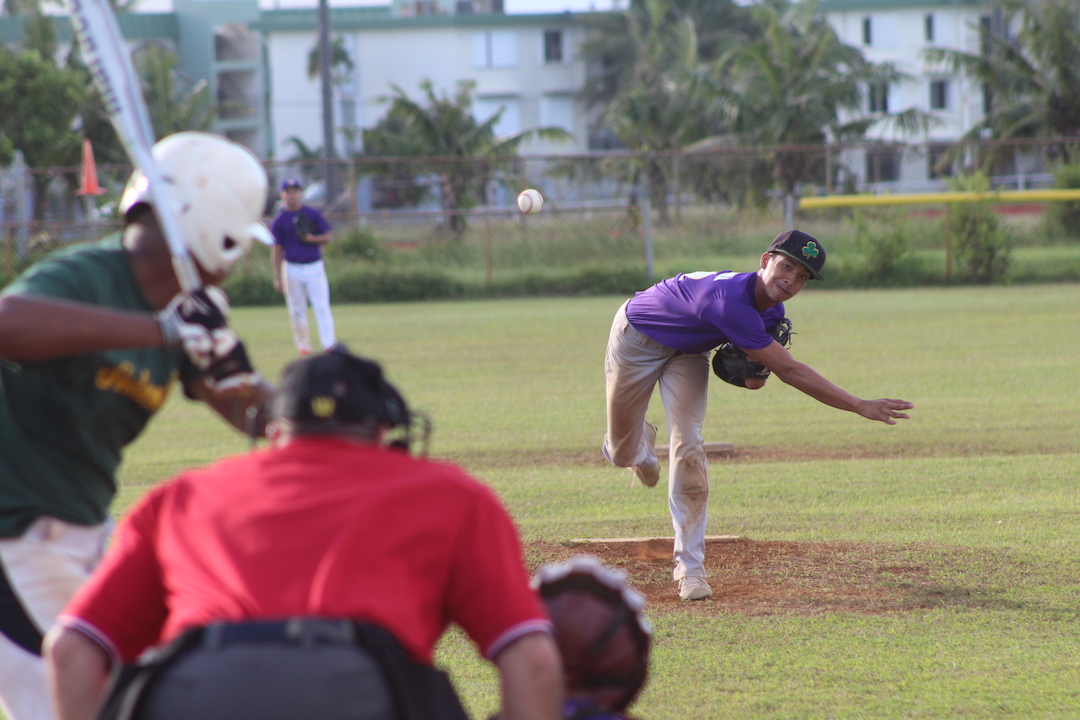 By Cole Kim
The JFK Islanders faced off against the GW Geckos in some Wednesday evening IIAAG baseball action. This game was owned by the home team Geckos, who easily took care of the Islanders 21-2 in five innings.
The Geckos already had a 21-point lead when JFK earned their only two runs. This took place in the top of the fifth inning when Allen Blend stole home and Pillar George was swung home by slugger Jeremiah Kintoki.
Despite giving up these two runs, GW's defense was on top of their game, allowing only a few base hits throughout the game and striking out six batters.
"Defensively, we're improving as each game goes by," Said the Gecko's head coach, "we are getting there every game."
A majority of the Gecko runs came in the bottom of the third inning. Just this rotation alone took more than twenty minutes, the Islander defense having a difficult time getting around the Gecko offense. After this inning was over, GW had scored an insane amount of runs: 16 total, each and every batter contributing in their own way.
"The guys are seeing the ball better now. It took them a couple of innings to get warmed up and get into the groove of playing. We didn't take the bats out of their hands that inning," said the coach.
GAME FLOW
Gecko pitcher Aaron Jamanilla stepped onto the pitcher's mound and immediately got into his zone in the first inning, allowing no hits through almost three innings. GW came out swinging in the bottom of the first quarter, scoring three runs off a pair of consecutive RBIs hit by Koby Pocaigue and Aaron Yatar. The score after this inning was 3-0, the Geckos with a short lead.
The bottom of the third inning was timely yet exciting at the same time. This is when GW scored a total of 16 runs. This situation was caused by the seven people who were walked. One of the most exciting set of runs was scored when Isaiah Nauta blasted a three run homer into deep left field, clearing the bases.
However, this was early in this part of the inning, and six more runs were scored after this, a majority from RBIs. The score after this barrage of runs was a 20-0, huge domination being displayed by GW.
The bottom of the fourth inning was when the Geckos scored their last run. This was held responsible by Nauta, who hit a double RBI. This made their final total amount of runs 21.
JFK had a couple of runs in the fifth inning, but they were not enough to stop the game from being called due to mercy rule. These runs were scored by Allen Blend, who stole home after hitting a triple, and Pillar George when she was batted in when Jeremiah Kintoki hit a sacrifice groundball. This earned the Islanders two runs, preventing a complete shutout.
The final score of this game was a very one-sided 21-2 Gecko win.

QUICK HITS
Guam MTB National Championship: Edward Oingerang and Jennifer Camacho are your 2023 MTB national champions. Oingerang finished the course in 1:13:24 while Camacho won her second straight title in 54:08.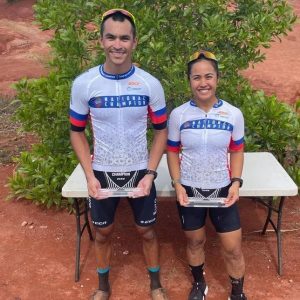 ——————————————
Kobe Miyashita, with St. John's coach Arvin Flores, was named the 2023 IIAAG Middle School Boys Volleyball MVP!