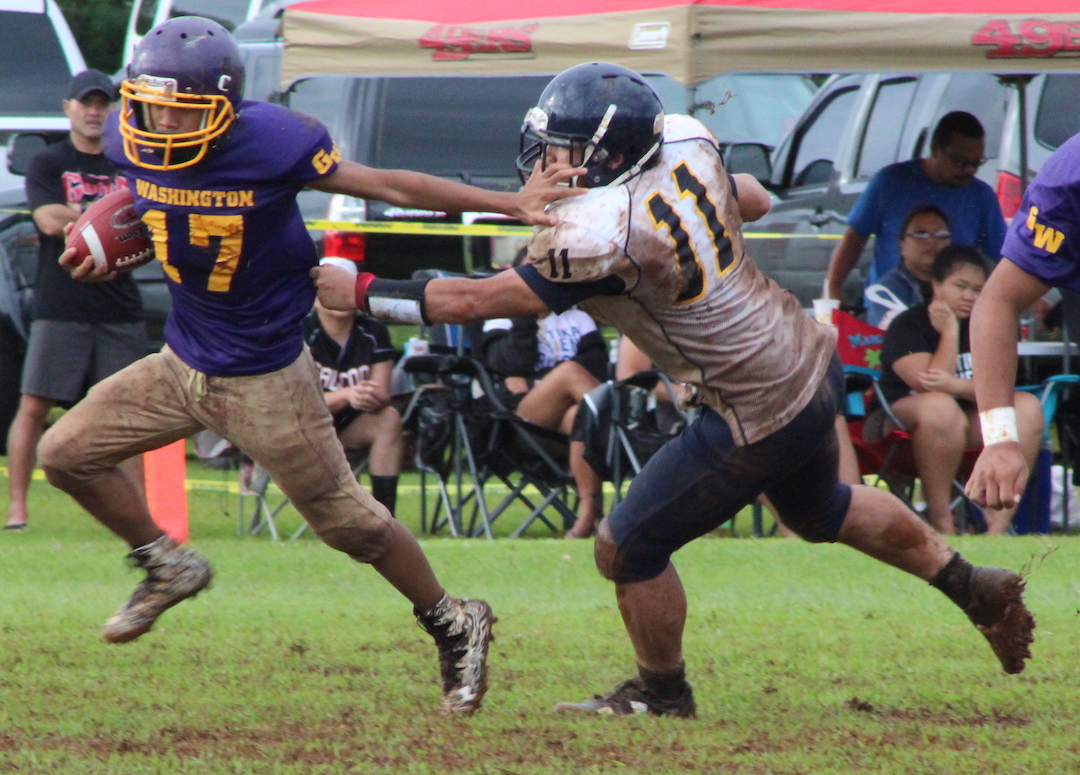 By Jay Leon Guerrero
Game. of. the. year!
There were three lead changes in the final quarter of the IIAAG quarterfinal football playoff game between the GW Geckos and the Guam High Panthers. At the end of regulation, the Geckos walked away with an epic 19-16 victory thanks to last minute heroics from quarterback Ricky Macias, Aaron Jamanila and Calvin Aguon.
Now let's just fast forward to the fourth quarter with four minutes remaining. GW led 6-2 at this point, it was a defensive battle thus far that featured three interceptions, a safety and five fumbles entering the final period.
Guam High's quarterback Travon Jacobs connects with his brother Rasean Jacobs for a 27-yard touchdown to capture theie first lead of the game. Rasean Jacobs also ran in the 2-point conversion to lead 10-6. The touchdown was set up by a forced fumble by Jeylyn Dowdell. Guam High sensed victory at this point with GW's offense unable to find any rhythm.
On the ensuing kickoff return, Jamanilla received the kick deep in GW territory and dashed down the sidelines for a 53-yard return. Two plays later, Macias connected with Jamanila for a 27-yard touchdown pass to go up 13-10 after the extra point kick was good from Macias.
"After they took the lead, I wanted to make a big play so I told everyone to make good blocks and hopefully something positive would happen," said Jamanila.
With less than two minutes left in regulation, the Panthers' Rasean Jacobs receives the kickoff (After the Jamanila touchdown) and breaks several tackles in the mud for an 81-yard touchdown score. The two point conversion failed and the Panthers were up again 16-13.
The Panthers decide to kick away from Jamanila and chip the kickoff to middle of the field. The Geckos take over at their own 47 yard line and Macias attempts a pass to Aguon who is on one-on-one coverage on the right side. Macias floats the perfect pass and Aguon breaks off a tackle and heads into the end zone for a 53 yard touchdown. After a missed PAT, the Geckos were hanging on to lead 19-16 with a minute remaining.
"Yes, that play was called for me. Our coaches saw something and decided to pass it to my side," said Aguon of the touchdown play.
Rasean Jacobs receives the kickoff and was unable to break free but the Panthers have time for a big play. The Panthers go to the air on four straight plays and were unsuccessful at a completion, giving the Geckos possession. The Geckos take over on downs and run the clock out on a wild game.
"I have so much respect for the Panthers, they came to play today. It was a different team from what we saw earlier in the season," said Jamanila.
Dowdell hit the cycle with a monster performance on defense with a safety, a sack, two forced fumbles and a fumble recovery for the Panthers. Dowdell also recorded a game high eight total tackles in the loss. Rasean Jacobs rushed for 61 yards and caught three passes for 43 yards and a TD.
Macias threw for 112 yards and had three touchdown passes. Casey Jackson had the lone touchdown score in the first half, catching a 14-yard TD in the second quarter.
"I believed in my team and I knew that we could comeback in the fourth quarter," said Macias of the wild fourth quarter.
Jon Espino and Vance Perez each recorded interceptions for the Geckos and each also had six tackles. Kastino Engichy had five tackles and forced two fumbles; one of which was at the goal line in the third quarter.
The GW Gecko victory sets up a highly anticipated rematch with the Tiyan Titans next week. The Titans embarrassed the Geckos last time they met; the winner advances to the championship game.
"We need to be more disciplined going into our next game against Tiyan, something we weren't earlier this season," said Aguon.
"We need to fix our mistakes we had against them (Tiyan) earlier this season and make the proper adjustments," said Macias who threw multiple interceptions against the Titan secondary.
The game venue and tine will be announced on Monday. The Titans are the second-seeded team and won their quarterfinal playoff game by forfeit over the Okkodo Bulldogs.
PHOTO GALLERY BROUGHT TO YOU BY:

Foody's Fun Facts
Foody's Fun Facts with Makayla Atoigue
ND Royals Rugby Player Makayla Atoigue lays down her Foody's Fun Facts and shares her dream vacation spot
Foody's Fun Facts
Foody's Fun Facts with Makayla Atoigue
ND Royals Rugby Player Makayla Atoigue lays down her Foody's Fun Facts and shares her dream vacation spot
Foody's Fun Facts
Foody's Fun Facts with Makayla Atoigue
ND Royals Rugby Player Makayla Atoigue lays down her Foody's Fun Facts and shares her dream vacation spot
COMING SOON …
Asia Pacific Little League
GML Playoffs
QUICK HITS
———————————————–
14-year-old Franny De Leon has been named to the 2022 WBC Muay Thai USA Youth Team.  The former youth muay thai world champion will be competing in Canada's WBC MT World Youth Games come August. She is the daughter of Jaime Quitugua and granddaughter of Frank and Norma Quitugua living in Fairfield, CA.